US cryptocurrency platform, Gemini, plans to build its presence in Ireland as it uses the country to grow its services across Europe, its founders Cameron and Tyler Winklevoss have indicated.
The twin brothers, who met the Taoiseach in Dublin today, said they had chosen Ireland for Gemini's European Headquarters because of the strong regulatory system, talent and the established technology community here.
"Ireland is our entry point into the EU," Cameron Winklevoss, who is President of Gemini, told RTÉ News.
"We looked at all of the EU as potential entry points and we felt really comfortable with Ireland and the reputation of the regulator, the CBI, as well as the technology community and talent and the ecosystem. So for us it was an obvious natural fit."
Right now, the company has around a dozen employees here, but expects to increase that following the adoption by the EU of the new Markets in Crypto Assets Regulation (MiCA), which was approved just over a week ago by the European Council.
"That number is very likely scaling up with the advent of MiCA, which is a really great development. And our plan is to apply to MiCA through Ireland," Cameron Winklevoss said.
"And given the new framework, which we want to meet and apply for as well as the growth opportunity, I think that number could very well grow by multiples, if not a magnitude more."
The Winklevoss twins first came to public prominence after they became embroiled in a legal row with fellow Harvard student, Mark Zuckerberg, over the ownership of the original idea for Facebook.
After settling the case in 2008, they went on to become early cryptocurrency investors, a move which has reportedly led to them both becoming billionaires.
In 2015 they set up Gemini, which last February obtained Electronic Money Institution authorisation from the Central Bank and in July became the first company to be registered as a Virtual Asset Service Provider (VASP) here.
Recently the Central Bank Governor referred to unbacked cryptocurrencies as being more akin to a "Ponzi scheme" than an investment and Gabriel Makhlouf called for urgent policy action to protect investors.
But despite the Governor's obvious concerns about the crypto sector in general, Gemini hasn't been put-off by the level of regulation here.
"Well we did find that the bar was really high, but we really like that," said Tyler Winklevoss, Chief Executive of Gemini.
"Our approach to regulation is going to the jurisdictions with the best regulators and the best licensing and getting those licenses."
"Because that credibility says so much about our business, what our compliance standards are, what our security standards are and what our product standards are. We really embrace a high standard."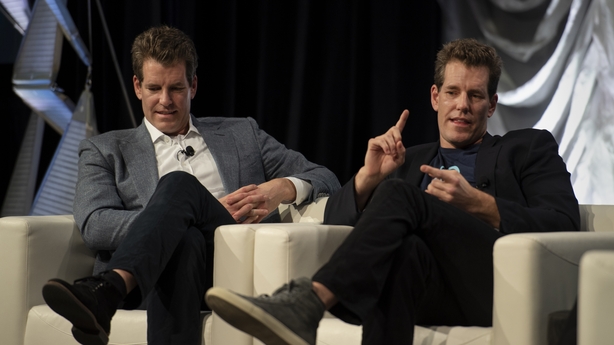 Gemini's founders have been travelling the world recently in an effort to get a better sense of the regulatory landscape and attitudes in different countries towards crypto, in the wake of the battering the sector has received in over the last year, following the collapse of a number of exchanges that have led to huge losses among investors.
The Winklevoss twins, who are former Olympic rowers, feel the sector has been unfairly tarnished by the actions of a few.
"Our message is that it is not OK to paint crypto with a broad brush," said Cameron Winklevoss, who added that the issues in some crypto firms have been the result of fraud problems, not problems with cryptocurrencies themselves.
"And unfortunately, these frauds do exist and they happen and they've happened since the beginning of finance. And to let that cloud and shadow this technology and movement is unfortunate. And also we think that countries that don't support crypto are effectively short crypto, which means they're short the future."
The difficulties with crypto firms in the US have prompted a significant clampdown by regulators there on the sector, which many claim is overdue, but which is creating challenges for remaining companies offering crypto services.
"It's definitely challenging and there's a lack of consistency," said Cameron Winklevoss.
"In the US system there's two federal regulators, one for commodities and one for securities, and then there's state level regulation. And there's been just a lack of consistency which makes it hard for people to understand where the government stands in all of it."
The Gemini bosses claim this lack of clear guidance for responsible US companies in the space to grow and innovate around, has resulted in many consumers being allowed by regulators to use under supervised alternatives.
"So they created it, they missed it, now they're beating down on the good actors who are the most regulated, the most licensed, because they're just closest to them," Tyler Winklevoss said.
Gemini is also quick to defend those who back the narrative around a future for crypto, despite the criticism of it from many quarters and suggestions that its volatility and uncertainty means it won't survive as a concept.
"If you look at the crowd, that crypto has attracted, it's the brightest computer engineers, the brightest builders, and a lot of Gen Z and Millennials who say I don't want previous forms of money, I'm not looking to hold gold…I don't believe in the fiat narrative or fiction, if you will," said Cameron Winklevoss.
"Ultimately all money is fiction, which means you have to pick which fiction you want and what we see is that the younger generation doesn't believe in the fiction of the older generation, of fiat."
"We see money being printed like it's going out of style, out of thin air. We see debts piling up with trillions of dollars each year and we say we don't want part of that. The narrative has of course been twisted and hijacked."
Gemini is also dealing with its own regulatory issues in the US, where it and digital asset-trading group Genesis are being sued by the Securities and Exchange Commission over a crypto asset lending programme, Gemini Earn, which its claimed was not properly registered as a securities offering.
Tyler Winklevoss said Gemini disagrees with the SEC action and thinks it is counterproductive.