AA Ireland has opened a new training facility in Dublin to help address the shortage of mechanics in the country.
The AA Ireland Academy will train people to work on its roadside assistance patrols, but will also be available to other companies seeking to train and upskill staff.
A shortage of mechanics in Ireland and abroad has created problems for consumers and companies, as well as adding to delays at services like the NCT.
AA Ireland said it has made the move into training in order to take a proactive role in addressing the problem.
"We know that - both domestically and internationally - there's a huge shortage of trained technicians," said Paddy Comyn, head of communications at AA Ireland, who was speaking on RTÉ's Morning Ireland.
"This has been illustrated in lots of areas - be it waiting for a service for your car, NCT delays and, for our own case, we've see it with patrols in that we have been challenged in trying to get new patrols," he said.
"Rather than sit on our hands we decided we would take the bull by the horns and create our own academy," he added.
The academy marks the start of what he said was a long-term commitment by the company, rather than a short-term fix to the problem.
The service will be open to other companies, including those in manufacturing.
Mr Comyn said there is significant competition for staff in a number of trades, which has made it difficult for companies to attract apprentice mechanics.
"It may be that apprentices that are coming out of school may be more drawn to some of the construction areas, or to be an electrician or otherwise," he said. "It's our role and the role of the industry to make this more attractive.
We need your consent to load this rte-player contentWe use rte-player to manage extra content that can set cookies on your device and collect data about your activity. Please review their details and accept them to load the content.Manage Preferences
"It can be an incredibly rewarding role, and we'll be pushing over the next few weeks and months to illustrate that."
The academy will offer specific training around electric vehicles, which are becoming an ever-increasing prescence on Irish roads.
Mr Comyn said the skills required to maintain and repair those types of vehicles is in particular short supply at the moment.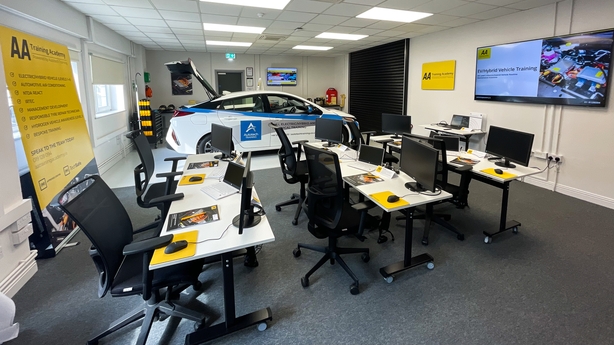 "If you go in as an apprentice now, by the time you're finished you won't have had any EV training," he said. "There's lots of companies that want to know about EVs in particular and we'll be able to provide a Level 1 training, to have experts in a company that want to know more about EVs."
The training is being facilitated by British firm Autotech Training.