While consumer prices were rising in early 2022, it was Russia's invasion of Ukraine that sparked the dramatic jump in inflation that customers have had to endure.
With the Central Statistics Office recently publishing inflation figures for March 2023, we now have a full year of data since the outbreak of war.
But while energy prices are starting to fall, it seems our grocery spend will remain under severe pressure for some time.
What's happening with food prices?
The overall rate of inflation in Ireland is easing – prices rose by 7.7% in the year to March, according to the Central Statistics Office.
That's compared to 8.5% in the year to February, and is down even more on the 9%+ rate that inflation hit multiple times last year.
It does mean that prices are still rising, of course, but at least the flow is easing – and the downward trend will hopefully continue.
The main reason for that slowing is because the rate of energy price increases has eased off.
Aside from home heating oil we've not actually seen prices fall yet, but at least the increase is not as dramatic as it had been.
But while energy prices are beginning ton ease - food prices are actually continuing to climb.
The CSO says food prices were 13.3% higher in the year to March – that's the same increase as was seen in the year to February, and it's actually higher than what we saw in the year to January.
We need your consent to load this rte-player contentWe use rte-player to manage extra content that can set cookies on your device and collect data about your activity. Please review their details and accept them to load the content.Manage Preferences
According to Kantar, grocery prices are actually 16.8% higher now when compared to a year ago.
It is basing that figure on the average shopping basket – which would be different to the CSO's broader survey of food items.
But going by the Kantar figure, it reckons that the average consumer would be spending upwards of €1,200 more per year on their shopping – assuming they don't make any changes like switching to own brands, or cheaper alternatives.
Where are we seeing the biggest price increases?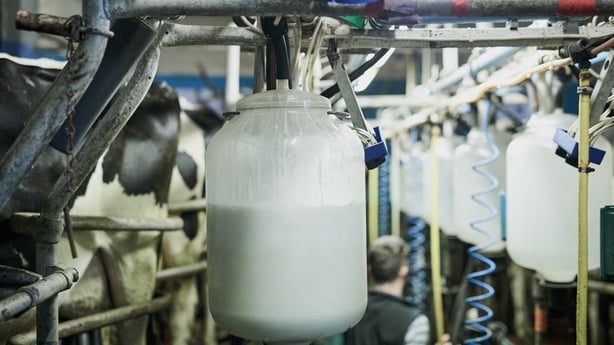 Unfortunately it's a lot of the staple foods that would be the first thing most of us would jot down when writing up our shopping list.
Dairy, for example, has seen some significant price rises in the past year.
According to the CSO whole milk is now over 24% more expensive than it was in March of last year.
Butter is 21% more expensive; cheese is nearly 17% dearer.
But it's not just dairy – eggs are 20% dearer year-on-year, while chicken is more than 16% more expensive.
That's a big contributor to the fact that meat overall is 14% dearer – pork prices are also well up, they're 14.4% higher.
Beef and veal is 10% higher – while lamb and goat is up 5%.
And interestingly, offal prices are actually down year on year – they're 3.5% lower than in March 2022.
So, if you're looking for a bargain…
What about drinks?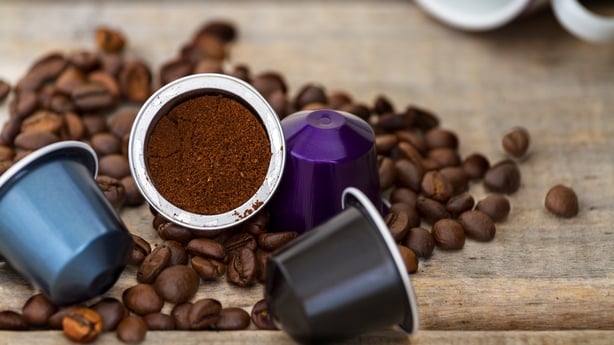 They've not escaped the increases either; coffee is now 14.2% higher.
That would be the cost of a bag of coffee in a shop, so it wouldn't reflect the change in price in a café.
Tea is up more than 7%.
If you're looking for something a bit stronger than that – alcoholic beverages are 4.7% more expensive… not all that significant considering what's going on elsewhere.
Beer prices are up nearly 7%, while spirits prices are up by just 3%.
But it's actually the sweeter stuff that's seen the most dramatic increase.
Soft drinks are 13.9% higher year on year. Mineral or spring waters are 13.5% higher.
If everything else is easing off, why are food prices still rising?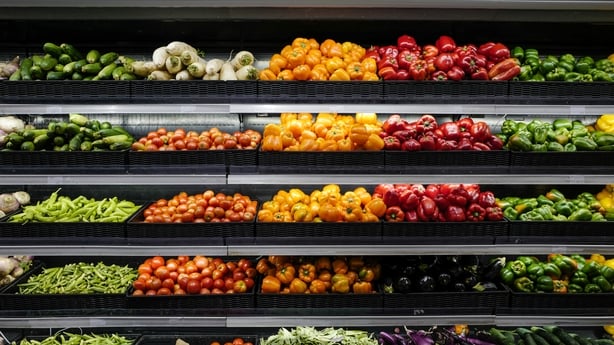 Essentially there's a lag between what are called input prices for producers – and the price that we pay at the tills.
If you go back to the consumer prices from June of last year – when inflation overall hit 9.1% for the first time, thanks to energy prices jumping by nearly 60% – food prices had risen by less than 7% at that stage.
That's almost half the rate we saw in March of this year.
But if you go back to June and imagine, say, a farmer who's raising cattle – or growing fruit or veg.
Even if their energy bill jumped by 60% - or more – in June, it's still weeks or even months until the produce they're growing is ready to be sold.
And it's only at that point that they look to make up for the higher cost they faced while producing the food.
But of course the cost of packaging and transport is higher than it was - so that gets added on.
Or maybe they sell the goods on to a company that uses the raw ingredients to make something else – some kind of processed food – and that uses energy, so it costs more too.
Finally it gets to the retailer – who is having to spend more to keep the lights on – so they add their costs on too, and that's the price that the shopper pays.
So it can actually take a long time to get from farm to fork – and it can take time for the higher costs faced by a producer, processor or distributor to flow through to the tills.
So this is still all down to higher energy costs?
It's definitely still a major factor. A good example of that is the price of fish.
According to the CSO, the price of fresh or chilled fish was up more than 11% in the year to March.
But the price of frozen fish was up nearly 27% in the same period.
Now traditionally fresh fish is the premium product there – and it's still more expensive than frozen. It's also not a total like-for-like comparison.
But the big, common denominator between the two is that it takes more energy to produce and store frozen fish than it does fresh; so that's a big part of why it's seen a far more significant increase in price in the past year.
What else is at play?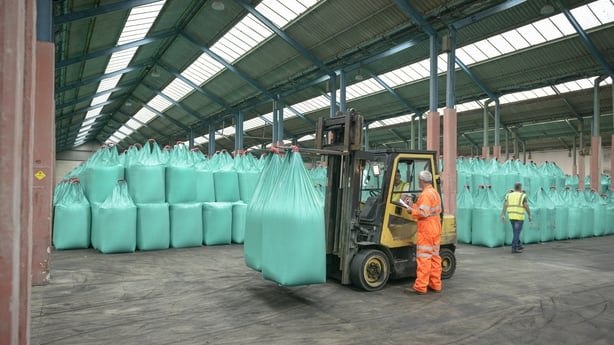 Looking again at dairy and meat prices, a big issue there is the cost of fertiliser and feed.
Prices of both of those have been significant impacted by the war in Ukraine, because both Ukraine and Russia would have been big global suppliers before the war.
But with production and supply from Ukraine being disrupted, and then sanctions impacting what's coming from Russia, that means there's less to go around.
And, of course, you need a lot of energy to produce and transport fertiliser – and feed – so that's having an indirect impact.
The disrupted supply of other goods from Ukraine and Russia is also still having an impact.
Pre-war we would have gotten a significant amount of our sunflower oil from Ukraine before the war – but that trade was cut off at the start of the war, forcing companies to go looking for alternatives, which pushed up prices everywhere.
Vegetable oils and margarine are 23.5% higher year on year, according to the CSO.
Olive oil is 12.7% more expensive now than it was a year ago.
Ukraine is also known as the breadbasket of Europe due to its supply of wheat – and because of disruption there, the price of flour and other cereals is up nearly 11%.
Bread prices is 15.4% higher – pasta is 17% more expensive.
Isn't climate change an issue with flour and pasta, too?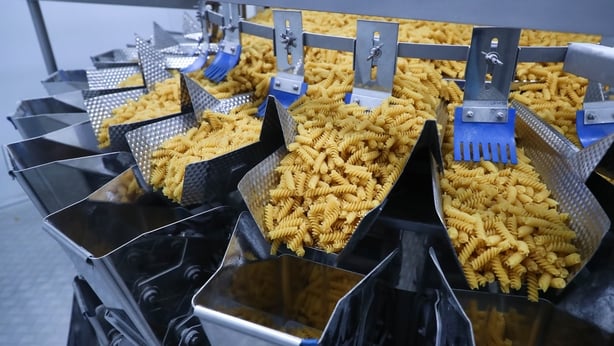 Yes – Canada is another major supplier of wheat, and particularly durum wheat which is most commonly used in pasta.
Its producers suffered from drought in 2021 and last year too, which had a significant impact on its harvests.
We've also seen rice production in Asia being impacted by changing weather – because rising sea-levels are threatening to flood paddy fields with salt water, which kills the crop.
But really, often times, you find that there's no one culprit for prices increasing.
Soft drink prices are higher, in part, because the cost of Co2, used to carbonise drinks, is up. It's dependent on natural gas, which is obviously more expensive now.
But soft drinks are also generally sugar-heavy – and the price of sugar has sky-rocketed in the past year.
According to the CSO it was up nearly 37% in the year to March.
But within that are multiple, often contradictory, factors.
India is the world's biggest producer of sugar, and the second largest exporter – but last year it decided to cap sugar exports in order to ensure prices for its own citizens remained steady.
At the same time, European production has been hit by drought – while plans for a pesticide ban could also have an impact on the industry into the future.
Meanwhile more of the world's sugar production is getting diverted towards the production of biofuels – and the reopening of China's economy in recent months has also led to more demand from that country.
So you have a bit of protectionism in India, a bit of China looking to increase its trade once again, a bit of climate change, and the knock-on effect of attempts to tackle climate change – all coming together to make sugar much more expensive.
Is there any light at the end of the tunnel?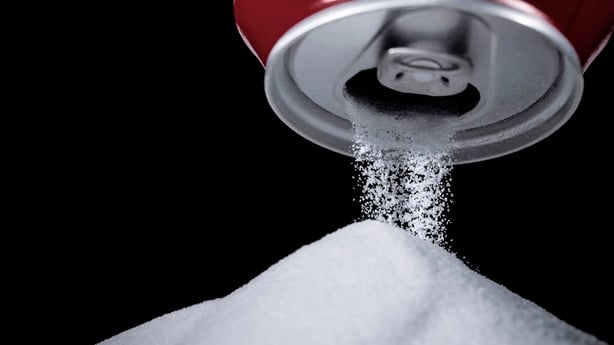 Yes – there's some reason to hope that things will improve.
On the issue of sugar alone, for example, the world is actually due to have its first surplus in four years this year – thanks in large part to a bumper crop in Brazil.
Supplies from there should start coming into this system around now, so you'd hope that will lead to prices easing off into the summer.
More broadly, we know that wholesale energy prices have fallen sharply in recent months.
We're all waiting to see that reflected in our own bills, but businesses are already starting to see their bills fall.
That should mean that the cost of producing food should start to fall; but that lag still remains, so it could take time for us to actually see the effect of that at the till.
And it's assuming, of course, that it does get passed on to consumers.
Overall, though, there is confidence that the rate of inflation in Ireland and the euro zone as a whole will continue to fall through this year and into 2024.
Yesterday the Department of Finance forecast that inflation here would average 4.9% by the end of this year, falling to 2.5% in 2024.
It should be said, though, that part of that is due to what's call the base effect.
What that means is that, as the year goes on, we'll be comparing prices now to the already inflated prices of 2022.
So things won't be getting dramatically worse – but prices will still be much higher than they were in January of last year.
And even if those Department of Finance predictions are right, it still means prices overall will be going up… just at a more modest rate than before.
The only hope for consumers will be that, even if prices overall are still rising, within that maybe the price of certain products – like energy, but also certain foods – will fall back even a little for us.