For most consumers, Easter and chocolate go hand-in-hand.
As a nation of chocolate-lovers - and, increasingly, a country with a strong reputation for chocolate-making, it means this time of year is hugely important for producers.
Are Irish people big chocolate eaters?
We need your consent to load this rte-player contentWe use rte-player to manage extra content that can set cookies on your device and collect data about your activity. Please review their details and accept them to load the content.Manage Preferences
Yes, we have a decent appetite for chocolate – certainly more than most other countries.
However we're nowhere near the top of the table in terms of how much we eat.
Statistics from the Dutch government suggest that the average person in the world eats around 900 grams of chocolate each year.
That may not seem like a lot, but it is a global figure. Within that would be countries that eat little to no chocolate due to culture, diet or budget.
Most people in Ireland probably don't think of chocolate as a luxury because it's everywhere and it's relatively cheap – but, for many people around the world, it really is.
So in China, for example, the average person eats just 200g of chocolate a year. There'd be more chocolate in an average-sized easter egg than that.
In India, consumers eat about 1kg a year, on average.
Compare that to Ireland where, according to Teagasc, in 2020 the average person ate 3.6kg of chocolate over the course of the year.
That's way above what you'd see in the likes of China and Inida, and well above the global average too.
It would also be a bit more than what people in the UK eat – they're at around 3kg – and it would put us on a par with the likes of France.
But it's actually below the European average. That's around 5kg, per person, each year.
In Germany the average consumer eats 5.7kg - but that's nothing compared to the US, where 9kg of chocolate is consumed by each person every year.
And people might presume that the US is the biggest consumer – they often do top these kinds of tables - but they're actually second best here.
Switzerland is actually the biggest consumer per capita – 11.6kg of chocolate is eaten by each Swiss citizen each year.
So it's big business?
Absolutely – globally the chocolate industry is estimated to be worth north of $1 trillion each year.
Here in Ireland, Teagasc says chocolate sales hit €200 million in 2020. But sales values have boomed since then.
That's because many consumers turned more to confectionary during Covid lockdowns as a way of treating themselves. Meanwhile price inflation means that, even if sales volumes stayed static, people were spending more for the same number of purchases.
According to Kantar, the value of chocolate sales hit €395.3m in 2022. That's nearly double the figure Teagasc estimated for 2020.
And how big is Easter within that?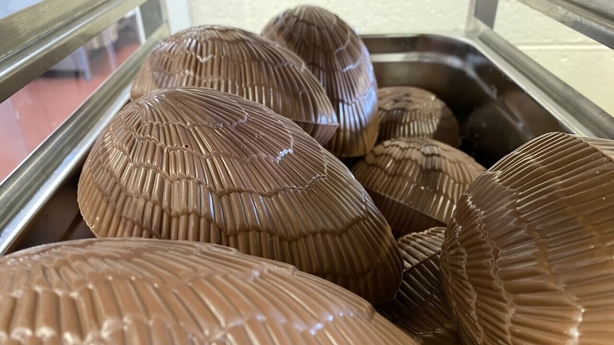 It's huge.
There there are four key points in the calendar for chocolate-makers - Valentines Day, Mother's Day, Easter and Christmas.
Hallowe'en is said to be starting to become one of the important dates too – but it's still well behind those four points.
And within that Easter is one of, if not the, most important date.
According to Bord Bia Easter represents approximately 40% of the annual sales of Irish producers. So just one day can make up a significant part of the year's sales.
Christmas is probably still bigger overall – but Easter is clearly critical for businesses.
And the common denominator in all of those dates – Valentines, Mother's Day, Easter and Christmas – is that they're focused on gifting.
That's really important for chocolate companies, particularly Irish producers.
Because chocolate is kind of one of those "safe bet" gifts – particularly at Easter.
And people are willing to spend a bit more to get something nice for someone; and probably willing to spend more on the chocolate gift than they would be if they were buying it for themselves.
So this time of year can be make or break for chocolate companies?
People in the industry believe that, if you can win Easter – and get your products into enough shops and in front of enough customers- then you've set yourself up for the year.
If you're talking about 40% of your potential sales for the year– on top of your sales from Valentines and Mother's Day – it means that, by the middle of April, you'll know if this is going to be a good year or not.
As a result chocolate companies put a lot of planning and preparation into Easter.
Some producers would already be having discussions with retailers about Easter 2024 - just to try to ensure there's space for their products, and to get as prominent a position as possible on their shelves too.
And a lot of the companies battling for space are Irish…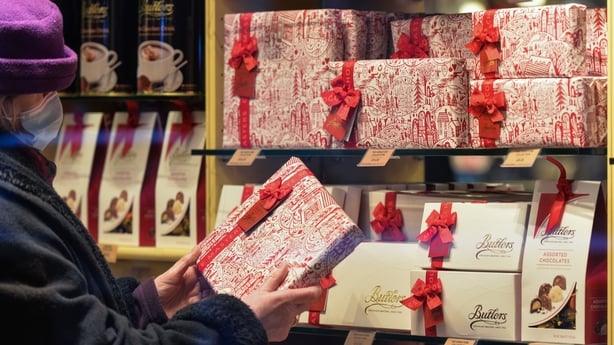 Bord Bia says it works with around 30 Irish chocolate producers at the moment.
There are more Irish chocolate makers than that out there, but they'd be relatively small.
Bord Bia works with food companies with a turnover of more than €100,000, and it tends to focus on those looking to export, so there are a lot of micro-producers that wouldn't fall under its remit.
But either way 30 producers in the same market is quite a lot – and some, like Butlers and Lily O'Briens, are operating at a significant scale.
And, of course, they're all going up against some huge international players who have deep pockets, big marketing budgets and lots of brand recognition.
The likes of Cadbury (owned by Mondelez), Nestlé, Mars, Ferrero are all looking at Easter as a chance to make a success of the year, so they're talking to retailers about shelf space and placement too.
And they've got the scale to be able to do big deals with retail chains – which is why, when you've walked into a shop in the past few weeks, the first thing you would have seen are rows and rows of Easter Eggs from the big guys.
The ones from the Irish producers might be that little bit harder to find.
So how are Irish producers competing?
Irish consumers are inclined to buy Irish when given the option – and that's a trend that's been growing in recent years.
But most chocolate producers here are also tapping into the premium end of the market – and while the core product they're selling may seem to be the same, it's a very different market to where the likes of Cadbury's is pitched.
This Easter, some Irish producers are selling fairly normal-sized eggs that were €45-50 each.
The person buying that isn't the same person that's going to go into a supermarket to pick up a big-brand egg for €15.
And they're probably going to eat that €50 egg a little bit at a time… it won't all be gone 10 minutes after the box is opened.
This premium market is growing all the time – which seems to be happening for two reasons.
Firstly – we're becoming more health-conscious, so we're looking for treats that have less sugar in them. That's why dark chocolate has become so much more popular in the past few years.
People are also after other kinds of enhancements in their chocolate; think of the rise of protein bars here over the past decade.
But, more than anything, people are cutting back on their chocolate consumption altogether. And that trend couples in with the second thing leading to premiumisation; which is inflation.
The rising cost of living means that people have less disposable income, which means they're more considered about where they spend their money, and less prone to impulse purchases.
On paper that should be bad news for chocolate producers – but it's not.
Because it doesn't mean that people have stopped buying chocolate altogether. What it actually means is that people are consuming less than before, and less often, but when they do it they want it to be worth their while.
And they're willing to pay a premium for that – so they're concentrating their "chocolate budget" onto one or two more expensive purchases, rather than 10 cheaper ones.
Bord Bia helps exporters – do we sell a lot of chocolate abroad?
Yes - Irish chocolate exports are quite big, actually.
According to Bord Bia there was €268m worth of chocolate exported from Ireland last year.
A lot of that was from the big producers – Cadbury's, of course, has a factory in Coolock in Dublin, and a lot of what's made there gets exported.
But Irish producers make up an ever-growing proportion of chocolate exports from the country.
That's both as brands in their own right, but also as producers for private label / own brand lines in some big retailers.
An Irish producer is behind some of Harrods' branded chocolate, and firms here also made products to be sold under the Marks and Spencer and Waitrose labels.
In the US, Irish chocolatiers also have deals to supply the likes of Whole Foods and Trader Joes.

Though the UK is the main destination for these products – because the kind of chocolate we like and that British consumers like is quite similar.
What Swiss, Belgian and US consumers would consider chocolate is quite different to what we're used to.
I'm told of that €268m in export sales last year, around €220m of it went to the UK.
Ireland probably wouldn't be the first place people think of when they think 'chocolate'…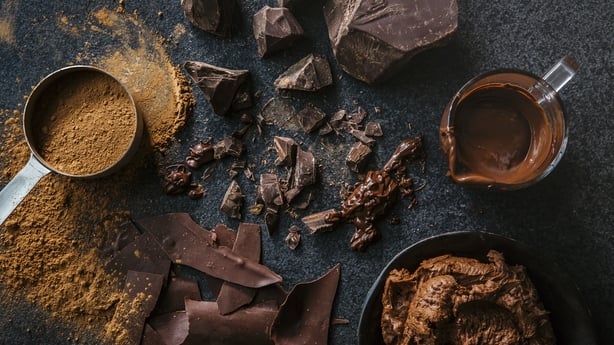 No – and that's actually something Bord Bia have done research around.
They've done surveys asking people elsewhere what countries they would associate chocolate with – and they get answers like Switzerland, Belgium, Ghana, Equador.
Ireland just isn't at the races at all.
But when they ask consumers how they would feel about buying Irish chocolate, they find there's a broadly positive reaction.
That's because, whatever about us not having a reputation for chocolate, what Ireland does have internationally is a good reputation around food in general.
People see us as a clean, green country – and the likes of our dairy has a very good reputation internationally.
So while they wouldn't necessarily think of Irish chocolate by themselves, they're very open to trying it if it's put in front of them.
Aside from the UK, the US is a big destination for Irish chocolate – but so too is Germany and the Netherlands.