Plans for legislation giving employees the right to request remote working were announced with much fanfare last year but on Wednesday night, the law was quietly passed by both Houses of the Oireachtas.
Aside from a handful of press releases from interest groups and politicians, one would barely have known that the 'Work Life Balance Bill' was cleared to become law.
Now that the legislation has been passed, what happens next and when will employees be able to apply for remote work under this new regime?
Controversial beginnings
As soon as the Government's plan for a 'Right to Request Remote Working Bill' was announced in January 2022, it was met with criticism.
Unions said that it was stacked in favour of the employer when it came to grounds for refusal and grounds for appeal.
Employers warned that it may result in additional administrative burdens for businesses.
The legislation was designed to give employees the right to request remote working and to require employers to provide reasonable grounds for refusing such requests.
In the original draft bill, the Government listed 13 grounds for refusal - in other words, 13 reasons that an employer could use to say no to a request for remote working.
These included the nature of the job not allowing for the work to be done remotely, potential negative impact on performance, the burden of additional costs and concerns about the suitability of the proposed workspace.
The then general secretary of the Irish Congress of Trade Unions (ICTU), Patricia King, said the proposed legislation was "fatally flawed" and warned that because the draft law would only allow for a complaint to the Workplace Relations Commission (WRC) on procedural grounds, it rendered it "utterly pointless".
Business group Ibec questioned the need for the legislation, arguing that many companies were already offering remote or hybrid working.
The compromise
Throughout the development of the 'Right to Request Remote Working Bill', the Government said it would have a listening ear and was open to changing the original draft legislation.
That change would involve scrapping plans for a separate law and instead merging remote work into the 'Work Life Balance Bill', which was already at an advanced staged.
The controversial and unpopular grounds for refusal were ditched and instead employers and employees will be making and considering requests for flexible or remote working under one law and one Code of Practice to be developed by the WRC.
There will be an obligation on the employer to consider both their needs and the needs of employees when assessing a request.
A complaint can be taken to the WRC where an employer has not complied with the code.
What happens next?
Once the new legislation has been signed into law by the President, the next step will be for the WRC to publish its Code of Practice setting out guidance for employers on how best to consider and properly manage remote and flexible working requests.
"It is intended that the Code of Practice will provide practical guidance to employers and employees throughout the application process," said a spokesperson for the Department of Enterprise, Trade and Employment.
"The Workplace Relations Commission will now proceed to develop the Code in consultation with trade unions, employer representative bodies and the Irish Human Rights and Equality Commission," the spokesperson added.
"The code will basically set out the obligations for employers and employees regarding how they comply with this legislation," said Dr Laura Bambrick, Social Policy Officer with ICTU.
She believes that the drawing up of the code could be completed within a few months.
"We can go off the example of the Code of Practice for the Right to Disconnect which happened recently. In that case we manage to get it over the line and the Minister signed it into law within three months so that's the kind of timeframe I think we'll be looking at here," Dr Bambrick said.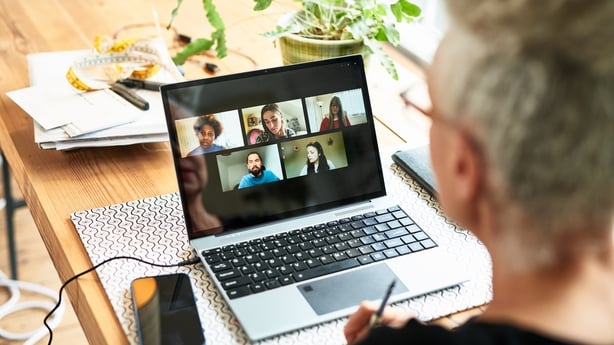 A 'gamechanger' for workers' rights
Deirdre Malone is Partner and Head of Employment Law, at EY Law Ireland.
She believes the law will be a gamechanger in terms of employee rights.
"It encompasses the right to request remote working or flexible working (for parents of young children and carers), as well as unpaid medical care leave, enhanced breastfeeding breaks and, the introduction of paid leave for domestic violence," Ms Malone said.
"It will be essential that the new Code of Practice will provide clarity in areas including; employer requirements to undertake risk assessments in employees' homes and provide office furniture (desk, monitors, chairs), obligations around working time and rest/breaks monitoring, and addressing data protection and cyber security concerns.
"The minimum service requirements - where there must be six months' service before remote working and flexible working arrangements can be requested - strikes the right balance between the rights of employees and the needs of a business and it's something that employers are likely to be pleased is contained in the final legislation," Ms Malone added.
Concerns about the new law
Dublin Chamber welcomed the passage of the law but said concerns remain regarding the practical application of the new Code of Practice.
"It is critical that the business community be consulted with during its design process, particularly as in the absence of legislation regulating this topic over the past number of years, many firms have invested money, time, and resources in setting up models and systems governing remote working practices as best suited to their company," said Aebhric McGibney, Director of Public and International Affairs at Dublin Chamber.
"The WRC must be considerate of these company investments when designing the Code of Practice and ensure that it is flexible enough to complement the systems already in place in individual companies. No business should be at a disadvantage through operating this legislation, particularly as the legislation with regard to remote working aims to achieve a positive balance between the needs of employees and operational needs of employers," Mr McGibney said.
"Additionally, this legislation and the Code of Practice should be subject to review one year from commencement to ensure that it remains contemporaneous with evolving employer and employee needs," he added.
Women's Aid welcomed the passing of the Work Life Balance Bill which includes a provision for statutory domestic violence leave.
However, the organisation said it remains concerned that the rate of pay has not yet been determined and warned that if it is anything less that an employee's full pay, it could act as a deterrent rather than a support for victims of domestic abuse.
"We had understood from recent public statements made by key Government figures, that the matter would be simply resolved within the legislation but now regulations are required, and the rate of pay has not yet been set," said Sarah Benson, CEO of Women's Aid.
"We hope therefore that there will be no delay to finalising this matter so the law can take effect," Ms Benson added.
Getting legislation over the line on remote and flexible working was a long journey but it is not over yet.
More battles could lie ahead as stakeholders gather to draw up the rules that will govern this new and closely watched area of Irish employment law.