Lufthansa Technik Turbine is today opening a new facility in Shannon, Co Clare.
The company provides maintenance, repair and overhaul services for aircraft engines and components.
25 jobs have already been created at the new Shannon facility, and the company is still actively recruiting.
In the past 18 months alone, the business has added an additional 120 people to its workforce.
It now employs more than 300 people across its operations in Shannon, Kildare and Dublin.
Speaking on Morning Ireland, CEO Michael Malewski said today is an important day for the business.
"We are opening our new engine manifolds centre and this will extend our existing footprint in Ireland.
"We have a new 2,000 m2 building where we will repair mainly engine manifolds," he said.
Engine manifolds are tubes and ducts that are necessary to distribute air or fluids for optimal engine performance, he explained.
When manifolds become damaged or worn, he said they can diminish engine performance and lead to increased emissions.
Lufthansa Technik said it has seen demand for its services increase "dramatically" post-Covid.
"There is a huge desire to fly again, so the aviation industry is ramping up and we've seen strong demand for our services," said Mr Malewski.
He said there is a "huge" backlog of maintenance for engines and parts.
We need your consent to load this rte-player contentWe use rte-player to manage extra content that can set cookies on your device and collect data about your activity. Please review their details and accept them to load the content.Manage Preferences
Lufthansa Technik Turbine has been operating in Ireland since 1992.
As the business continues to grow and diversify, Mr Malewski said recruitment remains a priority.
With the country at near full employment, he said they are finding it increasingly difficult to hire new recruits.
"Our plan is to ramp up and hire more than 40 people this year, but it is getting harder to get skilled mechanics and engineers," he said.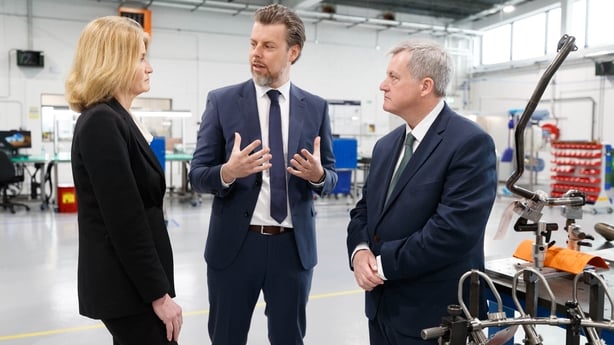 Mr Malewski said he believes the shortage of accommodation, along with the high rental and property prices across the country are making it difficult to attract talent from overseas.
"Currently it is too expensive to rent an apartment, too expensive to buy a house, so it is really difficult for people to come over from abroad to join us here in Ireland and this is definitely something that we have to work on together with the Government," he said.
He highlighted a particular need for more experienced aviation engineers as well as qualified mechanics and engineers from any field interested in moving into the aviation industry.
"If you have a passion for aviation as a mechanic or engineer, then Lufthansa Technik is the place to be.
"We have a strong system of training and educating our people and of developing their careers.
"This is what we are known for and what we will provide for those joining our company," he added.
Supply chain issues have been impacting the global aviation industry, and Mr Malewski said Lufthansa Technik hasn't escaped these challenges.
"On one hand it is difficult for us to get the material on site that we need for our repairs, but on the other hand it is driving the demand in our industry because new parts aren't available or are very expensive," he said.
"So we are repairing parts and bringing parts back into the market, and we are making sure that the repaired parts are like new - so this is also a huge opportunity for us to grow this business," he added.