The value of goods bought using contactless payments last year jumped by almost a third, as the shift to cashless gathered pace.
In total nearly €17.9 billion was spent using contactless methods during the year, up 31.4% on 2021.
The average payment value increased also to €20.91 in 2022, from €19.58 a year earlier.
During the final three months of the year, on average €53m in spending was conducted each day without the use of cash, through 3 million contactless payments.
According to the Banking and Payments Federation Ireland's (BPFI) Payments Monitor, this represents the highest daily contactless spend in any quarter since it began tracking it in 2016.
The data also shows that the volume of contactless payments carried out each year has more than doubled over the past four years, to 1.1 billion.
We need your consent to load this rte-player contentWe use rte-player to manage extra content that can set cookies on your device and collect data about your activity. Please review their details and accept them to load the content.Manage Preferences"Today's report demonstrates the continued growth in consumer reliance on contactless payments with an increase in volume of 27.2% on an annual basis to almost 1.1 billion transactions," said Gillian Byrne, Head of Payments at BPFI.
Today figures also show that the volume of online and mobile payments doubled to 143 million between 2016 and 2022, as ecommerce grew in popularity.
During the final quarter of last year, the volume grew by 5% compared to the same three months in 2021, to 36.7 million.
This represents the highest quarterly volume since that data series began in 2016.
Speaking on Morning Ireland, Ms Byrne said despite the rise in digital payments, there is still a need for cash services in the country.
"Consumers certainly like choice, there are a lot of consumers who rely on cash in society.
"But most certainly the preference for digital payments remains," she said.
When it comes to keeping your data safe, Ms Byrne said contactless payments are more secure than other forms of digital payments.
"Because you're not exposing your pin or inputting your details with contactless payments, they would be considered more secure," she said.
"Traditionally and more recently, fraud has been focused on online transactions where card details have been compromised and they are then being used online, so the message to customers is always to remain vigilant," she added.
Ms Byrne said the use of cheques as a payment method is continuing to decrease in popularity.
"Last year we saw the lowest two quarters ever in terms of volumes of cheques, with 4.5 million cheques sent in both of those quarters.
"Most certainly consumers and businesses are moving to more efficient payment types," she said.
Ms Byrne said BPFI expect there will be an onward decline of cheque volumes going forward.
When it comes to the roll out of contactless and digital payments, Ms Byrne said Ireland has one of the fastest adoption rates in Europe.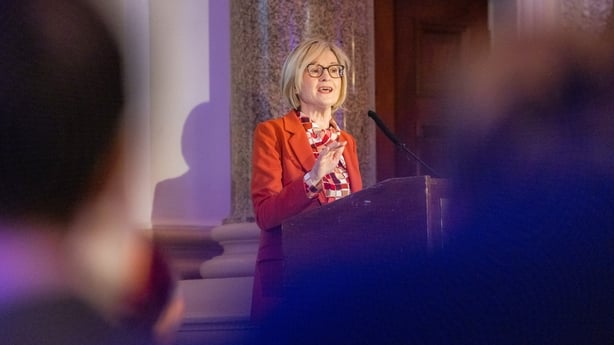 Today's data was published ahead of the BPFI's first National Payments Conference which is taking place in Dublin and is being attended by EU Commissioner Mairead McGuinness.