Shares in global nutrition group Glanbia jumped over 6% after it said it would divest its cheese joint venture for over €160m as it moves to focus on its core business of sports nutrition and ingredients after reporting record annual earnings growth today.
The move comes a year after activist investor Clearway called for a major restructuring including the disposal of the joint venture and the spin-off of its performance nutrition unit.
Glanbia said its revenues came in at €5.6 billion, up 21.2% on a constant currency basis from the figure of €4.2 billion in 2021.
Its profit after tax for the year rose to €256.8m from €167.4m while it also reported its highest annual earnings per share (EPS) growth at 17.6% to 104.02 cent.
It said it expected EPS growth to slow to 5-10% in the current year.
The Glanbia board is recommending a final dividend of 19.28 cent per share which brings the total dividend for the year to 32.21 cent per share, a 10% increase on prior year.
It said this total dividend represents a payout ratio of 31% of 2022 adjusted EPS, which is within the Board's target of 25% to 35%.
Siobhán Talbot, Glanbia's Group Managing Director, said the company delivered its highest ever annual earnings performance in 2022.
"This was achieved despite unprecedented inflationary headwinds and was led by the strong performance of the Optimum Nutrition brand, growing US consumption by 30.8% in 2022, and continued good delivery by our GN Nutritional Solutions business," Ms Talbot said.
"This 2022 result underpinned the delivery of the Group targets set out in 2018 for the period 2018 to 2022," she said.
Looking forward, our strategic focus on "better nutrition" growth platforms is clear and we are confident that it will drive sustained growth in the coming years, delivering the targets set out at our recent capital markets event," she added.
Glanbia and Leprino Foods Company today agreed a deal which will see Leprino Foods buy full ownership of Glanbia Cheese, a mozzarella maker, for more than €160m.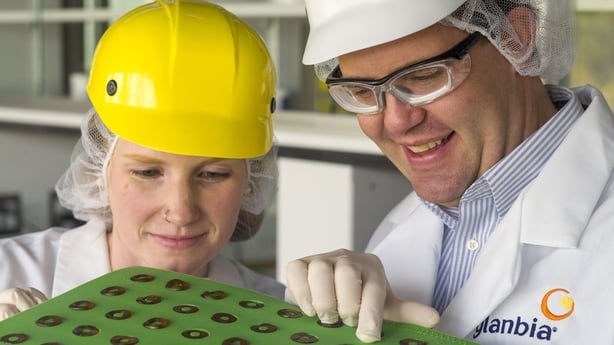 The deal includes Glanbia Cheese UK and Glanbia Cheese EU.
Glanbia Cheese has three manufacturing facilities - Portlaoise in Ireland, Llangefni in Wales and Magheralin in Northern Ireland.
After the deal is complete, the existing team will continue to manage the business, led by CEO Paul Vernon and his senior management team, with no disruption to day-to-day operations.
It is expected that Glanbia plc will receive in excess of €160m for the sale of its stake, with the possibility of another €25m over the next three years, dependent on business performance.
The deal sale represents another step back from consumer foods after Glanbia completed the sale of its Irish dairy brands to the Glanbia Co-Op - now Tirlan - in April 2022.
"The logic of this transaction is clear as it allows us to focus on our core better nutrition strategy and to allocate further capital to our global growth businesses," Siobhán Talbot said.
Glanbia also said today it plans to change its presentation currency to the US dollar from January 2023 as it generates over 80% of its revenue and earnings, and has significant assets and liabilities denominated in dollars.
But it has "no plans at this time" to move its listing in London and Dublin to the US, its Finance Director Mark Garvey said.
Breaking down its divisions, the company said that revenues at its Glanbia Performance Nutrition unit rose by almost 14% to €1.625 billion from €1.303 billion, while EBITA increased by 10.5% to €182.1m from €145.1m in 2021. It noted that pricing was driven by price increases across all brands, in all regions, in response to inflationary trends.
Revenues in its Glanbia Nutritionals - Nutritional Solutions - business increased by 16.6% to €1.126 billion from €877.4m in 2021 with strong overall pricing driven by significantly heightened dairy protein market prices. EBITA rose by 13% to €128.2m from €101.1m in 2021.
Meanwhile, revenues in Glanbia Nutritionals - US Cheese - business grew by 27.7% to €2.890 billion from €2.016. billion with volume growth driven by expanded production through the new joint venture plant in Michigan, which was commissioned during 2021. The division's EBITA jumped by 33% to €36.8m from €24.4m over the 12 months.
Shares in the company ended higher in Dublin trade today.