Food technology and ingredients company Kerry Group has reported higher revenues for the year to the end of December - its 50th year of operations - but posted a fall in after tax profits.
Kerry's reported revenues for the year rose by 19.3% to €8.8 billion on the back of volume growth of 6.1%.
It was also boosted by increased pricing of 11.7%, favourable translation currency of 6.8% and contribution from business acquisitions of 4.3%, which was partially offset by the impact of business disposals of 9.8%.
Group EBITDA increased by 12.9% to €1.2 billion, while its constant currency adjusted earnings per share increased by 7.3% to 440.6 cent.
But its after tax profits fell to €606.5m from €763m in 2021 after it reported a non-trading charge of €124.2m mainly due to the suspension of its operations in Russia and Belarus in April after Russia invaded Ukraine in February.
Kerry said this suspension was managed in an orderly manner, during which it continued to pay employees, and a decision was made to classify these businesses as "held for sale" during the first half of the year.
In July, the Group reached a deal to sell 100% of the share capital of Unitary Manufacturing Enterprise 'Vitella', a Taste & Nutrition entity based in Belarus.
It also agreed a deal to divest 100% of the share capital of Kerry Limited Liability Company, its subsidiary in Russia, to local management.
Basic earnings per share came to 341.9 cent, down from 430.6 cent in 2021 as that year included a credit from the sale of the Consumer Foods Meats and Meals business.
The Kerry Board had recommended a final dividend of 73.4 cent per share, an increase of 10.0% on the final 2021 dividend.
Together with the interim dividend of 31.4 cent per share, this brings the total dividend for the year to 104.8 cent, an increase of 10.1% on 2021, it said.
Kerry said that the overall demand environment remained "robust" through the year despite the macroeconomic backdrop.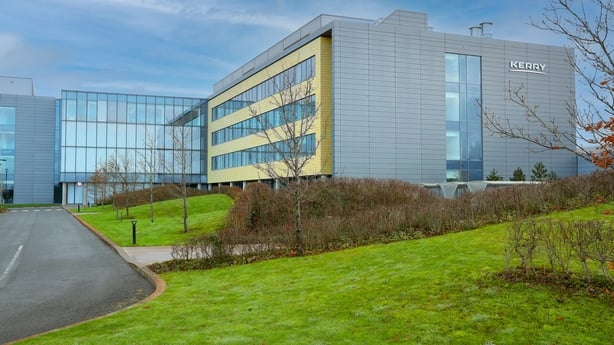 "Consumers continued to seek new taste experiences, cleaner labels and added functional benefits through food and beverages. The cost-of-living crisis has resulted in many consumers looking for relative value options to meet their purchase preferences, depending on their available resources," it stated.
Edmond Scanlon, Kerry's CEO, said the company achieved record organic revenue growth against the backdrop of an exceptionally dynamic operating environment as it marked its 50th year of operations.
"Our teams worked closely with our customers to actively manage through the inflationary environment, while continuing to innovate and develop their offerings to meet evolving marketplace needs," the CEO said.
Mr Scanlon said the company completed a number of acquisitions aligned to its strategic priorities of Taste, Nutrition and Emerging Markets, and since the end of the year, announced the potential sale of its Sweet Ingredients Portfolio, as Kerry continues to enhance and refine the business to areas where it can add most value.
"While recognising the current market uncertainty, we believe we are strongly positioned to continue to grow our business through this period. In 2023, we expect to achieve 3% to 7% adjusted earnings per share growth on a constant currency basis, before the dilution from the potential sale of the Sweet Ingredients Portfolio," he added.
Breaking down its divisions, Kerry said that revenues at its Taste & Nutrition unit rose by 29.4% to €7.4 billion in the year, while EBITDA increased by 20.4% to €1.220 billion.
It noted that very strong volume growth was achieved through the year across all regions despite the backdrop of managing "significant" price increases and supply chain constraints.
Meanwhile, revenues at its Dairy Ireland division came in €1.5 billion, which represented an increase of 37.1% on a pro-forma basis, driven mainly by increased pricing.
But overall reported revenue decreased by 13.4%, as increased pricing was more than offset by the impact of the Meats and Meals business disposal in the previous year.
Shares in the company closed 3.5% higher in Dublin trade today.