Rising energy costs, the pandemic, inflation, supply chain disruption.
Businesses operating in Ireland have had many challenges to deal with over the last few years.
But another problem has also entered centre stage and is proving nearly as disruptive as any of the other aforementioned issues.
We need your consent to load this rte-player contentWe use rte-player to manage extra content that can set cookies on your device and collect data about your activity. Please review their details and accept them to load the content.Manage Preferences
The problems facing people looking to rent and to buy accommodation are well documented at this point.
But now the housing crisis is having a seriously detrimental impact on businesses too.
A recent Ibec report warned it has become a critical barrier to growth, while IDA Ireland has also reportedly raised it as an issue of concern.
So how are the problems manifesting themselves for employers on the ground?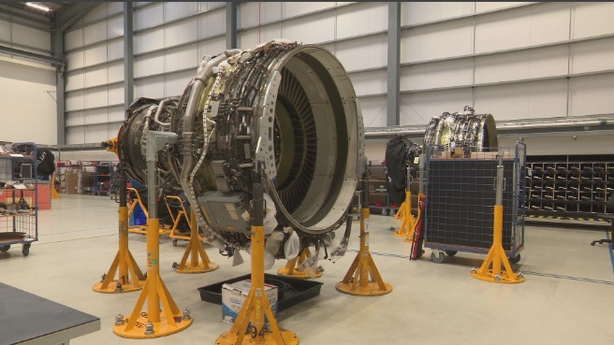 Lufthansa Technik Turbine
Lufthansa Technik Turbine has two aircraft engine maintenance plants in Ireland, in Shannon Co Clare and in Celbridge, Co Kildare.
Together they employ 300 people in highly skilled roles, with more than 100 of those recruited in the last 18 months.
As a result, the company is acutely aware of the challenges of recruiting in the current tight labour market and the need to have an attractive, hassle free proposition for prospective employees including accommodation.
Its managing director and chief executive, Michael Malewski, says the housing crisis is making the situation "really challenging."
He says that coming out of the pandemic, the Irish arm of the company had been very successful in convincing people internally to make a strategic investment into Ireland, in the process counting on the Irish workforce and the support from the Government.
"Now we are facing another challenge, the ramp up challenge," he says.
"So we are facing the challenge to staff the projects, we are facing the challenge to convince people to join our company."
But he says rising costs, particularly around housing, are making that difficult.
"I just recently had the experience that we offered jobs to five people and four of them let the offer down because they couldn't simply find a home in the area," Mr Malewski explains.
The company is also trying to bring its own international experts into Ireland to train new staff, but again it is struggling to find homes for the people and their families.
At the same time, he points out that young skilled people are also leaving the country to work elsewhere because the prospect of owning, or even renting a home, is increasingly remote.
"The housing challenge is definitely a big one and that is bringing our growth path into risk," he warns, although he adds that it is not threatening the current expansion projects.
"I am happy to say that this is not bringing our current projects into risk, we will still open these two facilities and we still deliver what our customers expect."
"But it is making the decision to…start strategic projects in Ireland in the future more difficult."
Lufthansa Technik has considered renting property to put its new staff into, even temporarily, so they can focus on getting settled.
But even that has been a challenge.
Recently, Mr Malewski approached an estate agent about a new upcoming apartment which he thought might be suitable for staff.
"I was pretty early in the morning to give him a call, and he said, 'Michael, I would love to support you but I already have a list of 400 people who have applied for this apartment'," he explains.
"So even for us as a company there was no chance to rent this apartment for a short mid-term solution in the beginning."
Mr Malewski says the net effect of the crisis is that it pushes the cost of labour higher as companies, like Lufthansa Technik, end up paying staff more to compensate for the situation.
This makes it less attractive for multinationals to invest into the country, he cautions.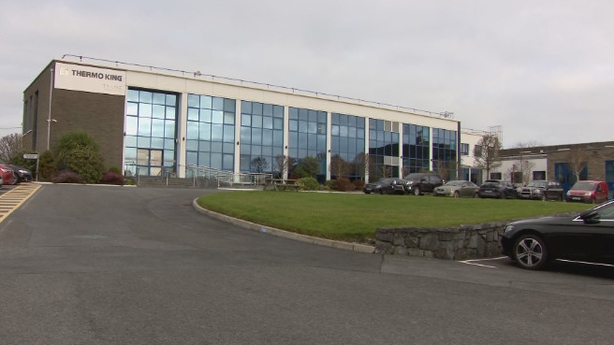 Thermo King
The experience of Lufthansa Technik is a familiar one for transport temperature control system manufacturer, Thermo King, which employs around 600 people at its facility in Galway.
The company's staff, like so many others, are struggling to find suitable places to live, with knock-on consequences for the business itself.
"The lack of quality accommodation means that for us when we are trying to hire talent, technology talent in particular, it is very hard to get. High quality procurement people are very hard to get," says Cormac Mac Donncha, Vice-President for Thermo King's operations in Europe, Middle East and Africa.
"So when we make job offers to people, the last thing we expect is that we are going to have a real complication in trying to get accommodation."
"It has meant that people have turned down jobs at the last minute, hiring managers have had to scramble and try themselves to get accommodation, something we wouldn't be naturally expert at."
"So it has been very disruptive from that point of view."
He says the company hasn't gone as far as other firms yet in hiring accommodation for staff, but it has tried to get accommodation as the need has arisen.
It has also had to pay for hotels for new staff for prolonged periods, while they try to get their own roof over their head.
The problem is particularly acute for staff coming in from abroad, Mr Mac Donncha says.
"The race for talent is everywhere and like many other businesses, if we can't attract the best then our ability to develop new products, to move into new markets, to keep the competition at bay, it is all under threat," he states.
Staff are now commuting long distances as a result, from places like Ennis, north Mayo and Roscommon.
But from the company's perspective, it also feeds into higher wages.
"We have to be cognisant of the challenges our employees are facing - a significant portion are paying their mortgages and they are facing challenges in interest rate increases," Mr Mac Donncha says.
"But the lack of housing has obviously driven up rents in the city to exorbitant prices and that is putting huge challenges on wage inflation."
The Thermo King executive says it is not clear in his mind what the solution is and nobody wants to see a recession reduce the number of jobs being created and by extension demand for accommodation.
"But there is nothing too obvious on the horizon," he says.
"I don't really see an end to it, being honest."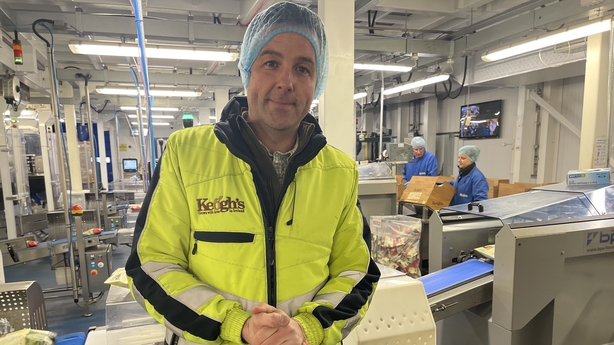 Keogh's Crisps
Potato producer and snack manufacturer Keogh's in north Dublin are considering taking matters into their own hands.
The company employs around 150 people, around half of which are not from the local area and therefore need accommodation when they come to work for the business.
But finding that is a major problem.
Managing Director Tom Keogh says the situation has become noticeably worse over the last 18 months or so.
The company has considered buying property for staff to live in, but Mr Keogh says the costs are high with limited options close to the farm.
As a result, it is now considering whether it should perhaps build some accommodation, as other businesses have done.
"Looking to the future probably the only option we have is to actually arrange accommodation and to have a resource here, local to the farm, where we can have our team reside close by," he says.
"Generally speaking on a day to basis basis we would have maybe six or seven vacancies here."
"The cause of that is mainly driven by the additional higher costs in accommodation and the shortage of accommodation around north Co Dublin."
He says a common conversation he's been having over recent months with staff is that they come to him to say their landlord has put up their rent and they are trying to decide whether to stay in Ireland or move away.
"We've had several people who have left and gone back to their various countries around Europe," he says.
"And then we've other people where we've had to increase salaries several times over the last couple of years in order to help people to meet the demands of the cost of accommodation."
"So it is really difficult."
And everybody in the food industry is in the same position, he claims.
The Government view
In a statement, the Department of Housing said the Government is very aware of the impact current housing challenges are having on various sectors of society.
"That's why every measure we take is to increase supply and improve affordability," it says.
The department says last year 29,851 homes were completed, up 45.2% from 2021, exceeding the Housing for All target of 24,600 by 5,251.
"We need to supply housing of all kinds, social, affordable, cost rental and private and Housing for All sets us on the path to delivering 300,000 new homes between now and 2030 backed by unprecedented funding of more than €4 billion annually," it says.
The department also points to various initiatives which have been introduced over the last year which are all aimed at increasing supply and improving affordability.
But for businesses, the results of the activity can't come fast enough.