The housing crisis is becoming a critical barrier to the continued growth and development of business investment, employers' group Ibec has warned.
The organisation said the Government must therefore urgently deliver a range of policies to speed up housing delivery.
The call came as Ibec published a new report on the growing problem which contains a range of recommendations about how the issues around housing can be resolved.
"The crisis in the availability of affordable housing in Ireland is becoming the critical barrier to the continued growth and development of business investment," said Ibec's director of lobbying and influence, Fergal O'Brien.
"An inadequate supply of affordable housing is the single largest impediment to attracting and retaining talented workers, without whom business investment and expansions are not possible."
Ibec said a recent survey of CEOs found that more than 70% of firms pointed to housing availability as a challenge to their operations this year.
A third described it as a major challenge, while a quarter said the issue was one of their top three external priorities.
"From an employer perspective, there is a need to reinvigorate the policy drive around the availability and affordability of housing in the context of these challenges," said Mr O'Brien.
"This will require a suite of measures to improve the viability and affordability of homebuilding, such as addressing emerging financing deficits, reform of the planning and procurement system to speed delivery, a ramping up of ambition in affordable and cost-rental housing, and significant investment in skills and modern methods of construction."
The report recommends that a temporary VAT refund worth 5% of the price be introduced for those buying new build homes, which it claims would assist with offsetting rising construction costs.
It also suggests that a State fund be established with proceeds from the Local Property Tax to subvent the cost of levies for new homes, where the infrastructure benefits the whole local community and not just the buyer.
Funding through the Irish Strategic Investment Fund and Home Building Finance Ireland should also be significantly increased, it proposes, to ensure adequate development finance in the market.
A "risk appropriate" income tax incentive for investments in designated residential development funds could also be implemented, it says, to grow domestic sources of funding for affordable developments.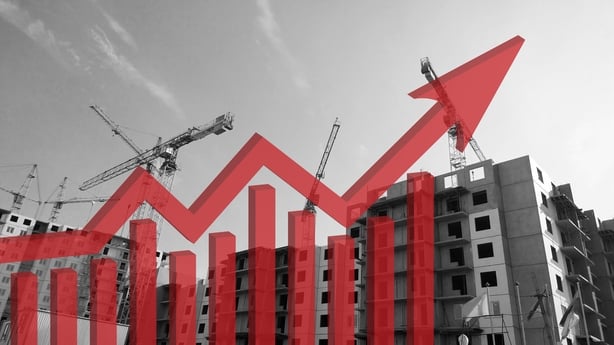 There should also be improved tax treatment of landlords' expenses and greater security for tenants, the analysis claims, to help boost the functioning of the rental sector.
The report also recommends a more ambitious role for local authorities and Approved Housing Bodies in the delivery of social, cost-rental and broader affordable homes.
It says a target for delivery of 20,000 such units annually before the end of the decade, should be set.
In order to tackle the shortage of skills in construction, the report also suggests increased investment in Further Education and Training Centres to address waiting lists as quickly as possible.
The analysis also says the development of digital and other relevant skills in modern building methods need to be encouraged and accelerated capital allowances for investments in new building technologies introduced.
It says the Labour Employer Economic Forum could be used to drive an intensification of work to address solutions for the delivery of adequate supply of affordable housing.
While on planning, it clams the new Planning and Development Bill needs to be progressed in order to improve timeliness of decisions and delivery.
If delivered, the report estimates that collectively the measures would immediately reduce the cost of a typical €400,000 new home by €30,000.
"The housing crisis has increasingly become a concern in relation to cohesion in the workplace and society more broadly," said Mr O'Brien.
"Younger workers, in particular, are financially pressed by ever-higher rents and the receding prospect of homeownership."
"This ultimately spills over into issues around well-being and productivity in the workplace, while in the longer-term, if left unchecked, will also create emerging challenges in terms of pension adequacy and people's broader stake in society over the coming decades."
Last week, it emerged that the Housing Commission had warned the Government that up to 62,000 new homes would be needed every year until 2050 to address demand.
Recently published figures showed that just short of 30,000 homes were completed last year, over 5,000 more than was targeted for that year.
The Government's Housing For All strategy sets a target of an average of 33,000 homes to be built every year between now and 2030.
But the opposition has criticised the targets for not being realistic or ambitious enough.