Ryanair has today posted its largest after-tax profit for the October-December quarter and said bookings for Easter and summer flights in recent weeks were "very robust", boosted by demand from Asian travellers and a strong US dollar.
"Bookings are showing no signs of recession at this point in time," the airline's chief financial officer Neil Sorahan said.
"We had record bookings in week two and week three of January, very robust demand into Easter and the summer without fare stimulation," he said.
The airline, Europe's largest by passenger numbers, reported profits after tax of €211m in the three months ended December 31, the third quarter of its financial year. This compares to a loss after tax of €96m the same time the previous year.
The profit numbers also compared with a forecast of €200m in a company poll of analysts and its previous record of €106m in the final three months of 2017.
Ryanair reiterated its forecast of an after-tax profit of between €1.325 billion and €1.425 billion for the year to the end of March 31. Neil Sorahan said he was "very comfortable" with that range.
He declined to comment on whether fares were likely to rise by a high-single-digit percentage in the coming summer, saying only that he was "encouraged by bookings at this point."
The airline in January upgraded an earlier forecast of €1 billion-1.2 billion, citing pent-up demand for travel after Covid-19 lockdowns were lifted worldwide.
"With Asian tourists now returning and a strong US dollar encouraging Americans to explore Europe, we're seeing robust demand," Ryanair's group chief executive Michael O'Leary said in a statement.
Demand weakness in the UK reported earlier in January has disappeared and may have been due to transport strikes in the country, O'Leary said in a video presentation.
Last week, rivals Wizz Air and EasyJet reported strong summer bookings.
Ryanair, which unlike many airlines, kept its pilots and crew up-to-date with their flying hours during the pandemic to take advantage of the swift rebound and flew a record 38.4 million passengers in final three months of 2022.
We need your consent to load this rte-player contentWe use rte-player to manage extra content that can set cookies on your device and collect data about your activity. Please review their details and accept them to load the content.Manage Preferences
"We see the Easter and summer booking commentary as sentiment positive for the shares," Citi analyst Sathish Sivakumar said in a note.
Ryanair expects to fly 168 million passengers in the year to March 31, well above its previous annual record of 149 million reached before the pandemic brought the travel industry to a standstill.
Passenger numbers are set to hit 185 million in the next financial year, Michael O'Leary said.
That growth will be helped by the delivery of 124 new aircraft by the summer, though Ryanair today warned of the potential for slippage in deliveries from Boeing.
"In fairness Boeing have improved their production processes over the past couple of months, we're seeing aircraft come in on a more regular basis," Neil Sorohan told RTÉ's Morning Ireland.
"There is a risk that maybe four or five of the 124 aircraft that we hope to have this summer may be a little bit late coming in.
"But we're comfortable with the capacity we have, we've launched 230 new routes - so we've 2,450 routes this summer on 3,200 daily flights - and we're comfortable that we'll be able to deliver that."
Mr Sorohan was also broadly confident about airports' ability to manage high volumes of passengers in the coming summer, though he expressed concerns about air traffic control in some countries.
"I think airports stepped up their game into the summer," he said. "They had a very bad start in April and May of last year but things improved radically over the summer - we had very good operational performance from our airport partners into the mid-term breaks and Christmas".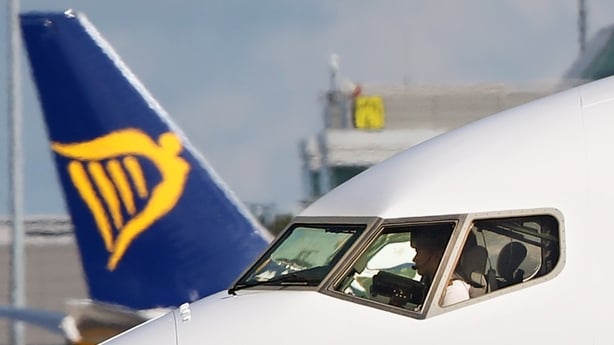 "We've had all of our airport partners and handling partners in recently confirming that they're happy with staffing levels into next summer," he said.
"The one area where I would be somewhat concerned is more on the air traffic control side; the French and the German air traffic controllers in particular continue to have issues and that may continue into the summer," he added.
In its results Ryanair said the collapse and scaling back of some rivals offered it "enormous growth opportunities" in the coming year.
However Mr Sorohan did not see the recent collapse of Flybe as an opportunity for the airline to return to Belfast City Airport.
"We've announced a new base out of Belfast International this summer - that's on the back of the UK government halving the Air Passenger Duty taxes," he said. "We've already put capacity in there - we have been running rescue flights for Flybe.
"But I think where we'll be able to most help is providing jobs to the Flybe staff who are unfortunately out of work."
Meanwhile, Ryanair expects to begin returning cash to shareholders through modest, regular dividends once its net debt reaches zero, probably in the spring of 2024, Michael O'Leary said today.
"I think we are looking at modest dividends hopefully on an annualised basis once earnings and cash flow allow," Mr O'Leary told analysts on a call after the release of financial results for the final three months of 2022.
The dividends will be facilitated by lower capital expenditure as capacity growth slows from 10% today to 4-5% from 2026, he said.
Michael O'Leary also said Ryanair is hiring significant numbers of Ukrainian pilots and cabin crew so that it will be ready to return to the country when the war with Russia ends.
"We are very committed to returning to Ukraine as soon as it is safe to do so," said Michael O'Leary, who had said on the eve of the conflict that he was considering basing up to 20 aircraft in the country.
"We are hiring quite a number of Ukraine pilots and cabin crew specifically so that we can restore bases in Ukraine if and when it is safe to do so," Mr O'Leary told analysts after the release of third-quarter financial results today.
Ryanair shares were lower in Dublin trade today.