British airline Flybe has ceased trading and all scheduled flights have been cancelled, authorities have said.
The UK Civil Aviation Authority (CAA) made the announcement and urged those with booked Flybe flights not to travel to airports.
CAA consumer director Paul Smith said: "It is always sad to see an airline enter administration and we know that Flybe's decision to stop trading will be distressing for all of its employees and customers.
"We urge passengers planning to fly with this airline not to go to the airport as all Flybe flights are cancelled. For the latest advice, Flybe customers should visit the Civil Aviation Authority's website or our Twitter feed for more information."
It comes after Flybe returned to the skies in April following an earlier collapse.
It operated up to 530 flights per week across 23 routes, serving airports such as Belfast City, Birmingham, East Midlands, Glasgow, Heathrow and Leeds Bradford.
Belfast City Airport Chief Executive Matthew Hall said passengers booked on Flybe flights should not travel to the airport.
He said the airline operated ten flights to and from Belfast city, eight of which are currently served by other carriers from our airport.
Mr Hall added: "Alternative travel to Birmingham; Glasgow; Leeds Bradford; London Heathrow, Amsterdam; Edinburgh; Manchester; and Southampton can be arranged through Aer Lingus, KLM, British Airways and Loganair which operates flights to Teesside International from Belfast City Airport."
We need your consent to load this rte-player contentWe use rte-player to manage extra content that can set cookies on your device and collect data about your activity. Please review their details and accept them to load the content.Manage Preferences
Flybe was pushed into administration in March 2020 with the loss of 2,400 jobs as the Covid-19 pandemic destroyed large parts of the travel market.
Before it went bust it flew the most UK domestic routes between airports outside London.
Its business and assets were purchased in April 2021 by Thyme Opco, which is linked to US hedge fund Cyrus Capital.
Thyme Opco was renamed Flybe Limited.
It had been based at Birmingham Airport.
---
What should passengers do now?
Passengers due to fly with Flybe in the next 24-48 hours are advised not to travel to the airport, unless they have booked alternative arrangements.
This includes passengers who are currently overseas with a flight scheduled to return to the UK.
Flybe said it is unfortunately not able to arrange alternative flights for passengers.
Customers who are due to travel in the coming days and weeks may be able to claim a refund and potentially be able to claim any (reasonable) additional costs incurred as a consequence of the cancellation of Flybe's flights from:
- Your credit or debit card provider;
- Your travel insurer; or
- Customers booking through an intermediary should contact them directly to see if they are able to provide additional advice in making a refund claim.

Further information and support for customers can be found at www.flybe.com or via the Civil Aviation Authority (CAA) website at www.caa.co.uk/news
---
Alternative arrangements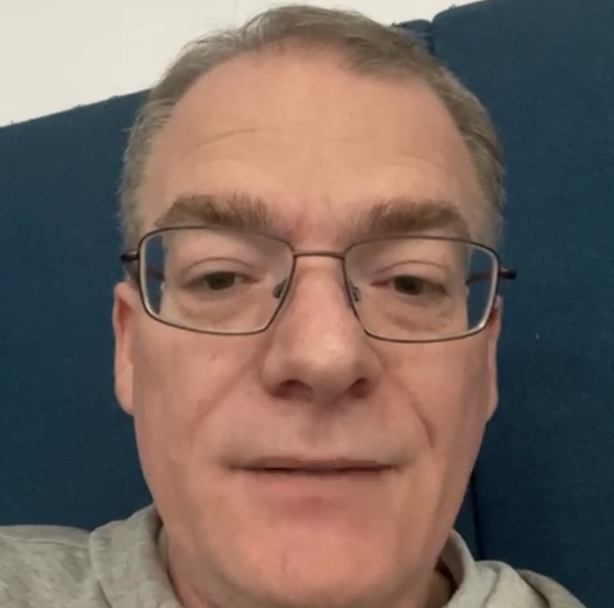 Chris Donnelly is among the hundreds of Flybe passengers who had to make alternative arrangements today, after his flight from Belfast City Airport to Heathrow in London was cancelled.
He said he got up at 5am to get prepared for his flight when he noticed there was an e-mail from the airline sent at 3:07am saying "they were going into administration and all flights have been cancelled."
Mr Donnelly said he was able to organise an alternative flight, however he said a large number of services from Northern Ireland had been cancelled "leaving from here to Edinburgh, to Amsterdam and other destinations across England and Scotland.
Speaking at Belfast City Airport, he said "a lot of people from Belfast alone are going to be left very disappointed today, looking for alternative arrangements."
Mr Donnelly said it wasn't just flights that were disrupted by the grounding of the Flybe aircraft.
"We had arranged initially to go into Heathrow, so we booked Heathrow Express tickets, so it's going be difficult to get refunded on that and we had other things booked."
He said he is unsure if he will get refunded on the original Flybe tickets, but he paid tribute to the workers at the airline who have lost their jobs as a result of the collapse of the carrier.
'Big blow' to Belfast City Airport
A travel expert has said the collapse of Flybe represents "a big blow" to Belfast City Airport.
Eoghan Corry, the editor of Air and Travel Magazine, said Belfast is the regional airline's biggest base.
He said in 2022, the carrier accounted for "around 30% of the passengers from Belfast City Airport, so about 300,000 people would have flown with Flybe out of the island of Ireland last year."
Mr Corry said management at the airport "are being a little bit upbeat saying there are other airlines there but it's been a big blow for the second time in three years for Belfast City Airport."
He said "it really has been a struggle for Flybe" since the airline first went into administration in March 2020 and then resuscitated by an American hedge fund.
Mr Corry said the airline had "lots of things going against them" including the cost of fuel, which spiked in the aftermath of the start of the war in Ukraine.
"If you don't have the buying power that Ryanair have, you couldn't actually hedge so there were caught with short term fuel prices."
He said Flybe was also "caught with the collapse in aviation post-Brexit within Britain, which has not recovered to pre-pandemic levels or to the 83% we've seen across the industry."
"They were also caught with high charges at the airports, which have risen while they haven't been able to increase the fares to the same degree."
Additional reporting by Fergal O'Brien