Nearly half of households in Ireland are finding it difficult to make ends meet, according to latest information from the CSO Survey on Income and Living Conditions.
The figure has risen from 42% in 2021 to 49.3% this year.
The proportion of people in enforced deprivation has risen from 14% to 17%.
The groups most likely to be affected are lone parents, unemployed and people suffering with long term illness.
Enforced deprivation is defined as experiencing two or more items from a list of 11 complied by the CSO.
These include being unable to get a warm coat, two pairs of shoes in the year, a roast once a week or being unable to keep the home warm.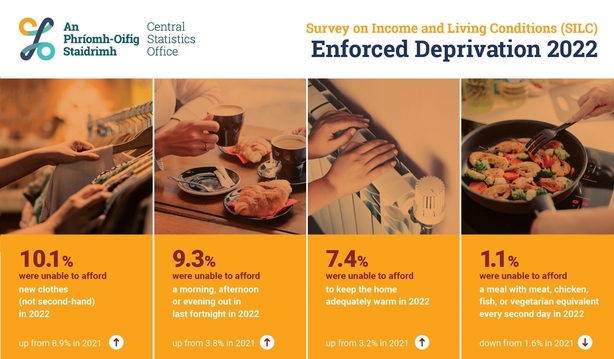 "The figures released today offer some insight into living standards across the state," said Susanne Rogers, research and policy analyst at Social Justice Ireland.
"Of particular concern to us in Social Justice Ireland is the increase in deprivation rates in the most vulnerable groups: one parent households, people with a disability, and people who are unemployed."
"These groups are among those most impacted by the rising cost of living, and they need support."
The organisation also criticised the failure of last month's budget to increase core social welfare rates by €20.
"That was the minimum that was required," said the organisation's Fr Sean Healy, who also called for the Government to immediately provide for an additional €8 or €20 in total in core social welfare rates.
"Anything less would mean that Budget 2023 confirms Government has abandoned those who need its help most," he said.
Electricity savings
Meanwhile, the Minister for Finance has said it will "take some time" for savings in wholesale electricity prices to be passed on to consumers, but he believes "it will and it should".
Paschal Donohoe was speaking after wholesale electricity prices fell sharply last month, down 52% in October, following a fall of 27% the previous month.
The figures published by the Central Statistics Office yesterday, showed that the price of electricity on the wholesale market is now cheaper that at any time over the last 12 months.
However, Mr Donohoe said it is going to "take some time for the lower prices in electricity markets to affect household and business bills".
Elsewhere, the Tánaiste has said the situation around help with the rising cost of living will be reviewed later in the year to see if more assistance is required.
Leo Varadkar said a lot of the help announced in the Budget has not yet landed in people's bank accounts.
He said the windfall tax on energy companies announced yesterday would give the Government some additional resources that it did not have on Budget day and it could be used to provide additional assistance to households and businesses next year.
"But it is too soon to make that call now," he said.
"We need to see where we stand in relation to energy prices, whether they are going up or down or staying the same."
On the planned road toll increases, Mr Varadkar confirmed discussions are under way at Government level about whether anything can be done to alleviate or soften the blow.
He said a decision on that would have to be made before the end of the year as the increases are scheduled to take effect in January.
Additional reporting by Will Goodbody, Fergal O'Brien