Ryanair has today posted its largest ever after-tax profit for the first half of its financial year, which includes the key summer months, and said it expected to return to pre-Covid annual profit levels of at least €1 billion this year.
The recovery in traffic and profitability is likely to continue to be "very strong" for at least the next three years.
This will allow the airline, already Europe's largest by passenger numbers, to make major market share gains, group chief executive Michael O'Leary said.
Ryanair earned €1.371 billion in the six months to the end of September.
While that was just short of a forecast of €1.385 billion in a company poll of analysts, it was well ahead of its previous first-half record of €1.29 billion in the six months to the end of September 2017.
Total revenue for the six months jumped by over 200% to €6.62 billion.
Ryanair said its operating costs rose by 126% to €4.98 billion - including a 205% increase in fuel to €2.18 billion. But cost per passenger (ex-fuel) fell below €30, slightly lower than the same period pre-Covid.
While the winter will be loss-making, Ryanair said it expects an after-tax profit of between €1 billion and €1.2 billion for the year to March 31, though that forecast remains "hugely dependent" on no adverse shocks.
"Concerns about the impact of recession and rising consumer price inflation on Ryanair's business model have been greatly exaggerated in recent months," Michael O'Leary said.
"We expect these strong fundamentals will continue to underpin robust traffic and average fare growth for the next 18-months at least," he said.
In a pre-recorded video presentation he predicted very strong growth in profit and traffic over the next three years assuming oil prices remain relatively stable.
The combination of 15% traffic growth and a 14% fare rise was something he said he had never seen in all his years in the industry, Mr O'Leary said, referring to second-quarter numbers.
He said that bookings in November and December remain strong but the airline said it had very little visibility for the first three months of 2023.
That was echoed by Ryanair Group's chief financial officer Neil Sorohan on RTÉ's Morning Ireland.
We need your consent to load this rte-player contentWe use rte-player to manage extra content that can set cookies on your device and collect data about your activity. Please review their details and accept them to load the content.Manage Preferences
"We would be somewhat cautious having been hit by Covid out of the blue last year," he said. "But if all else remains equal and we don't have any shocks we're planning to fly 110% pre-Covid capacity this winter.
"We've increased our traffic targets for the full year from 166m to 168m, with a plan to grow back up to 185m into next year," he said.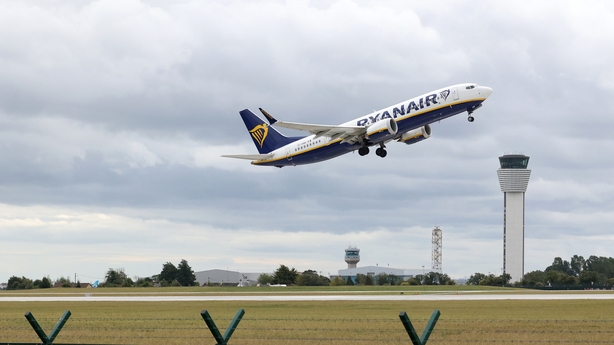 Mr Sorohan said they had seen evidence of strong demand for flights since last summer, and that Ryanair worked hard to ensure it was able to cater to that as international travel reopened.
He also said that there was no sign of demand easing, even as fares rise and consumers' disposable income declines.
"We're not seeing it at all - in fact in October when we had the mid-term breaks we, again, recorded record traffic," he said. "Christmas having been cancelled for the last two years we're seeing strong bookings [for this year] too.
"Our view is that, as they've done in previous slowdowns, people continue to fly, but they move towards lowest cost providers, and that's Ryanair by a country mile," he stated.
Several rivals have provided relatively upbeat guidance in recent weeks with Wizz Air, Aer Lingus and British Airways-owner IAG and Lufthansa all saying they were seeing continued strength in ticket sales despite inflation fears.
Ryanair, unlike many airlines, kept its pilots and crew up-to-date with their flying hours during the pandemic to take advantage of the swift rebound.
It said today after after its strong H1 financial and operational performance, it will bring forward the full restoration of pay for all crews covered by its long-term agreements to December 1, 2022 instead of April 2023 and staff will now receive their full pay restoration in the Christmas payroll.
However, Fórsa trade union, which represents Ryanair's directly employed, Irish-based pilots, has written to the airline's management seeking immediate restoration of their pay.
"The pandemic is over and passenger numbers are very strong," said Fórsa assistant general secretary Ian McDonnell.
"The airline now enjoys record performance figures, and it should immediately restore Irish-based pilot pay levels to pre-Covid levels. The airline's recovery is complete and improving upward beyond expectations."
Ryanair said it flew a record 95 million passengers in the six months to the end of September.
The airline also increased its passenger forecast for its financial year to 168 million from 166.5 million, significantly ahead of its previous annual record of 149 million reached before the pandemic brought the travel industry to a standstill.
However, Michael O'Leary warned that he was concerned that Boeing may deliver only 40 to 45 of a promised 51 737 MAX aircraft in time for next summer.
Ryanair expects to emerge as Europe's only major low-cost carrier
Ryanair today predicted it would eventually become Europe's only major low-cost carrier, with CEO Michael O'Leary claiming a widening gap on costs would make rivals EasyJet and Wizz takeover targets.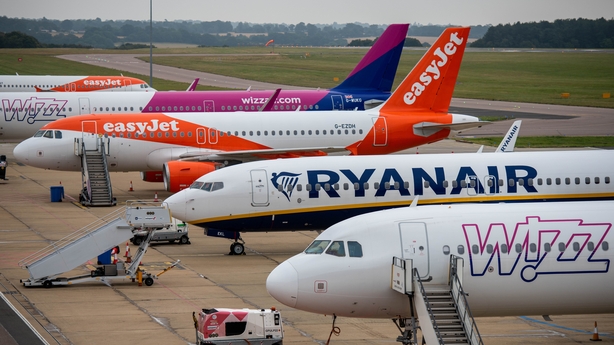 "Europe is inexorably moving towards a similar out-turn as North America where you will have three very large, somewhat higher cost, high-fare connecting carriers, and one very large low cost carrier" in Ryanair, Michael O'Leary said.
Wizz chief executive Jozsef Varadi, who has always maintained his cost base is comparable to Ryanair's, last week said he did not see his airline as a takeover target.
A spokesperson for EasyJet, a hybrid player focused on undercutting legacy airlines at established airports which does not see itself as a direct competitor to Ryanair, said "millions of consumers in Europe will be relieved to hear there is no realistic prospect of Ryanair becoming the only low cost airline in Europe."
Mr O'Leary said both of the rival airlines "would be candidates for M&A over the next couple of years because they are stuck in a space where they are mid-airfare, mid-cost and they are not able to compete with us on cost or pricing."
Speaking on a call with analysts following the release of results for the first half of its financial year, O'Leary praised EasyJet for establishing a "fortress-like" position in some expensive airports like London Gatwick and Paris Charles de Gaulle, Geneva and Zurich.
But he said the British airline was being forced by Ryanair to retreat in other markets like Italy and Portugal.
Wizz, O'Leary said, was making progress with expansion in the Middle East but was retreating in the face of Ryanair expansion in some parts of its core central and eastern Europe region.
Michael O'Leary said he also expected Portugal's TAP and Italy's ITA would both ultimately be taken over by larger rivals.
Shares in the airline rose in Dublin trade today.