British Prime Minister Liz Truss has sacked her chancellor and scrapped parts of their economic package in a bid to stay in power and survive the market and political turmoil gripping the country.
British Chancellor Kwasi Kwarteng was asked to "step aside" by Prime Minister Liz Truss shortly after midday, after their fiscal plan unleashed weeks of market and political pressure.
Number 10 announced that former foreign secretary Jeremy Hunt has been appointed as the new chancellor.
In a news conference this afternoon, Ms Truss announced another drastic U-turn to her mini-budget which sparked chaos in the markets, saying she would be raising corporation tax after all.
Stating the "need to act now to reassure the markets", Ms Truss said: "I have therefore decided to keep the increase in corporation tax that was planned by the previous government."
The prime minister said her mission remains the pursuit of a "low-tax, high-wage, high-growth economy" but accepted parts of the mini-budget last month went "further and faster" than markets had expected.
Admitting she had to change course, she reversed a key policy to scrap the planned rise in corporation tax from 19% to 25%.
But asked whether she should resign, Ms Truss said: "I am absolutely determined to see through what I have promised."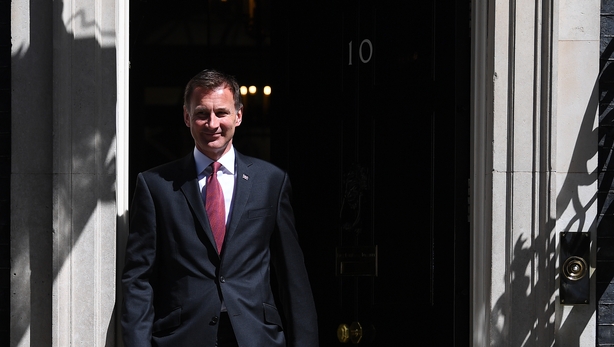 Labour leader Keir Starmer said Kwasi Kwarteng's sacking does not "undo the damage" already inflicted.
He tweeted: "Changing the chancellor doesn't undo the damage made in Downing Street.
"Liz Truss' reckless approach has crashed the economy, causing mortgages to skyrocket, and has undermined Britain's standing on the world stage," he said, calling for a "change in government".
Scotland's First Minister Nicola Sturgeon said Liz Truss should resign to restore "economic stability" to the UK.
"Her decisions have crashed the economy and heaped misery on people already struggling with a cost of living crisis," she said.
We need your consent to load this rte-player contentWe use rte-player to manage extra content that can set cookies on your device and collect data about your activity. Please review their details and accept them to load the content.Manage Preferences
Kwarteng 'accepted' Truss resignation request
In a letter to Ms Truss this afternoon, Mr Kwarteng said: "You have asked me to stand aside as your Chancellor. I have accepted."
Liz Truss told Kwasi Kwarteng that she is "sorry" to lose him as chancellor, adding that: "You have put the national interest first."
Mr Kwarteng said in his letter: "When you asked me to serve as your Chancellor, I did so in full knowledge that the situation we faced was incredibly difficult, with rising global interest rates and energy prices. However, your vision of optimism, growth and change was right.
"As I have said many times in the past weeks, following the status quo was simply not an option.
"For too long this country has been dogged by low growth rates and high taxation - that must still change if this country is to succeed.
"The economic environment has changed rapidly since we set out the Growth Plan on 23 September. In response, together with the Bank of England and excellent officials at the Treasury we have responded to those events, and I commend my officials for their dedication.
"It is important now as we move forward to emphasise your government's commitment to fiscal discipline. The Medium-Term Fiscal Plan is crucial to this end, and I look forward to supporting you and my successor to achieve that from the backbenches," he said.
---
Analysis: Is Kwarteng's exit enough to appease herd?
---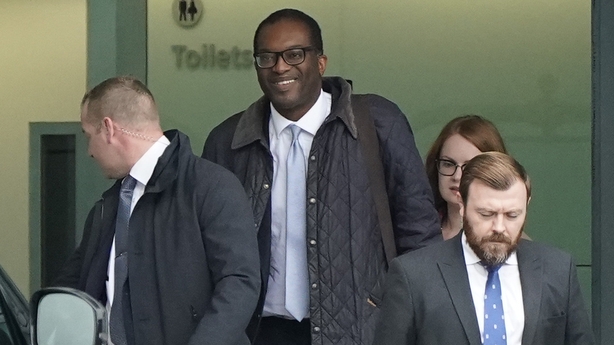 Truss's vision for tax cuts
Mr Kwarteng had announced a new fiscal policy on 23 September, delivering Ms Truss's vision for vast tax cuts and deregulation to try to shock the economy out of years of stagnant growth.
But the response from markets was so ferocious that the Bank of England had to intervene to prevent pension funds from being caught up in the chaos, as borrowing and mortgage costs surged.
We need your consent to load this rte-player contentWe use rte-player to manage extra content that can set cookies on your device and collect data about your activity. Please review their details and accept them to load the content.Manage Preferences
According to a source close to the prime minister, Ms Truss is now in "listening mode" and inviting lawmakers to speak to her team about their concerns to gauge which parts of the programme they would support in parliament.
Ms Truss would need to stay as prime minister until the start of next year to avoid her premiership becoming the shortest in British history.
The person who currently holds the title is the Tory statesman George Canning, who spent 118 days as prime minister in 1827 before dying in office from ill health.
Ms Truss would overtake this number of days on 3 January, 2023.
Taoiseach Micheál Martin said he was reluctant to get involved in what he called the internal political situation in the UK, adding that he had a good meeting with Ms Truss shortly after her appointment.
"We're very anxious to build a strong relationship between Ireland and Britain, between the UK and the European Union and I hope that things will settle following post budget developments there," Mr Martin said.
"Many of our bigger companies have a market share in the UK, so obviously we're always watching and observing what's happening in the United Kingdom because of a potential spill over effect for Irish companies and institutions."
Additional reporting: Teresa Mannion