Irish Distillers is to invest a quarter of a billion euro in the construction of a new distillery in Midleton, County Cork.
The new distillery will be built on a 55-acre site adjacent to its existing facility in the town and will employ 100 people.
Last week, Irish Distillers announced financial results which revealed that, for the first time, its Jameson whiskey had sold more than 10 million cases worldwide in the financial year to the end of June.
Jameson is now the fastest-growing Irish whiskey in the world.
Today's announcement is the company's response to keep pace with that sales growth.
Irish Distillers will seek planning permission before the end of the year for a new distillery on land adjacent to its existing facility in Midleton.
It says it expects building work to get underway next year, and that up to 800 people will be employed during the three-year construction phase, with 100 permanent jobs thereafter.
The new distillery will produce pot still and grain whiskey and is expected to increase demand for barley and malted barley from Irish farmers by up to 50%.
Irish Distillers says the new distillery will be a carbon neutral operation, in keeping with its aim to make all of its East Cork facility carbon neutral by 2026.
Taoiseach Micheál Martin, said today's announcement and the success of Irish whiskey worldwide was something to be proud of.
"Whiskey has been distilled in Midleton for nearly 200 years, and the €250 million investment will deliver hundreds of more jobs into the future, both during construction and once the distillery is operational," he said.
"Today's announcement is an extremely positive development for Midleton and the wider region, and will further solidify Midleton's reputation as the home of Irish whiskey."
Chairman and CEO at Irish Distillers, Nodjame Fouad, said the new distillery is necessary for the company to keep pace with sales growth into the future.
"We are immensely proud of the continued strong performance of our full portfolio of Irish whiskeys, led by Jameson which sold over 10 million cases in our 2022 financial year," she said.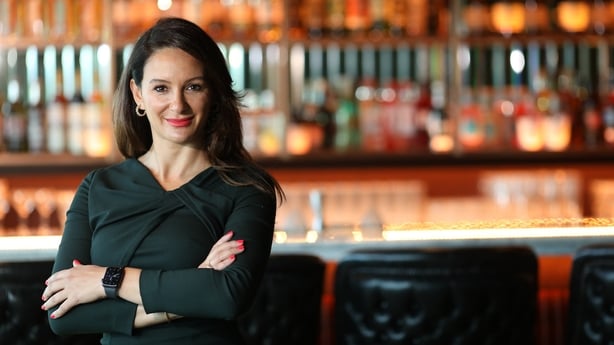 "The new distillery will be a beautiful, landmark development with sustainability at its core and will serve to further demonstrate our commitment to Midleton and East Cork, generating more jobs for the region and further driving recognition of Midleton Distillery as the beating heart of Irish whiskey," she added.
Tommy Keane, Irish Distillers Operations Director said the new distillery would secure the future of distilling in East Cork.
"We are incredibly proud of Midleton's well-earned reputation as the home of some of the world's most loved Irish whiskeys, and today's announcement, along with the on-going €13 million re-development of our visitor experience, will cement Midleton's reputation as a world-renowned whiskey destination," he said.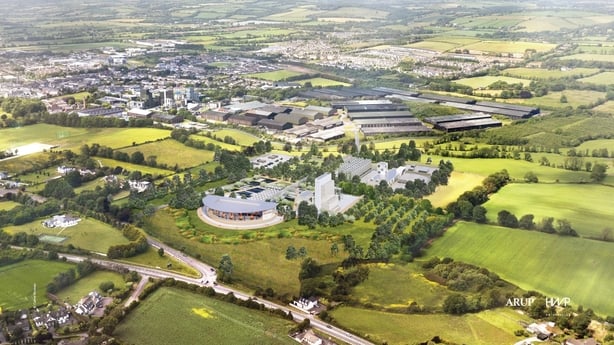 Leo Clancy, Enterprise Ireland Chief Executive highlighted the project's job creation potential.
"This planned investment will also have an important impact on the local community, by creating up to 100 new jobs in East Cork, as well as hundreds more during the construction phase," he said.
"It also demonstrates Irish Distillers continued long-term commitment to Ireland and their sustainability ambitions."
The new distillery will employ innovative mechanical vapor recompression (MVR) technology, which will see a closed loop system capture, compress and recycle waste heat in the distilling process.
Renewable sources of energy, including green hydrogen and biogas, will be used to power the distillery.
Irish Distillers says it has partnered with local company EI-H2 to explore opportunities to source green hydrogen and has carried out extensive research in partnership with MaREI, the Science Foundation Ireland Research Centre for Energy, Climate and Marine, hosted by University College Cork, to determine the biomethane potential of the by-products of distillation and design the required anaerobic digestion process necessary to produce biogas.
Irish Distillers produces some of the world's best-known Irish whiskeys, including Jameson.
The company's whiskeys are exported to more than 130 markets around the world.
It says many of those are experiencing double or triple-digit growth.
Irish Distillers was formed in 1966 in a merger between John Power & Son, John Jameson & Son and Cork Distilleries Company. In 1988 Irish Distillers joined Pernod Ricard.
Since 2012, Irish Distillers has invested over €250m to double production and bottling capacity to meet global demand for its products.
The company employs more than 800 people in Cork and Dublin.
Pernod Ricard owns 17 of the world's top spirits brands. It employs almost 20,000 people.