AIB has reversed its decision to end cash services at 70 branches around the country.
The move follows a backlash to the move from business groups, consumers, farming and rural organisations and politicians.
In a statement, the bank said that recognising the customer and public unease that it has caused, it had decided not to proceed with the proposed changes.
It said it had taken the original decision to remove the cash services in the context of the evolving banking environment and the opportunity to enhance its long-standing relationship with An Post.
"In recent years there has been a dramatic increase in the use of digital banking services and a decline in branch visits and cash usage," the bank said.
"In AIB's case, there are 2.9 million daily digital interactions compared with 35,000 customer branch visits.
"There has been a 36% decline in cash withdrawals from ATMs and a 50% fall in cheque usage over the past five years."
The bank added that it has seen a fall of almost 50% in branch over-the-counter teller transactions, while mobile and online payments have increased by 85% in that same timeframe.
The lender, which the State owns a majority of, said it will continue to retain its 170-strong branch network in its entirety and will also continue to offer banking services through its relationship with An Post.
Minister for Finance Paschal Donohoe said he welcomed AIB's decision not to go ahead with the proposed changes.
In a statement, he said that banks have "a key role in maintaining the flow of cash through the economy and ensuring appropriate access to retail banking services for all in society, including the vulnerable".
Earlier today, the Central Bank of Ireland said that vulnerable customers should have full access to basic banking services.
In a statement, before AIB's reversal, the regulator said that it expects banks to consider carefully the impact of its decisions, with a consumer-focused approach.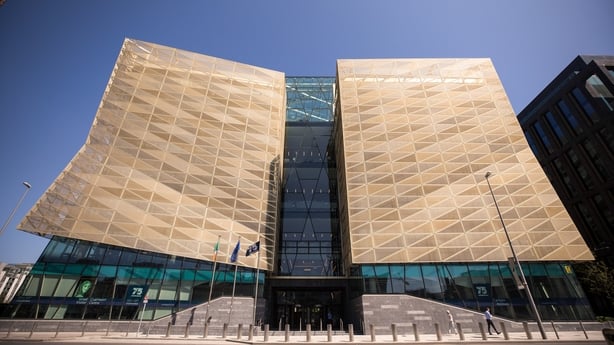 AIB already has 22 cashless branches and had planned to withdraw cash services from another 70 branches in September and October.
However, the decision had received much criticism. The Taoiseach had invited AIB to talks next week, while also asking the bank to reverse its decision.
The Central Bank of Ireland had said that the development is a commercial decision for the board of AIB.
However, in a statement it had also said that it expects all regulated entities, including banks, to ensure that the impact of its decisions is considered carefully and with a consumer-focused approach.
It added that banks should provide vulnerable customers with the assistance necessary to ensure that those customers retain full access to basic banking services, including at another location.
The Central Bank said that regulated entities should ensure that the impact of its decisions is considered carefully and with a consumer-focused approach.
The Minister for Social Protection, Rural and Community Development was among those who had called on AIB to pause its decision to turn a further 70 of its branches cashless.
Speaking in Donegal, Heather Humphreys said: "AIB have shown a complete disregard for rural communities and have not consulted with them."
Minister Humphreys said she had been "visiting rural communities all over the country" who had been "rightly angry" by AIB's initial announcement.
We need your consent to load this rte-player contentWe use rte-player to manage extra content that can set cookies on your device and collect data about your activity. Please review their details and accept them to load the content.Manage Preferences
Fine Gael TD Brendan Griffin said that for those dealing in livestock in rural communities "cash is king" and that in his own constituency "people deal in cash all of the time".
Speaking to RTÉ's Today with Philip Boucher Hayes, the Kerry TD said: "We have to put the people first here. The effect on the ground is devastating. People are really, really upset, angry, furious."
Minister for Agriculture Charlie McConalogue said AIB needed to reflect on its initial announcement as it showed little consideration to customers.
Speaking on RTÉ's Drivetime, Mr McConalogue said the move was not well thought out, adding that there were lessons to be learned.
Earlier, Minister of State with responsibility for Public Procurement and eGovernment Ossian Smyth said he wanted to see "strong community banking" across Ireland.
Speaking on RTÉ's Morning Ireland, Mr Smyth said: "Whether that is done through credit unions or whether it is done through post offices or whether it is done through some form of community banking, whatever way it works, I want it to be possible for people to locally access a place where they can deposit cash or withdraw cash.
"I think it's important that people in rural areas have access to banking.
"I'm happy to see that it will be possible to continue to lodge cash and withdraw cash from a post office to your AIB account and I think that Bank of Ireland is taking the same approach."
ISME Chief Executive Neil McDonnell said that AIB's cashless decision would have made it more difficult for cash orientated businesses to operate.
Speaking on the same programme, he said: "We know that Ireland is moving towards a cashless society but there are still substantial portions of businesses like pubs, cafes, groceries, grooming and fast food that are very, very dependent on cash transactions.
"They don't do it because they want to, they do it because their customers demand that they do it.
"Cash handling for those businesses is actually very expensive now.
"The withdrawal of these cash services will really increase the cost and the bother of dealing with cash for those businesses."
General Secretary of the Financial Services Union John O'Connell welcomed the decision from AIB, but said the union would prefer to see a blended approach with choices for those who want to conduct their banking face-to-face or online.
Speaking on RTÉ's Drivetime, Mr O'Connell said trying to force digitalisaion has led to poorer service levels and lengthy wait times at branches.
"For a lot of towns, AIB is the last branch in town and there has to be a debate on the type of banking system that society wants," he said.
Independent TDs leave AIB headquarters
A group of independent TDs arrived at the bank's headquarters saying they would not leave until they got a meeting with CEO Colin Hunt.
Mattie McGrath, Michael Collins and Danny Healy-Rae of the Rural Independents Group arrived at the site at around 10.30am.
The Independents have left the building … #AIB pic.twitter.com/BauNKXgvwC

— Mary Regan (@MaryERegan) July 22, 2022
Cork South West TD Mr Collins said he left his constituency at 4am to set off for Dublin and demand answers "on behalf of the people of rural Ireland".
Tipperary TD Mattie McGrath had called for the Dáil to be recalled to discuss the cashless plans.
He said: "The Government, as a majority shareholder of this bank, is directly complicit in allowing AIB to drastically downgrade services, hoping the public will quietly accept this."
The TDs left the building following AIB's announcement that it would not go ahead with the proposed plans.
Additional reporting: Mary Regan, Tommy Meskill