Irish research organisations, such as universities and colleges, spent a record breaking €672 million on research projects last year.
That's according to new data from Knowledge Transfer Ireland (KTI), the State body which works to make it easier for businesses to access publicly-funded research.
The figures show a strong level of collaboration between research organisations and industry.
In 2021 there were 1,339 new research and development (R&D) agreements signed with companies to commence new research projects.
By the end of the year, 1,780 research projects were live across all research organisations.
Despite the pandemic, and the challenges businesses are facing, Imelda Lambkin from Enterprise Ireland, which overseas the KTI, said they did not see a fall in the number of research projects taking place last year.
"The numbers are roughly equivalent to the preceding years, which we have been really delighted to see given the challenges faced over the last two years or so - we are really surprised to see those numbers," she said speaking on Morning Ireland.
The figures show that 80% of the R&D agreements were with Irish companies, while 66% were with Irish SMEs.
"The small companies are really interacting well, which is really interesting as we are coming out of a pandemic," Ms Lambkin said.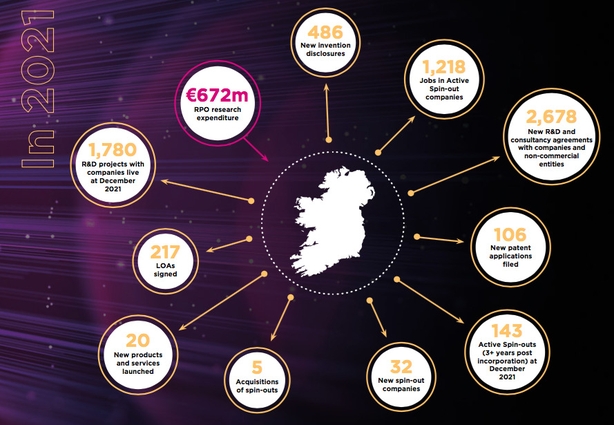 Ms Lambkin said there are many benefits for companies that engage with research organisations.
"They have access to really high-end expertise with researchers across our higher education institutions for example, they have access to really high quality equipment and facilities, and through the technology transfer innovation offices they have business development support as well - so it is a really useful opportunity for them" she said.
The data shows that between 2017 and 2021, 139 spin-out companies were created from research performing organisations, an average of 28 every year.
Last year, 32 new spin-outs were created, up slightly from 30 the year before.
As of December 2021, the figures show there were 143 active spin-out companies - which employ at least 1,218 people.
Ms Lambkin said five companies previously formed from research organisations were acquired or merged with other companies.
"These acquisitions yielded four million euros of revenue to the research providing organisations," she pointed out.
We need your consent to load this rte-player contentWe use rte-player to manage extra content that can set cookies on your device and collect data about your activity. Please review their details and accept them to load the content.Manage Preferences
The total research expenditure in 2021 of €672 million was the highest recorded since 2014.
The figures show spending was up almost 6% when compared to 2020.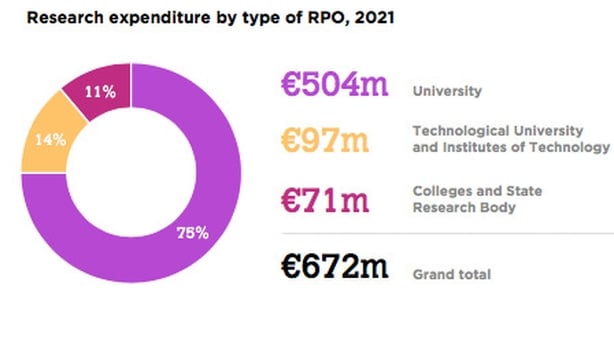 According to the report, revenue return to research organisations from commercialisation activities with industry came in at around €143 million.
Over the past five years there has been a total of 2,386 new invention disclosures with an increase in 2021 of 8%.
As in previous years, the majority are sole invention disclosures where just one research organisation is involved.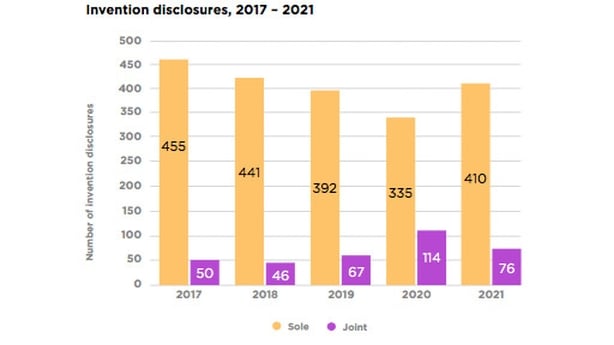 While the trend in the number of patents filed has previously increased year on year, the latest figures show the number dropped significantly last year from 147 in 2020 to 106 - which is the lowest in the last five years.
"Innovation through research is shown to deliver real value to Irish companies and to better position them to compete effectively in global markets," said Robert Troy, Minister of State at the Department of Enterprise, Trade and Employment.
"The calibre of Irish research and the opportunities it presents to business in Ireland continues to be recognised globally.
"This Government is committed to continuing its support for the research system and to further build and develop what is already a vibrant and fruitful space which acts as a job multiplier right around the State," he added.