Dublin Airport has said it is "keen to avoid" reducing airline capacity over the summer season.
It comes after Gatwick Airport in London and Schiphol Airport in Amsterdam announced plans to limit flights due to staff shortages.
The airport operator, daa, said the measures it has introduced to avoid a repeat of the long delays on 29 May, which resulted in around 1,400 people missing flights, have worked well over the past three weeks.
It said: "The system of filtering passengers based on whether they require bag check-in or can progress straight to security is working effectively."
Overflow facilities in the pre-terminal areas are now fully in place and available if needed.
Daa said more than 650,000 passengers have travelled through Dublin Airport over the past week, with the vast majority getting through security screening in less than 45 minutes.
However, at busy times, it has taken around an hour.
In a statement, airport management said it notes the decision taken by some airports across Europe to cancel flights, in response to staffing challenges.
Daa said it is "keen to avoid such action at Dublin Airport and we remain fully committed to ensuring we get our staffing levels and operations where they need to be to cope with rising passenger numbers."
Dublin Airport said it continues to advise passengers to arrive at the airport 2.5 hours before a short-haul flight and 3.5 hours before a long-haul flight and to allow an additional hour to check-in bags.
Earlier, Gatwick Airport - Britain's second largest - said it will cut up to 75 flights a day as part of efforts to avoid further chaos.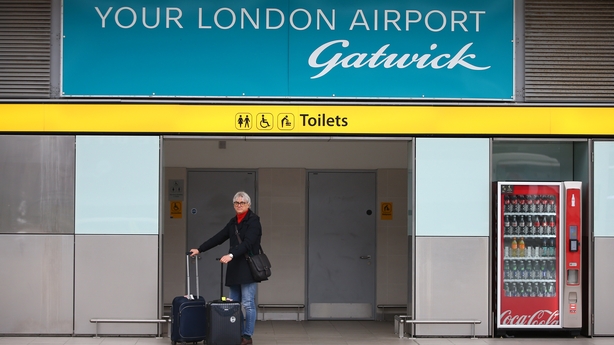 It will cap the number of flights to 825 per day in July and 850 daily in August - down from 900 on peak days.
A similar decision has been taken at Schiphol Airport with capacity being cut by 13,500 seats per day.
We need your consent to load this rte-player contentWe use rte-player to manage extra content that can set cookies on your device and collect data about your activity. Please review their details and accept them to load the content.Manage Preferences
There were also long queues in London's Heathrow Airport causing Nicole Venglovicova, 31, to miss three separate flights to Belfast.
"I had a meltdown, I was crying outside the airport out of stress," the freelance video producer told PA news agency.
"I arrived at the airport for my morning flight and Flybe told me the queue is huge so I need to run.
"When I finally got to security, my boarding pass didn't work... the gate was still open at this point."
As Ms Venglovicova went back to the front desk to explain the issues with her boarding pass, staff "started arguing with security".
By the time she was able to get back to her gate, it was closed and nobody was there.
Retrieving her luggage and going back through security took Ms Venglovicova a further two hours which she meant she missed another two flights she could have caught to Belfast.
Mick Lyon, from Liverpool, said his time at Manchester Airport on Friday was "very frustrating".
Travelling home from Paris, the 39-year-old said passengers were queueing outside the terminal as passport control barriers were closed down.
"Literally needed someone to open up the barriers so people could queue orderly... it could have easily been avoided by opening up the barriers," he added.
Earlier this month, Britain's transport secretary, Grant Shapps, told airlines to stop selling tickets for flights they cannot staff after a spate of cancellations.
Travel expert Simon Calder said he believes the decision by Gatwick Airport will be effective in easing queues and cancellations.
"A lot of people are saying it means it is going to be an awful summer of flight chaos, but in fact what Gatwick Airport is doing is exactly the opposite," he said.
Speaking to RTÉ News, Mr Calder said that "what we're going to see, is a sensible number of flights cancelled to put some resilience in place, because that has really been the problem."
The travel journalist and broadcaster spent most of the day at Gatwick Airport.
"The whole idea of Gatwick's plan to cap the number of flights in July and August is to make sure there's a bit of slack in the system, so we don't see the terrible scenes of flights being cancelled at the last minute," he added.