Musgrave is investing €25 million in SuperValu and Centra stores as part of a new sustainability fund aimed at helping retailers to achieve net zero carbon by 2040.
The supermarket supplier said the investment will result in an estimated 12% carbon reduction by the company over a two-year period.
Speaking on Morning Ireland, Noel Keeley, CEO of Musgrave Group, said, "Climate change is the single biggest problem that we face as a society. We have a very strong track record when it comes to sustainability, and as part of our new sustainability strategy we are investing €25 million to reduce the carbon footprint of our independent retail Centra and SuperValu stores all over the country by 12%."
Asked how the group would measure the 12% carbon reduction, Mr Keeley said the company can see the contribution that replacing less efficient equipment with more efficient equipment makes. "We can also see how much green energy we are generating as opposed to traditional energy. So it's quite measurable. It's equivalent to planting 400,000 trees or enough power to power 5,000."
We need your consent to load this rte-player contentWe use rte-player to manage extra content that can set cookies on your device and collect data about your activity. Please review their details and accept them to load the content.Manage Preferences
In the Republic of Ireland, Musgrave is committing up to €50,000 per SuperValu store and up to €28,000 per Centra store.
Retailers can select suitable initiatives based on each store's needs, including upgrading freezers and refrigeration units, LED lighting retrofit, solar panels, and electronic shelf edge labels.
The group CEO said its suppliers are also making similar sustainable changes. "We work hand in hand with our suppliers to make sure we are all doing our part because ultimately we can only achieve these outcomes by the whole supply chain cooperating together."
Musgrave's new sustainability strategy will also provide consumers with more sustainable shopping choices in-store.
It said it is committed to:
100% of its own brand packaging recyclable, reusable or compostable by 2025. Currently 90% of its own brand packaging is recyclable, reusable or compostable.
100% of produce packaging to be recyclable, reusable & compostable by 2025
100% of instore packaging to be recyclable, reusable & compostable by 2025
Mr Keeley said Musgrave is also looking at sourcing products closers to home to avoid the cost and environmental impact of shipping.
"We are, and Musgrave would be very proud of the fact that we source 75% of our products on the island of Ireland already, so will absolutely and always have been focused on reducing food miles."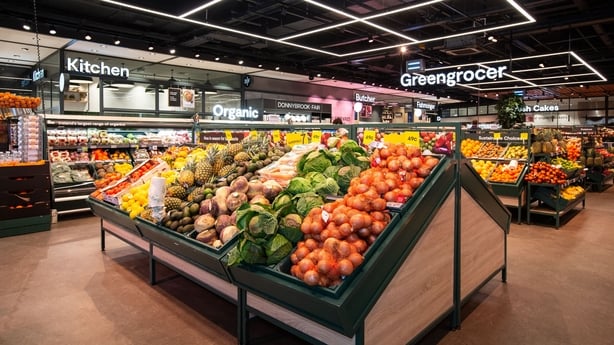 Separately, the cost of a basket of groceries has gone up and Mr Keeley said Musgrave is working hard on reducing the impact on consumers, "where we possibly can".
He also said that he doesn't anticipate that there will be any products that won't be on the shelves in a few months due to price or availability.
"No, we don't anticipate having availability challenges or any products that we won't be able to source on the basis of price. Obviously, between Covid and the conflict in Ukraine, it has had significant impact on the supply chain, but we are very proud of the fact that we have kept our availability strong for the consumer in every store."