Everyday grocery items are rising in price at a rapid rate, with a new estimate from Eurostat suggesting consumer prices rose here by 8.2% in the year to the end of May.
That translates into higher costs at the shopping tills, potentially adding hundreds of euro to an average household's annual bill.
But not all price rises are equal, and a myriad of factors affect different products in different ways.
To help make sense of what's going on, we've taken a closer look at a selection of everyday grocery items.
Each one has seen significant price increases, but each one has a different story to tell as to the reasons why.
In this piece, we'll take a look at cooking oil prices.
What's happening with cooking oil prices?
We need your consent to load this rte-player contentWe use rte-player to manage extra content that can set cookies on your device and collect data about your activity. Please review their details and accept them to load the content.Manage Preferences
Adam Maguire discusses the rising cost of cooking oil on RTÉ Radio 1's Today with Claire Byrne
According to the CSO, the price of vegetable oil is up 14.4% in the year to March – the price of other edible oils, excluding olive oil, is 8.4% higher.
So it's tracking well above the general increase in the cost of goods.
A major reason for this is the war in Ukraine.
Ukraine is a major producer of sunflower and all its by-products – including sunflower oil.
It represents about half of the world's exports of sunflower oil, while Russia makes up a further quarter. So between the two countries, you have three quarters of exports tied up.
Once the war broke out it obviously had a major impact on growers in Ukraine – but it went beyond that.
Even sunflower oil that was ready to export was held up because of blockages at ports, and the danger involved in trying to move it by land. Meanwhile, work at processors and refineries was also halted by Russia's attack.
So, overnight, you essentially had the majority of the world supply cut off.
That obviously impacted the price of sunflower oil itself – but it also had a major knock-on effect on everything else.
That's because sunflower oil is a cheap, neutral oil – so it's normally used a lot in all sorts of cooking. Restaurants, cafes, chippers… all of those would be heavily reliant on it.
But when it suddenly became harder to get, they were forced to scramble to find alternatives. And that led to prices of all other types of oil jumping too.
Rapeseed oil has been a popular alternative, for example. If you look on commodity markets you can see the price is about 55% higher now than it was a year ago – and that's after it easing back recently.
Rapeseed oil is the main ingredient in the vegetable oil you find in Irish shops – while it's also a big ingredient in margarine.
So the price of those types of products has gotten pushed up too.
So is this all down to the war?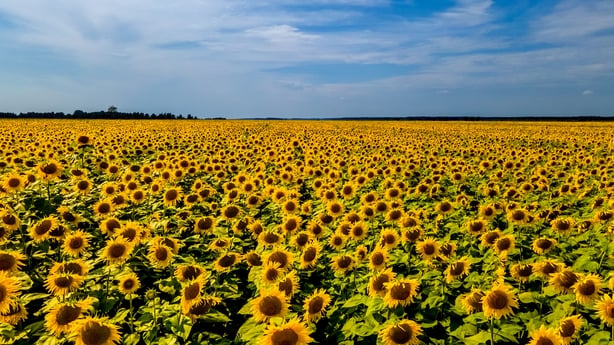 Not entirely – like most things, there are multiple other elements at play.
Canada is a major exporter of rapeseed oil, but a heatwave and drought in the country impacted the crop there.
Other factors include things like a ban on palm oil exports in Indonesia – that's another ingredient in margarine, but also other everyday products like soap, makeup, and even some chocolate.
And rising energy prices are having an impact too – because it means it costs more to refine and transport oil.
Rising fossil fuel prices have also created another little domino-effect, as it's pushed up demand for biofuels.
They're often made from recovered oil, so waste oil that's already been used in cooking, that's then turned into fuel – but some fresh or 'virgin' oil is also used for this purpose, taking it away from consumer use.
Will the price of oil fall back soon?
No – if anything, it'll be the opposite.
That's because a lot of major cooking oil companies do what's called hedging on their supply – that's where you agree a price on supply months, or maybe even a year or more in advance.
It's a way of locking in a price in advance so you can plan ahead – but it means the price on a lot of oil today is based on what it cost back in maybe November, or even May of last year.
Companies are hedging now for supply at the start of next year – so it's not until that point that we'll really start to see the impact feeding through to what we're paying, and what restaurants and others are paying.