Apple has announced plans to construct a new office building on its Cork campus capable of accommodating up to 1,300 staff, in a move that looks set to result in a significant expansion of its Irish workforce.
The technology giant said both new and existing staff would use the four storey over basement facility, which it is hoped will be completed by mid-2025.
It said it was too soon to say how many new staff would be recruited as part of the investment, although it is understood that it is expected that the bulk of those using the building will be new recruits.
The plan is subject to planning permission being granted by Cork City Council and an application is being lodged today.
"We've called Cork home for more than 40 years, and are thrilled to accelerate our investments here as we grow our team and expand our campus," said Cathy Kearney, Apple's Vice President of European operations.
"We are proud to be part of the community here, and with this new project, we will continue to create new jobs, support local organisations, and drive innovation on behalf of our customers," she added.
The expansion will also include employee transport services and green communal spaces at the Hollyhill campus.
The new building will be run on 100% renewable energy, with solar panels to be built on all new structures, including pedestrian walkways that link buildings.
The plans also include a new Commute Hub, which will have bike and scooter storage and e-charging points as part of efforts to make it attractive for employees to walk, cycle or take other sustainable forms of transport.
Like most companies Apple has moved to a hybrid working model, with staff working three days in the office and up to two days remotely.
Despite this, the company has decided that it will require additional on-site capacity for employees as it grows its Cork-based teams in areas like artificial intelligence and machine learning.
The news was welcomed by the Taoiseach, Tánaiste and IDA Ireland.
"The impact of a company with this longevity in terms of reinvestment over four decades, job creation, innovation and acquired expertise is huge," said IDA chief executive Martin Shanahan.
"It extends way beyond its own campus to the hundreds of companies and merchants of all sizes, right across Ireland, who derive benefit from their presence here," the IDA CEO added.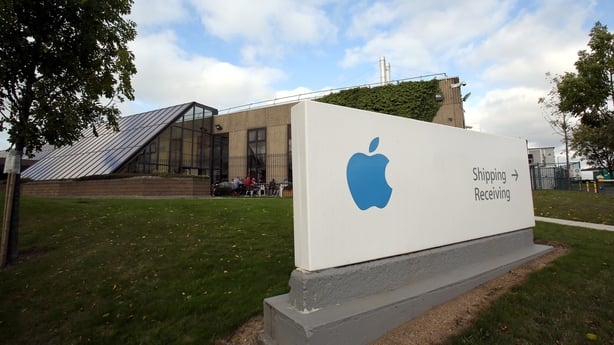 Apple has been operating in Ireland since 1980 and employs around 6,000 people in Cork, both at its European headquarters campus, as well as in the city centre.
It is understood that the new building will not result in the city centre site being closed.
The company said that over the past five years it has invested €250m in expanding its campus in Cork.
Last month the company said it was opening a new European engineering and test facility in a former warehouse that it bought in 2020 and has spent tens of millions of euro transforming.
In 2018, Apple CEO Tim Cook came to Cork to open a new extension to the campus, built at a cost of €220m.
The Taoiseach said the announcement was further evidence of Apple's strong commitment to Cork and a strong endorsement of Ireland as a prime location for leading global technology companies.
"Apple was a trailblazer in technology at the time they established operations in Cork and their presence here gave, and continues to give, confidence to many more global tech companies to locate in Ireland," said Micheál Martin.
"It is most encouraging to see them continue to invest in their Cork site," he added.
Tánaiste and Minister for Enterprise, Trade and Employment Leo Varadkar said the benefit of Apple's presence to Cork, and the whole of Ireland, has been enormous.
"I wish the team every continued success with this expansion, which once built, will accommodate 1,300 employees," Leo Varadkar said.