Ryanair said it was impossible to give detailed guidance beyond hoping to return to "reasonable profitability" this year amid uncertainties over Covid-19 and the Ukraine war, knocking its shares after posting a smaller annual loss.
Europe's largest airline by passenger numbers also became the latest Boeing customer to criticise the planemaker.
Group chief executive Michael O'Leary said its management needed to step up and deliver aircraft more quickly or make way for a new team.
Ryanair posted a €355m loss for the pandemic-scarred 12 months to March 31 today and said it planned to grow its traffic to 165 million passengers this year, from 97 million a year ago and a pre-Covid record of 149 million.
However, Michael O'Leary said it was "impractical, if not impossible" to provide a sensible or accurate profit guidance range until the second half of its fiscal year, given the continued potential risks.
"There's too many uncertainties," he said.
"We hope for a reasonable level of profitability. It is too early to say whether we will go back to pre-Covid levels of profitability, so a billion plus, but there's an outside chance that if we get a good run this year we will go back to that level of profitability."
Mr O'Leary added that while bookings had improved in recent weeks, he was a little concerned that competitors were talking up the summer recovery too much.
He said bookings are currently running around 10% behind where they were pre-Covid, which he said makes the company cautious.
"It is very heavily exposed to newsflow, so if we have any more adverse Covid developments or there are adverse newsflows coming out of the Ukraine situation, this strong recovery could be compromised," he said.
Caution was needed heading into a winter with an expected economic downturn, he added.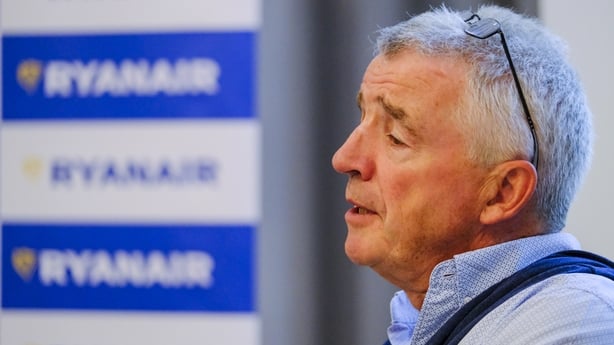 "It's too fragile, there remains too many moving parts," he said, adding that Ryanair would nevertheless thrive if any of its markets dip into recession due to its lower cost base and ability to offer lower fares than its competitors.
Ryanair's chief financial officer Neil Sorahan said that fares were lower in recent weeks than the company had anticipated following a drop of 27% last year.
While cautiously optimistic that peak summer fares will be "somewhat ahead" of pre-pandemic levels, Michael O'Leary said it was impossible to predict winter pricing.
"We expect a strong recovery in traffic this year - what we are not sure about is what will pricing be like and therefore what will profitability be," Mr O'Leary told RTÉ News.
Customers were also still waiting until much closer than usual to the time of their trips to book, he added.
In relation to disruption at airports, including Dublin, over recent weeks, Mr O'Leary said Ryanair is "cautiously optimistic" that a corner has been turned.
He said Dublin Airport operator daa had done a good job in recent weeks hiring new people and eliminating security queues.
Mr O'Leary also claimed that significant progress is being made with the daa and the Department of Finance around the possible extension of financial incentives to help restore routes into the winter.
Regarding the restoration of pay cuts for Ryanair staff, Mr O'Leary said some progress has been made with some deals made with about half of staff across EU countries.
"We want to accelerate pay restoration once we see profitability return to pre-Covid levels," he said.
Michael O'Leary also said that while Ryanair remained a willing Boeing customer and hoped to receive more of the planemaker's new 737-8200 jets than planned over the next two summers, it could turn to the second-hand leasing market to fuel further growth unless Boeing stepped up with some additional orders.
We need your consent to load this rte-player contentWe use rte-player to manage extra content that can set cookies on your device and collect data about your activity. Please review their details and accept them to load the content.Manage Preferences
Ryanair last year walked away from negotiations with Boeing for 200 of its largest type of single-aisle jet, the 737 MAX 10.
Mr O'Leary described Boeing management today as "running around like headless chickens" and said "they need to bloody well improve".
"Boeing need a management reboot in Seattle and either the existing management needs to up its game or they need to change the existing management," O'Leary told an analyst call.
At the end of April, Boeing expressed doubts over hitting jet delivery targets as technical problems, inflation and supplier risks clouded its path toward recovery.
Boeing President and CEO Dave Calhoun said at the time: "We're going to deliver great airplanes. And we're going to recognise the costs associated with it."
Michael O'Leary's comments follow similar criticism of Boeing leadership by two senior aircraft leasing executives, Air Lease Executive Chairman Steven Udvar-Hazy and Avolon CEO Domhnal Slattery.
However, the head of the world's largest aircraft leasing company, AerCap boss Aengus Kelly, last week threw his weight behind Boeing and said the jetmaker would overcome a spate of industrial and certification problems.
Ryanair's full-year pre-exceptional loss of €355m was less than a forecast loss of €370m in a company poll of analysts and a loss of €1 billion in its previous financial year. The airline made a profit of €1 billion in the year to March 2020.
O'Leary said Ryanair, which has hedged 80% of its 2023 fuel needs and 10% for 2024, would likely be profitable in the coming year, even if the outlook was worse than anticipated but that it would be significantly behind pre-pandemic levels.
"That means we can offer low fares to our customers over the next 12 months without any exposure to higher oil prices," he said, while competitors were more exposed.
Looking back at the pandemic, Mr O'Leary said lockdowns over the past two years were far too restrictive and NPHET's blocking of international travel did nothing to prevent Covid coming to Ireland.
"The one learning I think we would like to see for the future, if there is another pandemic, stop blaming international travel and stop shutting down air travel," he said.
Shares in the airline were lower in Dublin trade this morning.