Smurfit Kappa said its revenue and core profit both rose by 33% year on year in the first quarter, which the boxmaker attributed to significant investment to support growing demand and ensure security of supply.
In a trading update ahead of its AGM today, Europe's largest paper packaging producer said demand remains strong in the second quarter after corrugated box volumes grew 3.6% in the first three months of the year.
It added that it is increasing prices progressively.
Smurfit Kappa raised prices by 19% in 2021 and had flagged further increases this year to recover input costs that it said today had risen sharply in practically all areas, with existing supply chain problems exacerbated by the conflict in Ukraine.
Today's trading update did not disclose the extent of its price increases in the first quarter.
Smurfit Kappa had said in February that its customers were more concerned about getting their hands on a sufficient amount of packaging than how much they were having to pay for it.
"This performance demonstrates the continuing benefits of Smurfit Kappa Group's integrated and resilient operating model, our geographic diversity and recent acquisitions," chief executive Tony Smurfit said.
Mr Smurfit said the first quarter of 2022 had presented a number of significant operational challenges for the company.
"Practically all input costs have risen sharply and already tight markets and supply chains have been exacerbated by the war in Ukraine. Our integrated and resilient business model has ensured security of supply in this increasingly complex environment," he added.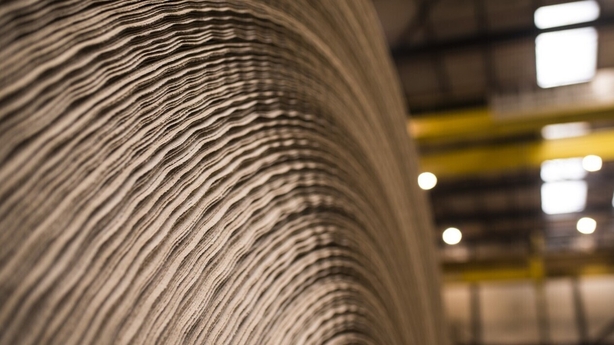 The company said on April 1 that it was leaving the Russian market. As a response to the war in Ukraine, the group and its staff have made significant contributions to aid agencies to support relief efforts in the region, it added.
Smurfit Kappa said that as it enters the second quarter, demand continues to be good with progressive corrugated price recovery.
"Cost increases and supply constraints remain a feature of our business which is being dealt with through the dedication of our people and through active price recovery," it said.
"We remain confident in the future prospects of our business and our first quarter performance, together with our ongoing investment programme, sets a strong foundation for 2022 and beyond," it added.
Smurfit Kappa said in February that customers were more concerned about getting their hands on a sufficient amount of packaging than how much they were having to pay for it.
Demonstrations outside Smurfit Kappa AGM around its operations in Colombia
Meanwhile, a group of activists and an indigenous Colombian leader have protested outside the AGM of packaging company Smurfit Kappa in Dublin today.
The protests centres around the company's business operations in the South American country.
The protesters claim that Smurfit Kappa's commercial plantations are located on lands with ancestral links to the Misak people.
They also raised concerns about the environmental impact the business is having on the region.
Pablo Josse Velasco Tumina, of the Misak people in the Cauca region of Colombia, travelled to Ireland for the demonstration, where he was joined by members of the Latin America Solidarity Centre and SumOfUs group.
Narella Forte, a co-ordinator with the Latin America Solidarity Centre Co-ordinator said that it was not only the lands of indigenous people that have been taken, it is the environmental damage that is irreversible".
"We want them to give the lands back and to stop doing this kind of mono-cultive aggression into the soil", she said.
"We really want them to hear us out. Give the people back the land and stop destroying the environment", she added.
She said that these stories are happening in the global south and the groups are trying to bring them into the "Irish public eye".
In a statement, Smurfit Kappa said it "emphatically rejects any allegations made against us asserting any illegality regarding our acquisition of the Smurfit Kappa forests or the conduct of our employees or anyone acting on our behalf in Colombia".
"We unequivocally reject these unfounded allegations which do not reflect the reality of our contribution to the local community and our environmentally sustainable management of the forests", it said.
The company says it has operated in Colombia since 1944, where it owns 67,000 hectares of land. This includes farms of 2,700 hectares in the Cajibio region.
Smurfit Kappa said it began lawfully acquiring farms in the Cajibio area of Cauca 52 years ago from legitimate property titleholders, who had previously dedicated the land to agriculture and the grazing of livestock.
"Prior to Smurfit Kappa's acquisition of these farms, there was no indigenous community inhabiting the Cajibio municipality. We first became aware of the Misak indigenous community's protestations against Smurfit Kappa's activities in July 2021", it said.
The company said it has complied with all relevant Colombian legislation and consulted with indigenous communities where required.
"There was never a requirement to consult with indigenous communities in Cajibio since all Smurfit Kappa forestry in Colombia is outside of the officially recognised reserves in Cajibio," it added.
Smurfit Kappa also said it does not harvest or use any wood from rainforests.
It said it has invested more than $7m locally in "sustainable agricultural and forestry production", as well as the maintenance of public roads, infrastructure development, and "other social initiatives which benefit local communities".
The company said that "many attempts" have been made to engage with the Misak community and it would be happy to arrange a meeting between the appropriate local representatives of Smurfit Kappa and the Misak community.
Shares in the company were higher in Dublin trade today.