Ireland's largest hotel operator Dalata Hotel Group said today that hotel room revenue (RevPAR) surpassed pre-pandemic levels for the first time as it expressed optimism today for summer trading.
Dalata reported at the start of March that RevPAR - a key measure of a hotel's top-line performance - was approaching pre-pandemic levels.
It said today that for March and April RevPAR is expected to be 109% of the corresponding 2019 period.
A number of Dalata's hotel rooms in Ireland are currently being utilised for other purposes, including to accommodate Ukrainian refugees, the hotel group added in a trading update.
Dalata also runs hotels under its Maldron and Clayton brands in the UK and is set to increase its number of rooms by at least 20% through planned expansion.
But it said today that it also remained cautious about the impact of inflation on demand.
In a trading update ahead of its AGM in Dublin today, Dalata said it had moved "firmly" into recovery with strong trading post re-opening across all markets after another challenging year in 2021.
It said the actions taken throughout the Covid pandemic to maintain and continue to develop its core teams have been key factors in its ability to recover.
"As we look ahead, we are optimistic for the summer months given increased flight capacities and a strong events calendar but remain cautious about the impact of inflation," Dalata chairman John Hennessy said in today's trading update.
John Hennessy said the company continues to deliver on its growth plan and by the end of this year it will increase the number of rooms in operation by at least 20%, compared to the end of 2021.
It has opened four new hotels so far this year and secured its first hotel in continental Europe with Hotel Nikko in Düsseldorf.
The company said its two new hotels in Manchester city centre, which opened in January and February, are performing ahead of its expectations, while it opened its first hotel in Bristol last month.
The Clayton Hotel Glasgow City and Maldron Hotel Merrion Road in Dublin are expected to open in the coming months, the company added.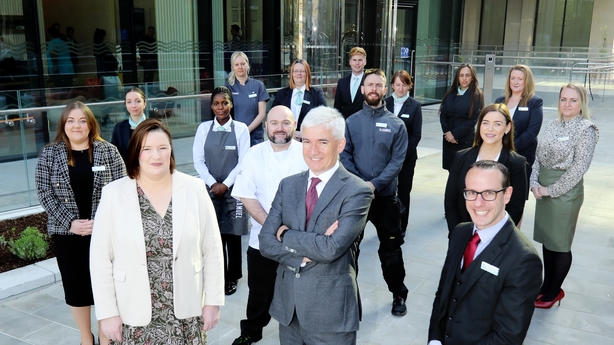 Dalata also officially opened its new Samuel Hotel in Dublin's Docklands today, which it said reinforces the importance of the Dublin market for the company.
Overlooking the River Liffey, the €39m four-star Samuel Hotel is located in Dublin's Docklands area and is located close to large event centres such as the Convention Centre Dublin, Croke Park, The 3 Arena and The Bord Gáis Energy Theatre.
The hotel has 204 air-conditioned bedrooms, excellent meeting and event facilities, a coffee shop, bar and restaurant.
Dalata said that Dublin remains a key city for the group and its pipeline reflects continued confidence in the market where it now has over 4,400 rooms ahead of the opening of the Maldron Merrion Road later this year.
Dalata also operates seven Maldron Hotels, seven Clayton Hotels, The Belvedere Hotel, Hotel No 7 and The Gibson Hotel in Dublin, providing direct employment to 2,300 people in the city.
Dermot Crowley, CEO of Dalata Hotel Group, said that conferences, events, business travel and inbound leisure tourism all form part of the lifeblood of the local economy and The Samuel will cater for each of these segments as the Dublin market rebounds so strongly following the lifting of pandemic-related restrictions.
"While growth across our UK portfolio remains our focus, Dublin is an important market for us and we will continue to seek out strategic opportunities in the city," he added.
Ireland's tourism sector was battered over the past two years by the Covid-19 hit to global travel and some of the strictest travel curbs in the European Union.
The Irish Tourism Industry Confederation said this week that it expects inbound tourism to reach 67% of 2019 levels this year, up from its forecast of 60% earlier this year. Travel to and from Ireland hit 65% of pre-pandemic levels in February.
Shares in the company moved higher in Dublin trade today.