The Irish Government has been given assurances by EU leaders that it will be able to avoid VAT and excise duty on fuels rising to 23% once the current energy crisis is over, according to Taoiseach Micheál Martin.
Ireland currently has a derogation on EU rules governing VAT and excise duty, meaning its current VAT rate is 13.5% - one of the lowest rates in the EU.
The Government has been lobbying the European Commission to allow the rate to fall even lower in order to help poorer consumers cope with soaring fuel costs.
However, under EU directives, if Ireland went below 12%, then it would lose its derogation and could then find rates restored to a maximum of 23%.
During an intense meeting of EU leaders on the energy crisis during the second day of a two-day summit in Brussels, Ireland secured language in the final communiqué that will allow the Government to continue to seek flexibilities on the VAT issue.
After the meeting, the Taoiseach said: "We were anxious that… if we reduce excise duties below, and VAT below, a certain level that we don't, because we have a derogation, end up going back up to 23%.
"And that's what the [EU] legislative framework ordains at the moment. So we have, in the [EU summit] conclusions, today put in a paragraph that enables us to engage with the commission in terms of exploiting the flexibilities to the fullest degree possible."
He added: "It's progress. But there's more work to be done in terms of the technical details of all of that."
Earlier, the EU and US agreed a deal that would see tens of billions of extra cubic metres of liquified natural gas (LNG) shipped to Europe annually from the United States as a way to break the EU's dependency on Russian gas.
Asked about Fianna Fáil MEP Billy Kelleher's call for a green light to the LNG storage facility at Ballylongford Landbank, in order to benefit from the new shipments, the Taoiseach said the Programme for Government was clear that Ireland would not take in imported fracked gas.
"First of all, any project of that kind is going to take some time in any event," he told reporters.
"Now, the Programme for Government is clear in terms of LNG, in terms of imported fracked gas, but not any supplies that would emanate from sources other than fracked, [that] is not contrary to the Programme for Government."
It is understood that two thirds of US LNG is from fracked sources. The provenance of the LNG that will be shipped to Europe under today's deal has not yet been decided, according to officials.
The Taoiseach said that the important element of the EU-US deal was that gas prices in Europe would be stabilised.
EU will look into energy price caps - Scholz
The European Commission will look into the question of energy price caps after an extensive debate on the topic pushed by Spain at the EU summit today, German Chancellor Olaf Scholz has said.
Germany and many other countries are sceptical about market interventions against high energy prices, he told a news conference at the end of the two day EU summit.
Earlier, a European Union source said Germany and the Netherlands had opposed the southern countries in a "tough" debate on the issue of price caps.
European countries have agreed, however, to cooperate on the joint purchase of gas on a voluntary basis, Chancellor Scholz said.
French President Emmanuel Macron said: "What we decided, for the first time, is that the European Commission will have a mandate to do joint procurement.
"This is exactly what we decided, remember, for vaccines at the time of the Covid crisis," he added.
Spanish Prime Minister Pedro Sanchez said Spain and Portugal will be allowed to implement temporary measures to cut the price of energy as part of a deal agreed by EU leaders today.
He said the measure would not distort prices on the European market.
Earlier, Minister for Finance Paschal Donohoe said the EU is trying to ensure the impact of economic decisions "sits more" with the Russian economy than that of Europe.
However he warned that measures which the EU may take "quickly" to reduce reliance on Russian energy will have a big and significant effect.
He said the EU and Ireland will consider if any further sanctions or further decisions are needed.
"Any measures we take quickly, which we may yet need to do, to reduce our reliance on energy we are currently importing will have a big and significant effect on the price of that energy with the consequences of that, that I think, we are well aware of," the Minister said.
"To date we have managed to ensure the balance and allocation of cost sits with Vladamir Putin and those funding this war and that is what we are aiming to try to maintain," he added.
The Minister acknowledged the challenges that many in Ireland are facing from an economic and a living standard point of view.
He said that when the EU makes a further decision in relation to sanctions on the Russian energy sector they need to do that at such a point "that we are able to deal with the economic consequences of that for Ireland and Europe."
Europe has already committed to a "huge amount of change" to drive energy independence since the war began, aiming to make a significant reduction in 2023 with an aim of energy independence by 2030, Mr Donohoe said.
He added that an agreement from the US to cooperate will be "an important element in achieving that".
We need your consent to load this rte-player contentWe use rte-player to manage extra content that can set cookies on your device and collect data about your activity. Please review their details and accept them to load the content.Manage Preferences
Minister Donohoe also said many of the estimates suggest that Russia is making hundreds of millions of euro per day from exporting fossil fuels.
He believes people across Europe and the EU will demonstrate the "resilience" that is needed to implement measures that are capable of affecting the ability of President Putin to wage the war in Ukraine.
He said it is being done "cogniscent of the fact that the resilience we are talking about is very different in the context of the resilience that the people of Ukraine are having to find as lives are lost and their lives are destroyed."
Paschal Donohoe said the sanctions to date have had a huge effect on the Russian economy and the ability of Russia to fund "this awful war" in Ukraine.
The Minister said the Government has been aware for some time of the "vulnerability" created by Ireland's dependency on imported energy.
He said that is why even before the war began big changes were already underway to increase the role of renewables for energy independence for Ireland and for Europe.
"This war has accelerated that," Paschal Donohoe said.
He said it is about managing a very dangerous situation as he also referred to the imperative of responding to climate change.
In terms of further measures needed to reduce dependency on Russia, the Minister referred to renewables such as wind and solar and off shore wind capacity.
"Our efforts to accelerate that are underway. An example that has been taken is the legislation that the Government has brought through the Oireachtas in recent weeks on planning for offshore energy applications," he added.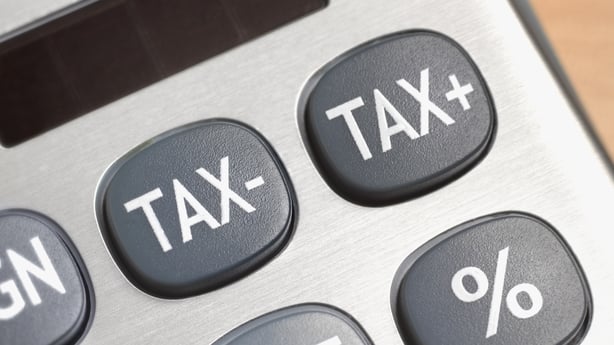 The Minister also confirmed that he has been asked to evaluate a possible 30% tax rate as an "idea".
"We have a process whereby we evaluate all options for Budget Day - that is all there is to it. I think it is still understandable I am asked to look at different ideas for each budget," Mr Donohoe said.
He said the Budget is a long way away and the Government will evaluate all options well before it.
Any decision of change to expenditure or taxation has to be consistent with other competing demands, he added.