Tomato producers and the Irish Farmers' Association have called for a ban on below-cost selling of horticultural produce in Irish supermarkets.
It comes as legislation for a National Food Ombudsman is set to go before Cabinet tomorrow.
For years farmers, the primary producers of food, have campaigned for better prices for their produce, and complained that others in the food chain take a larger share of the ultimate price paid by consumers.
Farmer Matt Foley, who along with his brother John, grows seven acres of tomatoes under glass in Rush in north county Dublin, said it has always been a very difficult business to get a return from the market.
The brothers are now facing massive increases in gas costs, gas that has to be used to produce their annual crop of around 15 million tomatoes for the Irish market.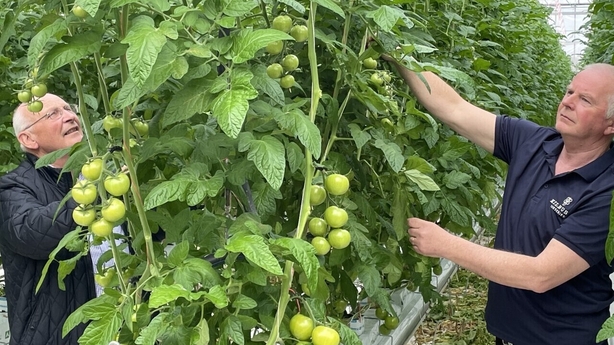 The price has quadrupled and cutting back is not an option as the glass houses need heat and the carbon dioxide from producing the heat is also used to encourage more rapid growth of the vegetables.
Today the IFA published a report by economist Jim Power that finds many producers will be forced out of business if their produce continues to be sold so cheaply in supermarkets including Aldi and Lidl.
The report calls for a ban on below-cost selling, a call emphasised by IFA President Tim Cullinan.
Mr Cullinan said that growers must get better prices for their produce.
"Price compression at retail level has forced growers out of business. The most recent National Field Vegetable Census showed the number of field vegetable growers fell from 377 in 1999 to 165 in 2014 - it is clear from anecdotal evidence that this trend has continued in recent years," he added.
The farmers are calling for the new Food Ombudsman legislation which will be discussed at Cabinet tomorrow to include, among other things, full powers to investigate what percentage of retail prices producers get for their produce.
In a statement Aldi said the company's "primary focus remains supporting all our 330 Irish suppliers and sourcing in-season Irish produce wherever possible".
"Significant cost increases have been negotiated with our Irish supply base in recent weeks and we look forward to working closely with the National Food Ombudsman... which we are confident will provide for greater transparency in the market."
The statement added that Aldi will always shield its customers "from price increases as much as possible".
Meanwhile Lidl pointed out that it fully bears the costs of its weekly 'Super Saver' promotional specials while continuing to provide suppliers with the prices agreed.
A company statement added it will continue to proactively engage with suppliers in "navigating harsher market conditions".