P&O Ferries, which sails major routes including between Britain and Ireland and Britain and France, has said 800 employees have been given "immediate severance notices", and it would be unable to operate services for the next few days.
Unions threatened legal action against the ferry giant after it sacked the seafarers and replaced them with cheaper agency workers.
The company, which transports passengers and freight, is owned by Dubai-based logistics giant DP World.
It said it has made a £100m loss year-on-year, which has been covered by DP, but this is not sustainable and in its current state "P&O Ferries is not a viable business".
It operates four routes: Dover to Calais; Hull to Rotterdam; Liverpool to Dublin; and Cairnryan in Scotland, to Larne in Northern Ireland.
Sailings between Hull and Zeebrugge, Belgium, were axed in January 2021.
It has almost 4,000 employees and operates more than 30,000 sailings a year.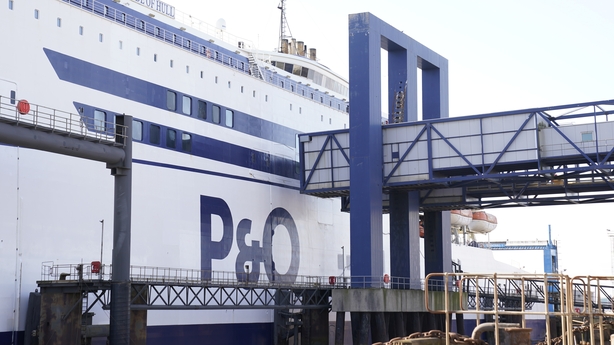 The company said its survival is dependent on making swift and significant changes now and without them there is no future for P&O Ferries.
Around six people who work for the company at Dublin Port have been given assurances that their jobs will be unaffected.
The workers involved were called to a meeting this morning, at which it is understood they were told their jobs were secure.
Following the coronavirus outbreak, P&O Ferries warned in May 2020 that around 1,100 workers could lose their jobs as part of a plan to make the business "viable and sustainable".
But today's move has sparked outrage from politicians and workers, many of whom refused to leave ships, leading to the incredible scene of security guards with handcuffs being deployed to remove them.
The British Rail, Maritime and Transport union's (RMT) general secretary Mick Lynch said: "We are seeking urgent legal action and are again calling for the Government to take action to stop what is fast turning into one of the most shameful acts in the history of British industrial relations."
A spokesperson for British Prime Minister Boris Johnson has said the way the workers were informed was "completely unacceptable".
"Our sympathies are with these hard-working people affected during this challenging time, who have given years of service to P&O," the spokesperson said.
Stormont Assembly members whose constituency incorporates the port of Larne expressed concern about the potential implications for the route to Cairnryan.
East Antrim MLA John Stewart, who has relatives who work at the port, said staff were uncertain about what would be announced.
"The information is being nothing more than drip-fed to them," the Ulster Unionist MLA told BBC Radio Ulster.
He said it is a "worrying" development.
"For the staff, for Larne port itself, particularly for the local effect here, and also for businesses and passengers that regularly use that service, it's an invaluable local service over to Cairnryan.
"I think this news will be deeply worrying for all of them, especially in the absence of any concrete information as to what the long-term strategy is going to be."
The company that would become P&O was founded in 1837 after signing a government contract to transport post by boat between London and the Iberian Peninsula.
P&O workers in Dover clashed with motorists after blocking a road close to the port in protest at being sacked.
Dozens of employees who lost their jobs stood on the road with banners and flags saying "Stop the P&O jobs carve up".
A lorry driver trying to enter the port began shouting and beeping at those in the road, before being told "we're not moving".
One of the protesters, who had worked for the company for decades, told the PA news agency: "I refuse to move from this road, all this service for nothing.
"The police will have to take me away."
Another man, aged 54, who has worked in ferry engine rooms since the 1980s, told the PA news agency: "I'm fuming, to be honest with you. I've known people who've been with the firm for years - this is no way to treat people.
"It was just a short message this morning saying you've all lost a job, basicall, all this service for nothing.
"I've seen coachloads of agency crews waiting in the car park at Hyde services just waiting to come down - it's as simple as that.
"There's going to be a protest here. One of the union guys just said if there's no one working to come along and support."