Home builder Glenveagh Properties has reported a more than 100% increase in revenues and a return to profits for the year to the end of December.
The company said its revenues jumped by 105% to €476.8m in 2021, up from €232.3m the previous year. It also reported a profit before tax of €45.7m compared to a loss before tax of €15.7m in 2020.
Glenveagh said it built a record number of 1,150 new homes last year - a 64% increase on the 700 homes it built in 2020 - and despite a 13-week Covid enforced lockdown.
It said its homes had a median selling price of €347,000 (including VAT), which it said is 11% below the median price of a new home in its locations of the Greater Dublin Area and Cork.
The home builder said the cost environment within the Irish construction sector remains a challenge.
It said that house price inflation in its starter-home focused suburban segment accelerated in the second half of 2021 to hit 6%, with the company expecting similar levels of inflation this year.
During the year, the group secured two "landmark" partnership agreements for the proposed development of over 2,050 homes with Fingal County Council and Dublin City Council.
It also said it delivered "much needed" social and affordable housing for a number of Government supported initiatives in 2021. In total, it delivered 302 units, or 33% of its suburban units, as part of these initiatives.
Glenveagh said it also built 65 Cost Rental units last year - the only such units delivered to the state in 2021.
"The Government plans to deliver approximately 700 Cost Rental units in 2022 through the Approved Housing Bodies and Glenveagh are well positioned to play a part in that delivery across several sites nationally," the company said.
Glenveagh has predicted "significant" growth in 2022 as it aims to deliver 1,400 suburban units, along with construction activity on a further 500 apartments and the Premier Inn hotel in its urban business.
It also noted substantial progress on its Dublin Docklands site through the forward fund of the Premier Inn Hotel with Union Investments of €70m and the sale of the residential and second hotel sites for €78.5m.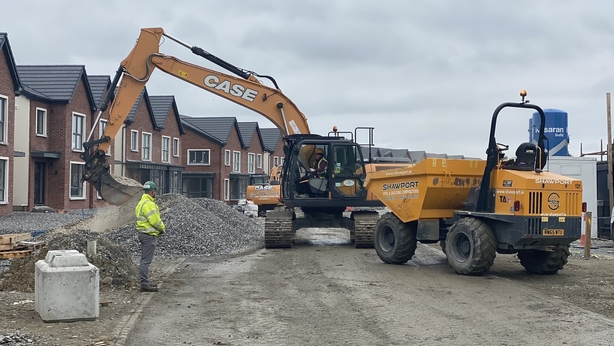 Glenveagh Properties chief executive Stephen Garvey said the results outline the resilience of its business model and the continued strong demand for high-quality, sustainable homes which resulted in an excellent performance in 2021 growing output by 36% versus pre- pandemic levels.
"We dealt effectively with the challenges of the pandemic and remain well-placed to deliver on our ambition of scaling the business to 3,000 units per annum," the CEO said.
The CEO said that during 2021 the company took major steps to insulate the business from longer-term structural shifts in the industry by investing further in its supply chain.
"We are combining greater scale with a more integrated supply chain, giving us enhanced certainty over more of our key inputs and driving more efficiencies throughout our business," he said.
"We have the ambition, the vision and the execution capability to meet the immense demand that exists for our homes and to continue building a strong, smart business that will thrive as the industry seeks to deliver the aspirations contained in Housing For All," he added.
Glenveagh to provide emergency accommodation for 40 Ukrainian families
Glenveagh Properties also said today that it has teamed up with social and affordable housing provider Clúid to provide emergency accommodation in Ireland for up to 40 Ukrainian families who have had to leave their homes following the Russian invasion.
The partnership has been established in recent days in response to the "grave" humanitarian crisis in Ukraine.
The home builder said that capacity will be sourced from its completed developments as well as existing homes already allocated for housing in 2022.
Glenveagh is also giving a minimum €250,000 contribution to Ukrainian relief charities immediately and has committed to treble all staff contributions to Ukrainian relief charities.
These will be made on a voluntary basis through a staff payroll donation mechanism that will allow them to contribute the equivalent of a day's pay.
Every member of Glenveagh's executive committee has undertaken to make this contribution and the company has also invited its suppliers, subcontractors and professional service firms to support the relief effort with a contribution of €500 - or more if circumstances allow.
Shares in the company were higher in Dublin trade today.