AIB said it will pay back €213m to shareholders after it recorded a profit after tax last year of €645m.
The bank said it would pay an ordinary dividend of 4.5 cent per share, totaling €122m.
It is also to conduct a share buyback of €91m and is in discussions to direct it at the State's remaining 71% shareholding.
The move comes as the bank returned to profitability again in 2021, delivering an operating profit of €688m.
AIB chief executive Colin Hunt said, "Today we are announcing a buyback proposal of total dividend of €213m, a cash dividend of €132m and a buyback of €91m. We are in discussions with the State regarding a directed buyback which would see us buy back some of the State's shareholding."
The AIB performance for 2021 included a net credit impairment writeback of €238m due to a more favourable economic environment and improved credit quality.
We need your consent to load this rte-player contentWe use rte-player to manage extra content that can set cookies on your device and collect data about your activity. Please review their details and accept them to load the content.Manage Preferences
In 2020, AIB set aside a €1.46 billion charge to deal with the fallout of the pandemic.
However, the writeback was in turn offset by exceptional items of €318m related to restructuring costs and provisions associated with legacy issues.
New lending at the bank rose by 13% to €10.4 billion, with the increase hitting 28% in the second half of the year as the economy reopened.
However, within that green lending across the year grew even more strongly, rising 37% to €2 billion, making up around a fifth of total new loans.
"It was a year of very significant progress across the group despite uncertainties related to the Covid-19 pandemic," Mr Hunt said.
"We accelerated the delivery of our strategy and expanded our product suite to meet our ambition of being at the heart of our customers' financial lives. Guided by our social licence to operate, we maintained and extended our position as a leading force for sustainability in Ireland," he added.
The group has negligible direct exposure to Russia, Belarus or Ukraine, Mr Hunt said.
"The direct exposure is very small, very modest so we don't expect to see that much in the way of first order effects on the business.
"There are second order effects and we are already seeing them coming through right the way around the world in terms of commodity prices, rising energy prices and that's going to push inflation further to the upside, I think, as the crisis unfolds," he added.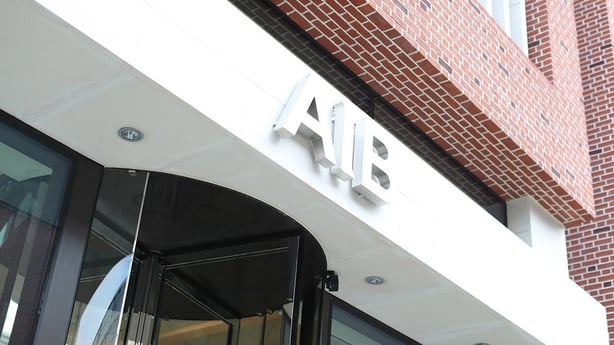 The bank said itsfull loaded Common Equity Tier 1 ratio, a key measure of capital strength, climbed by 100bps over the year to 16.6%.
Net interest income fell 4% to €1.794 billion however, driven by the ongoing negative interest rate environment, lower average loan volumes and excess liquidity remained, though AIB said the trajectory is improving.
Overall costs eased by 1% when the newly acquired stockbroker Goodbody is excluded.
The number of full-time equivalent staff dropped by 7% through the year.
The bank said its non-performing loans fell 28% to €3.1 billion or 5.4% of its gross loan book.
This, it claimed, was primarily as a consequence of loan sales.
Deposits at the bank increased 13% to €92.9 billion as the trend of savings seen throughout the pandemic continued.
By year end some €12 billion in deposits were at negative rates, the bank said, after it expanded the pricing policy to more customers.
During 2021, the bank completed the purchase of Goodbody stockbrokers and also inked a deal to buy a tranche of €4.2 billion of exiting Ulster Bank's corporate and commercial loans.
The CEO would not be drawn on whether or not the group is looking to acquire Ulster's tracker mortgage book.
"We are alert to other opportunities that may be out there," Mr Hunt said. "I'm not going to comment on any individual transactions but what I can say is, if there is an opportunity out there that is a good strategic fit for the group, increases our customer base and makes sound commercial sense, then we'll have a good look at it."
The group also agreed the sale of a £0.6 billion small business loan book in the UK and began setting up a life, pensions and investment service with Great-West Life Co.
On the sustainability front, it also doubled its climate action fund to €10 billion and issued €750m in green bonds.
The bank said 35% of its 2021-2023 targeted cost savings of €230m have now been completed.
Meanwhile, AIB said today that it was working very closely with its partner GOAL on its Ukraine Crisis Appeal and will be promoting the appeal across all its channels.
CEO Colin Hunt said that a humanitarian crisis was unfolding in real time before our eyes.
AIB said it will match all employee donations to the appeal and it will also immediately donate €250,000 to GOAL to assist them in their response to the crisis, as part of an overall €500,000 commitment to support those in need.
Shares in the bank moved higher in Dublin trade today.