Bank of Ireland has posted its biggest annual profit since the global financial crisis more than a decade ago and said it plans to return €104m to shareholders through dividends and buybacks.
The bank reported an underlying profit before tax of €1.4 billion for the year to the end of December. That compares to a €374m loss in 2020, and an underlying profit of €758m in 2019.
Its previous highest profit since the Irish banking crisis was €1.2 billion in 2015.
Bank of Ireland said its customer deposits stood at €92.8 billion at the end of December, an increase of €4.2 billion on 2020.
The bank's customer loan volumes stood at €76.3 billion at the end of December 2021, €0.3 billion lower on the previous year.
It said that as a result of the improved economic outlook, management adjustments and loan loss experience and portfolio activity during 2021, it posted a net credit impairment gain of €194m last year compared to a €1.1 billion charge in 2020.
"We're more efficient, we've reduced our cost significantly over the past few years, we're growing our lending, we've turned around our business in the UK, and most importantly we're investing in the future," said Bank of Ireland Group CEO Francesca McDonagh on RTÉ's Morning Ireland.
"We've seen a really strong rebound in our performance, really good momentum in the implementation of our strategy," she said.
"Despite some of the geopolitical developments that we're all very much aware of, there's real confidence in our growth outlook for 2022 and beyond," she added.
We need your consent to load this rte-player contentWe use rte-player to manage extra content that can set cookies on your device and collect data about your activity. Please review their details and accept them to load the content.Manage Preferences
The bank, the country's biggest lender by assets, also said its non-performing loans decreased by €0.2 billion to €4.3 billion during the year.
As a result of its profitability and strong capital position and in line with its "prudent and progressive policy", Bank of Ireland said it is proposing a total of €104m of dividends and buybacks.
"We are very prudent in the way we distribute capital," Ms McDonagh told RTÉ News.
"We are ending 2021 in a very strong capital position because of the profit generation and when we look at our future needs, our need to invest in growth, invest in the business we feel it is prudent also to share some of that capital and return it to shareholders."
It also said its operating expenses (excluding levies and regulatory charges) were down 4% last year compared to 2020.
The bank said the outlook for 2022 is positive, with total income expected to be in line with 2021 and impairment charges to be below normalised levels while costs continue to fall and distributions increase.
Its return on tangible equity (ROTE) was 12.8% last year, which the bank said reflected a strong business performance and the impairment writebacks.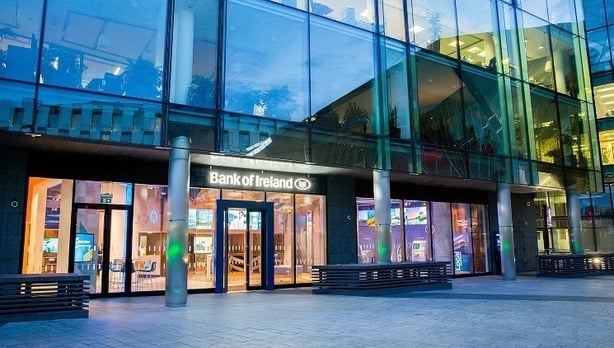 Shareholders will be the main beneficiaries of the bank's share buy-back and dividend, however Ms McDonagh said its activities was also helping to support customers and the wider economy.
"What we do every day is to serve our customers, we've supported 8,200 customers to buy a home in Ireland last year, we really appreciate the trust and confidence of our customers to do that," she said. "We've seen now €800m of mortgage lending for green mortgages, and we're now the largest provider of green mortgages in Ireland.
"We've funded the development of over 11,000 new homes, and that includes 1,600 social units. Those are some of the examples of where we are really investing in customers and the economic growth of Ireland."
The bank is also expecting to become fully private this year, as the State continues to wind down its shareholding in the lender.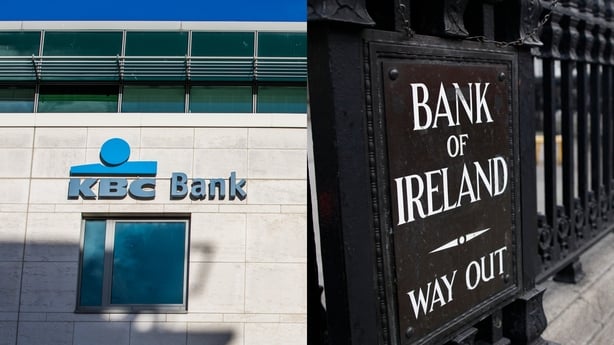 During the year Bank of Ireland made two significant acquisitions.
It agreed to buy stockbroker Davy, while also signing a deal with KBC Bank Ireland - worth about €5 billion - which will see the bank buy "substantially" all of KBC's performing Irish loans and its deposit book.
Ms McDonagh said these moves were "transformative".
"We believe these two acquisitions are transformational in terms of our business model and our returns, and we look forward to welcoming KBC and Davy customers to the group in the near future," she said.
However earlier this month, the Competition and Consumer Protection Commission (CCPC) expressed concern that the proposed deal could substantially reduce competition in the mortgage market.
After carrying out a preliminary investigation of the proposed acquisition, the CCPC concluded that a full investigation was needed to see if the proposed transaction could lead to a "substantial" lessening of competition in the State.
"It's difficult for me to opine on an ongoing process, but we believe there is competition in the mortgage market, and we're engaging very constructively with the CCPC as we get into the second phase of their review," Ms McDonagh said on Morning Ireland today.
Ms McDonagh said she it was Bank of Ireland's plan that it would be able to welcome customers from KBC and Ulster Bank who are looking to move their relationships, despite growing anecdotal evidence that all the main retail banks are not fully prepared for the movement of over a million accounts this year.
"We stand ready to support those customers and we are investing in additional resources and assets to help on board," she claimed.
"We've also invested heavily in our digital platforms which are scalable and enable customers to do more than 95% of everyday banking applications through their mobile app."
She added that despite a record fine imposed on the bank in December by the Central Bank of Ireland for IT contingency management branches, Bank of Ireland is confident it has made the right investment to ensure the resilience of systems.
On Davy, which last year was heavily fined by the Central Bank for its role in a bond deal, the Bank of Ireland CEO said a lot of due diligence had been conducted as part of the acquisition process.
"We feel confident that we understand risk issue," she said. "I think Davy were very transparent on the day of acquisition in disclosing an external independent report they had on the issues that had led to the court case historically."
Meanwhile Ms McDonagh said the bank was working through the implications of Russia's attack on Ukraine, and the subsequent sanctions that have been imposed on Russian individuals, businesses and the country's wider economy.
She said Bank of Ireland had no direct exposure to Russia or Ukraine, but was now screening all international transactions against the changing list of sanctioned entities.
She said there was also likely to be a knock-on effect on European energy and commodity prices, which could impact inflation for Irish consumers.
Ms McDonagh also said that the ongoing restrictions on bankers pay represent a real challenge at all levels of the organisation.
"We are effectively having to compete with other banks in Ireland and many corporates, both Irish and non-Irish, here and also in Europe for talent," she said.
"And the restrictions, which I understand why they came into place, but they were a crisis era intervention over a decade ago are out of step and need to change."
"They are making us compete for talent with one arm tied behind our back, and that needs to evolve."
She added that the ban meant performance related variable pay and key benefits like healthcare cannot be offered to any staff, regardless of their seniority.
She said the bank is not looking to go back to the way things were before the crisis but rather wants well established rules set by the European Banking Authority put in place instead.
Ms McDonagh said the pace of the sell down by the State of its remaining stake in Bank of Ireland was a matter for the Government, if the current trend of 1% being sold per month were to continue, the bank should be in full private ownership again in 2022.
The CEO also said she is not planning any further branch closures following the reduction in numbers last year.
Bank of Ireland shares were lower in Dublin trade today, along with European bank shares in general due to the Ukraine crisis.