The body of the remote working bill announced yesterday is "fundamentally flawed", according to Patricia King, General Secretary of Irish Congress of Trade Unions (ICTU).
Under a heads of bill passed by the Cabinet yesterday, an employee of six months standing will be able to apply for remote working.
Speaking on RTÉ's Today with Claire Byrne, Ms King said some of the 13 listed conditions that an employer can refuse a remote working request are "fairly stacked in the employer interest".
"One is planned structural changes which would render any of these inapplicable," she said.
"How would a worker have any knowledge about what the planned restructuring is? So an employer can receive your request and write back to you and say 'no we can't give you that because we have planned restructuring'.
"Whether they have or not would be open to question," she said.
"They wouldn't, is the answer," she said.
We need your consent to load this rte-player contentWe use rte-player to manage extra content that can set cookies on your device and collect data about your activity. Please review their details and accept them to load the content.Manage Preferences
Ms King said employer discretion is not limited to the 13 grounds, meaning that the employer can go on to refuse requests on grounds that the employer alone finds appropriate.
"That's certainly by any standards not fair or not reasonable," she said.
"The interests of the worker are not listed at all or referred to."
Ms King said the appeal mechanism that is listed in the bill explicitly states that an appeal does not extend to a complaint on the substance or merit of the employer's decision.
The appeal can only be made, she said, relating to any technicality relating to the process, such as a timeline that has not been met.
"These pieces need to be relooked at, they need to be reformed and reworked," she said.
"They're neither fair nor reasonable by any standards."
Ms King said realistically if you are a worker who is organised and has representation, you might be able to have a collective agreement with your employer which develops a policy with reasonable grounds.
"You could make your request and you might even achieve it," she said.
But she added that if you are an unorganised worker, you will have no grounds to appeal and you will not be able to make an agreement with your employer.
The employer can write the policy "as they wish" she said.
Ms King said they were asked in the public consultation to participate and they put in a "substantial submission" but had no further conversation.
She said the intention and purpose of the bill is what they want, but the framework is "not going to provide it" and will render it "quite meaningless" for workers on the ground. 10.28
"There is an opportunity to remedy it and I think that we should have discussions and talks about this", she said.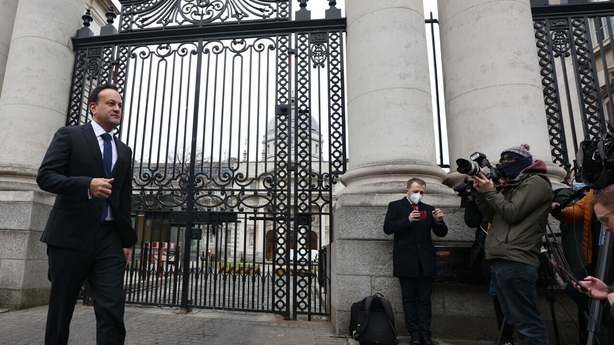 The Minister for Enterprise, Trade and Employment said he will take on board suggestions "from all sides" on ways in which legislation allowing workers request the right to work remotely can be improved.
Speaking on Today with Claire Byrne, Leo Varadkar said he wanted to encourage the practice and there is currently no legal right to even request the practice.
He said many people want to do blended working and he wants to help facilitate that.
Although some people have remote working in their contract, most do not, he said, and he wants to introduce the choice.
"Once they're six months in employment, they can request remote working within at least 12 weeks the employer has to consider it and come back with a reasoned response," he explained.
He stressed that the employer will have to give a good reason for refusing remote working that "can be stood up".
The Tánaiste said provided the business can be done and provided that public services or services to the public are not diminished, then the employer should say yes to a request for remote working.
The best way to work out these things is at a practical level, he said, and remote working has proven to be successful.
"It makes sense for employers and their staff to sit down and make arrangements that work for them," he said.
Leo Varadkar said employers are fearful that an employee working at home could potentially sue their employers if they get injured at home.
This is a whole separate area, he said, and something that will have to be worked out.
He said that remote working could have huge benefits for regional and rural development, work/life balance and enabling people with disabilities to access work.
In addition, it could potentially reduce emissions, he said.
Mr Varadkar said around 150 connected remote hubs are been set up around the country and that booking a desk in one of the hubs is currently easier than booking a restaurant.
He told Today CB that the right to disconnect has already been established.