John Collison, who along with brother Patrick founded digital payments company Stripe, has dampened speculation that they are planning to take the firm public this year, claiming they are content for it to remain private at present.
Last year Stripe became the most valuable private company in the US after it raised a further $600m in funding, valuing it at over $95bn.
There has since been much speculation in the international media about whether this will be the year that Stripe will go public, but Mr Collison was making no firm commitments.

"I keep hearing suggestions about it. We're very happy as a private company. We'll let you know if that changes, but right now we're happy as we are," he told RTÉ News.

The 31-year old billionaire was speaking at the University of Limerick (UL) at the presentation of awards for a number of exceptional students who have taken part in the TECS programme, which acts as nationwide search for Ireland's next generation of creators and scientists.
TECS is run by the newly established Immersive Software Engineering (ISE) programme at UL in which Mr Collison and Dr Patricia Scanlon, founder of the voice recognition company Soapbox labs, have both heavily backed.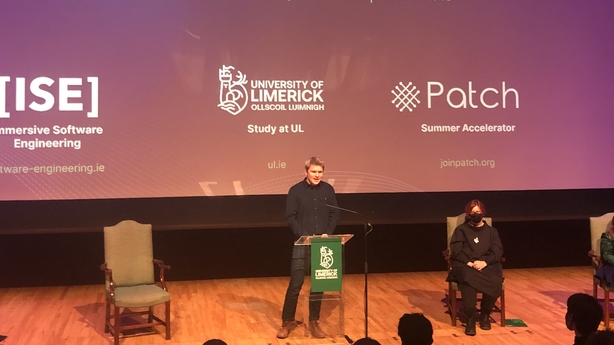 The Stripe co-founder and President said they were very anxious to encourage and train the future software engineers and their investment in the ISE at UL is part of that.
He said Stripe is continuing to expand here in Ireland, with dual headquarter's in both Dublin and San Francisco, but Dublin is the focus of the expansion of their international efforts.
"We've been hiring apace, even through Covid and while people are not going into the office we continue to grow the team here," he said.
"We're up to 500 people at our Dublin office, and taking on another 1,000 people over the next five years, so it's all systems go."
"Part of that is how we can invest in and encourage the next generation of software engineers and 'Stripes' as well. And that's why we're here in UL with the Immersive Software engineering programme because we want to continue to grow the tech ecosystem selfishly - it's what we want at Stripe, but also its what everyone needs."
Mr Collison added that there is a need for more software engineers, with tech companies "scouring the place" trying to find them and as a result more need to be trained.
"That's why we've been partnering with 50 other residency partners here at the ISM so that people can 'learn by doing' - partnering their skills and ideas with real world industry and moving outside the purely theoretical and traditional construct of learning," he claimed.
"I think we could have the best computer science programme here in Europe, bar none, and that's the goal of the team here at UL and I think they have a really good plan to do that."
The recruitment of people into the fast growing tech industry in Ireland is a challenge which Mr Collison said he believes will require all manner of solutions to solve.
"We've already hired tons of new grads in Ireland. We'd like there to be more and that's our approach here with ISE," he stated.
"Another angle is to make it easier for people who want to move to Ireland and contribute to our tech sector here to be able to do that by making the issuing of work permits more streamlined."
"It's a bit slow at present and we could make Ireland a really attractive hub by making it easier to get those permits."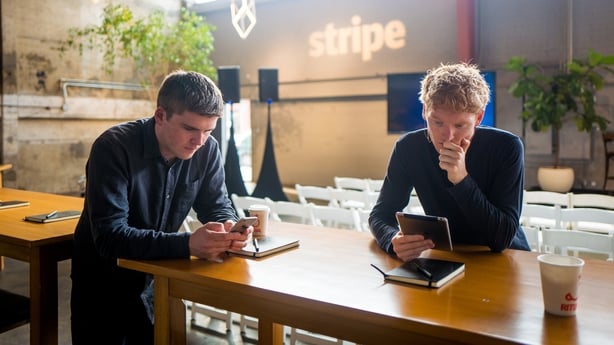 But Mr Collison said he does not believe the debate around Ireland's corporation tax and the likely increase in the rate has damaged us internationally.

"I believe Ireland have navigated that very well, and I think Ireland is this incredibly attractive hub to invest in," he said.
"We're investing deeply in Ireland because you'd be mad not to. We have an amazing base of qualified people, we have a very pro-business environment, and we are on the periphery of Europe which is a fabulous base from which to serve key international markets."
"When you talk to tech companies, that is why they are coming here as well. It is not one single thing, it is a confluence of factors that makes up the Irish proposition."