As Europe's gas prices hit a record high this week, Russian President Vladimir Putin has said that Europe only has its own policies to blame.
Mr Putin called on the European Union to approve a new Russian gas route, the Nord Stream 2 pipeline, which Russia says will ease the price crunch.
The route has already been opposed by the US and several European states which believe the pipeline will make the EU even more reliant on Russian gas.
In Mr Putin's view, "the additional gas supplies on the European gas market would surely reduce the price on an exchange".
Mr Putin said yesterday that Germany was reselling Russian gas to Poland and Ukraine rather than relieving an overheated market.
This pipeline runs from Russia to Belarus and further to Poland and Germany and was built in September, but is still awaiting regulatory approval from the EU.
Europe's benchmark gas price climbed to a new record on Tuesday, up almost 800% since the start of the year.
Although the price has eased, it is still up more than 400% on average.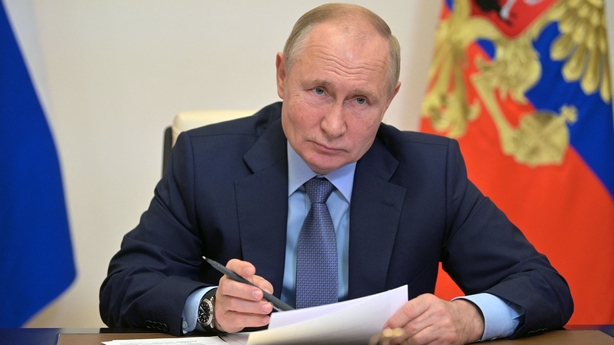 Europe's gas market could find some relief from redirected cargoes of liquefied natural gas from Asia.
Gazprom, which has a monopoly on Russia gas exports by pipeline, has not booked gas transit capacity for exports via the Yamal-Europe pipeline for 24 December, auction results showed on Friday.
Data from Slovak pipeline operator Eustream showed capacity nominations for Friday's Russian gas flows from Ukraine to Slovakia were at 739,843 megawatts per hour (MWh), down from Thursday's 785,160 MWh.
That drop was being balanced by higher nominations for flows from the Czech Republic to Slovakia, meaning nominations for flows from Slovakia to the Austrian hub Baumgarten were roughly stable compared with the previous day.