Permanent TSB has formally agreed to acquire €7.6 billion worth of assets from Ulster Bank Ireland.
The bank said it has entered into legally binding agreements with Ulster Bank and its owner NatWest Group to buy Ulster Bank's Retail, SME and Asset Finance business.
The deal includes Ulster Bank's €7 billion performing non-tracker residential mortgage book and its performing SME loan book - worth €230m.
It also includes the entire Lombard Asset Finance loan business - worth €400m - and 25 branches in Ulster Bank's branch network.
Permanent TSB also said that about 450 Ulster Bank employees who are assigned to the businesses that are being acquired, will be entitled to transfer to Permanent TSB.
Ulster Bank will pay around €6.4bn of cash funded from internal resources and existing funding sources, while as part of the deal, NatWest will also acquire 16.66% of Permanent TSB Group Holdings, the bank said in a statement.
The two banks had agreed a non-binding Memorandum of Understanding for some elements of Ulster Bank's retail and SME businesses here in July.
Ulster Bank announced earlier this year that it was withdrawing from the Irish market over the coming years in a move that will be managed in "an orderly and considered manner".
Ulster Bank, which is owned by UK lender NatWest, has 1.1 million customers here along with 2,800 staff in 88 branches around the country.
Today's deal remains subject to obtaining the required regulatory approvals from the Competition & Consumer Protection Commission, the Central Bank and approval by Permanent TSB shareholders.
It is expected to complete in late 2022 or early 2023.
We need your consent to load this rte-player contentWe use rte-player to manage extra content that can set cookies on your device and collect data about your activity. Please review their details and accept them to load the content.Manage Preferences
Permanent TSB said the assets being included in today's deal will increase its mortgage book by about 40% from its end-2020 level and its branch network by about 30%.
Its business lending will also triple in size relative to its end-2020 level when incorporating the SME loans and the established Asset Finance business being bought.
The bank also said today it intends to partner with Pepper Asset Servicing to support the servicing of the Ulster Bank mortgage book which is being bought.
It said this servicing arrangement will have no impact on customers and is subject to the completion of contractual and regulatory processes.
Any employees who may have a right to transfer to Pepper will also be offered a role within Permanent TSB, it added.
"This is a decisive step in transforming Permanent TSB to be Ireland's best personal and small business bank", Eamonn Crowley, Permanent TSB's chief executive, said.
"It will give us much greater scale and business model diversification, along with, many more customers and branches to fuel our ambition to grow and build a sustainable organisation for the future," the CEO said.
---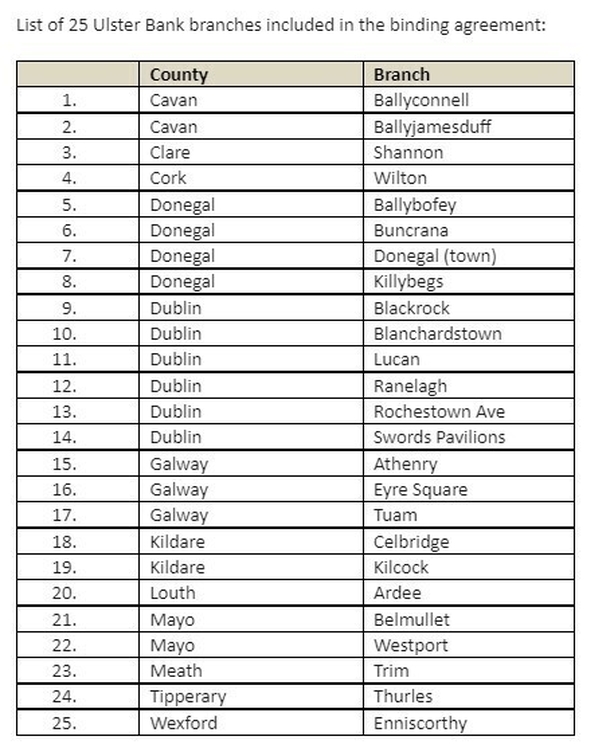 ---
Mr Crowley said that reaching a binding agreement is a significant step forward and supports the bank's strategy of growing organically while embracing this "once in a generation opportunity" to fast-track the growth of Permanent TSB.
"We are looking forward to beginning the integration of Ulster Bank's businesses into our bank and to welcoming Ulster Bank customers to Permanent TSB - those whose loans are transferring as part of this transaction as well as Ulster Bank's current and deposit account customers who will need a new banking relationship," he said.
"We also look forward to welcoming new colleagues to the bank, bringing with them expertise, commitment and customer focus that will be invaluable," he added.
Ulster Bank said here is no need for any of its customers to take any action.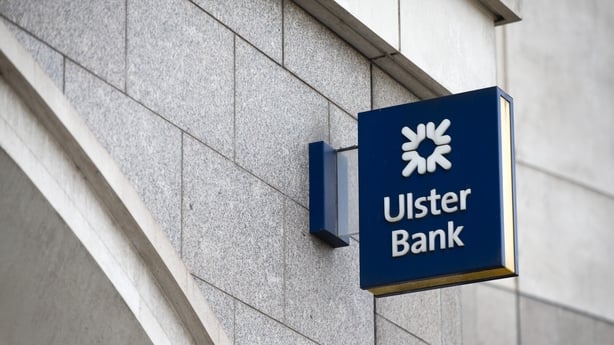 The bank said that if they are potentially impacted by today's announcement, it will be in contact with them directly and letters and emails will be sent to potentially impacted customers as soon as possible between now and early January.
Ulster Bank said there are other customers and customer products which are not covered by today's deal, adding that it will give update on those as soon as it can.
While performing tracker mortgages are not part of today's agreement, Ulster Bank and NatWest Group are working on a pathway for these customers and a process is underway in this regard, it added.
Ulster Bank also said there is no change to the other commitments which it has made. It added that it does not envision a bank-wide voluntary redundancy scheme in the first half of 2022 and it does not anticipate closing any branches in the first six months of 2022.
Ulster Bank's chief executive Jane Howard said she was pleased that the bank's agreement with Permanent TSB has progressed to a binding agreement.
"I am confident that this deal with Permanent TSB will deliver a positive solution for our customers and our colleagues. We will continue to work with our colleagues and their representatives to manage this process in a fair and responsible manner," Jane Howard said.
"A key part of the process now is to complete the regulatory approvals, this is likely to take a number of months and we will continue to keep our customers informed throughout this process," she added.
NatWest Group CEO Alison Rose said today's announcement is a key milestone in the phased withdrawal of Ulster Bank from the Republic of Ireland.
"Our priority is to support our customers and colleagues through this transition and working closely with Permanent TSB to ensure the successful completion of this agreement," Ms Rose added.
Finance Minister Paschal Donohoe said today's deal is a very positive development for Permanent TSB and represents a significant opportunity for the bank, its stakeholders and its customers to consolidate its position in the Irish banking market and position itself for future growth.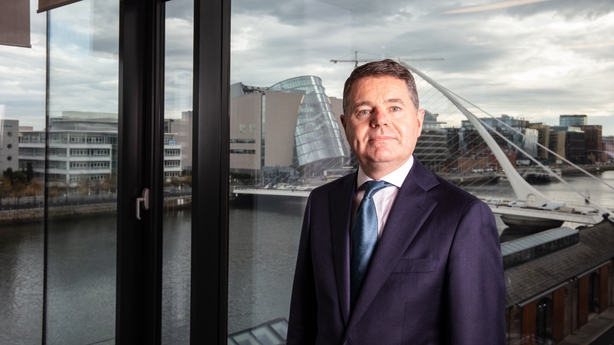 "With the withdrawal of Ulster Bank and KBC from the Irish market, a PTSB with greater scale has a more important role than ever in providing meaningful competition for consumers in terms of both product choice and pricing," the Minister said.
"For these Ulster Bank borrowers, it provides them with certainty as to the destination of their loans, while depositors will have a choice to move their business to PTSB next year. The transaction also provides a large number of Ulster Bank staff with comfort in terms of job security," he added.
The Minister also said he remains supportive of PTSB as a shareholder on behalf of the State while noting that ongoing approval processes remain with the Competition and Consumer Protection Commission and also the Central Bank which will conclude next year.
FSU highlights issues with Permanent TSB-Ulster Bank deal
The Financial Services Union has welcomed today's news from Permanent TSB and Ulster Bank, but the union has raised questions about parts of the proposed sale and the timelines for change.
John O'Connell, General Secretary of the FSU, said that while today's announcement will save hundreds of jobs in the sector, it has also raised other issues that need to be examined, including the lack of an employment entity in Northern Ireland and the proposal that the servicing of mortgages will be outsourced to finance company Pepper.
Nearly 600 people working in Ulster Bank in Northern Ireland service Ulster Bank customers in the Republic.
The FSU said it will meet with PTSB and NatWest to seek answers for those staff that are awaiting certainty on their futures.
"The outsourcing of the servicing of mortgages to Pepper Finance will come as a surprise to staff and customers and is not something that is to be expected from a state-owned bank," the union said.
"It adds to the complexities of the deal and requires a full explanation from both banks and a statement from the regulator and Minister for Finance who would have needed to sanction this agreement," he added.
The FSU also said that the timelines proposed for completion of the Permanent TSB deal are "fanciful".
Taken together with the proposed exit of KBC Bank Ireland, thousands of customers and businesses are being asked to change their banking habits and accounts in a very short space of time, it said.
"Staffing levels in the branch network are not there to support such a huge logistical change. Staff are also being asked to take on these extra responsibilities and work for no extra reward," John O'Connell said.
"It is the role of the regulator to ensure that staff and customers are not adversely affected by the seismic change that is taking place in the retail banking sector," he added.
He noted that waiting times in bank branches and on phones queries can take hours and, in some cases, it can take days to get service.
It can also take months for an appointment date to change accounts to be allocated. Unnecessary stress is been added to staff and customers.
"The FSU will be writing today to the Governor of the Central Bank outlining our serious concerns and urging him to take action and intervene to protect the interest of customers and to work with the Banks to set realistic timelines that give people adequate time and space to make alternative Banking arrangements if required," he added.
Permanent TSB shares were higher in Dublin trade today.