Ryanair has slammed the latest Government policy on Covid-19 testing of those arriving into the country, branding it as "gobbledygook".
Group chief executive, Michael O'Leary, claimed the measures were ineffective and inappropriate.
Today, the Government announced that those arriving at Irish ports and airports will need a negative Covid-19 test from Friday.
Travellers can have either a professional antigen test taken a maximum of 48 hours prior to arrival, or a PCR test taken up to 72 hours earlier.
The requirement for a negative test applies to all arrivals, including those from Britain.
"When EU passengers have, for the last six months, been travelling safely with the benefit of the EU DCC or negative PCRs, what medical or health benefit is to be derived by asking these passengers to now produce negative antigen tests, when both NPHET and the CMO have been opposed to antigen tests for 18 months?," said Mr O'Leary.
"We note that neither the CMO nor the Govt have defined what a 'professionally done' antigen test means or look like.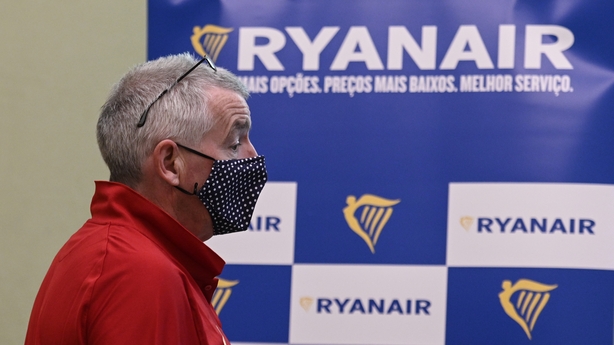 "How are airline or Border Control staff supposed to understand what a professionally done antigen test is, or looks like, when neither the CMO nor the Govt have even defined it," he added.
The airline also criticised the lack of consultation with airlines over the new rules.
Mr O'Leary said that as an island nation on the edge of Europe, Ireland needs simple but effective health measures for international travel.
"Today's gobbledygook from NPHET/Govt is the opposite of that," he said.
"We now have different rules for vaccinated passengers travelling here from Europe, who now have to produce an undefined negative antigen test, or better still, they can fly into Belfast, and travel across the border without any vaccine or antigen test whatsoever," he added.
The Ryanair boss called on the Government to abandon the NPHET advice and adopt a simpler system which he said was followed by most of the rest of Europe.
Shares in the airline have lost around 10% of their value since news of the new Covid-19 variant emerged four days ago.
Yesterday, Mr O'Leary said he saw no reason to cancel flights because of the Omicron variant of the coronavirus.