Vodafone Ireland said its service revenue for the second quarter of 2021 rose by 0.8% to reach €203m.
The company said the growth came on the back of continued growth in mobile - both contract and prepaid - customers and fixed broadband customers. It also reflected higher roaming revenue.
Vodafone Ireland said its total fixed broadband customer base increased by 5.3% on an annual basis to 309,000.
Overall its total mobile customer base increased by 1.5% over the quarter, with over 28,000 additional contract and prepaid customers joining Vodafone's network.
More customers also signed up to Vodafone's unlimited mobile data offering, with a 31% increase in data usage year-on-year.
In recent weeks, Vodafone joined ESB, eBay and Liberty Insurance Ireland as a founding member of the first Remote Working Alliance.
Founded by social enterprise Grow Remote, the initiative is designed to lead the way for other Irish employers to commit to long-term remote working and to help build an Ireland where employment is accessible no matter where people live.

Anne O'Leary, CEO of Vodafone Ireland, said she was pleased to see increased growth across all core areas of the business this quarter, driven by continued investment and expansion across its mobile and fixed broadband services.
"Growth has been particularly strong across our mobile contract base, reflecting continued satisfaction with the reach, reliability, and strength of our network in Ireland," Ms O'Leary said.
The CSO said the company took important and exciting steps to increase its positive social impact in the quarter under review.
"Through Vodafone Foundation we were pleased to announce a new first of its kind programme in Ireland, Hi Digital, a five-year dedicated, nationwide digital skills training programme for over 65s, in partnership with ALONE and Active Retirement Ireland," Ms O'Leary said.
"The programme will help in addressing the ever-growing digital divide between generations in Ireland and we are delighted to be working with our two charity partners to help support getting older people online," she added.
Meanwhile, Vodafone Ireland's parent group has raised its forecast for this year's free cash flow after it reported 6.5% growth in adjusted core earnings in its first half, driven by a good performance in Germany, its largest market.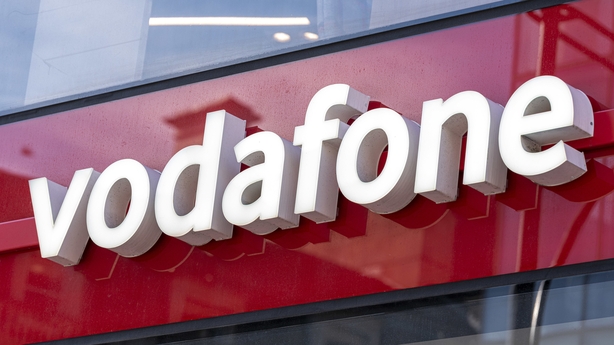 The British company raised the floor of its full-year earnings guidance to €15.2 billion from €15 billion, with the top remaining at €15.4 billion.
It also and upped its free cash flow target to at least €5.3 billion from at least €5.2 billion.
Vodafone chief executive Nick Read said the results demonstrated "solid commercial momentum".
"Our strengthened performance in Africa and Europe puts us on track to be at the top end of our guidance for this year, as well as firmly within our medium-term financial ambitions," he said.
Vodafone said its total revenue grew 5% to €22.5 billion in the six months to the end of September.
This was driven by service revenue growth in Europe and Africa and a recovery in handset sales following Covid-19 disruption in the prior year.
Adjusted core earnings came in at €7.6 billion, with growth boosted by a 0.7 point margin increase.
Analysts will likely nudge up forecasts after the results.
They had expected Vodafone to report earnings of €15.2 billion this year and cash flow of €5.23 billion, according to a company-compiled consensus.