Kids seem to want to be independent at earlier and earlier ages these days.
But as they push to stretch the boundaries, how do you give them a little extra leash, while also keeping a close eye on them?
Smartwatches designed for children with built in tracking and communication tools are one way and the Neo is the latest offering from Vodafone that does just that.
DESIGN
The smartwatch is a familiar enough design, with a case that is not quite round but not quite square in shape.
Nevertheless, is does look like a watch.
The case is made of plastic, making it durable and it comes in two colour choices, "Mint" green and "Ocean" blue.
There is a single large function button on the right edge and a power button on the bottom edge, as well as a small camera on the top edge.
It is, however, quite thick and chunky, and on my kids' slight wrists it did appear a little oversized and burdensome.
The device comes with two different rubber straps - one that offers an angled view that may make it easier for a child to see what is on the screen, and one that offers a traditional straight view.
An IP68 rating means the watch can be used at a depth of 10m under water for up to 30 minutes.
Vodafone promises up to 24 hours battery life and in reality you don't get much more than this, so it will have to be charged every day.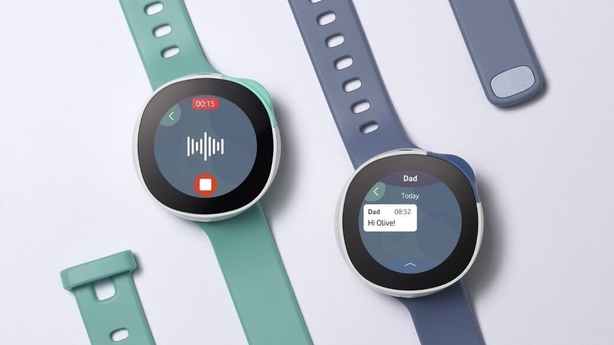 SCREEN, CAMERA AND NAVIGATION
The watch uses a combination of touch screen and the previously mentioned two buttons for navigation.
The screen is round and approximately 4cm wide. The touch sensitivity is a bit hit and miss and it can be a little frustrating to navigate.
One button is used to power the watch on and off and take you back to the home screen.
The other large one on the side is primarily for activating the camera and capturing images.
The camera is a mere 5MP sensor, so your kid won't be taking amazing sunset shots.
But it is enough for them to have a little fun.
The watch itself can store around 250 images, but up to 1,000 can be stored when used in tandem with the Vodafone Smart app.
Its possible to do a little editing of the photos on the watch, where Disney characters can be added.
The device itself can also be personalised so that it is themed around a range of Disney characters, including Elsa from Frozen, Buzz Lightyear from Toy Story, as well as Darth Vader from Star Wars.
The chosen "sidekick" character comes to life during the day in the watch and the watch plays sound effects as they move.
Additional characters are also added to over time or if the child prefers no thing they can have a neutral background etc.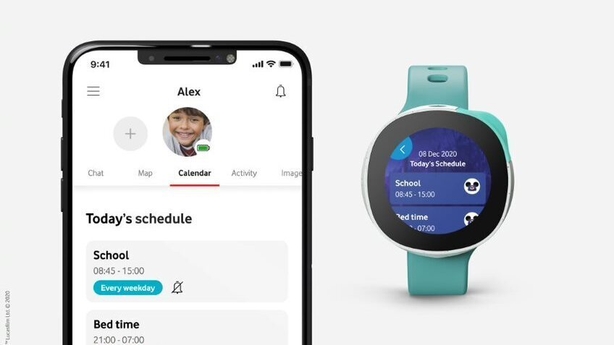 CALLING, MESSAGING AND TRACKING
With its own built in smart SIM card, the Neo can communicate wirelessly without the need to be tethered to a mobile phone.
You will need to connect it to the Vodafone Smart app on a phone to set it up though.
Once you do this, you can add nine trusted contacts to the watch that can be called or messaged by the user from it.
Its also possible to customise what level of access to features each contact has – so for example if you want someone to be able to message your child but not call them or see where they are, you can turn those features off for that person's profile.
Calling is pretty simple and quite effective, although those around the watch wearer will be able to hear the sound come out of the speakers on the device, meaning privacy can be limited.
Pairing headphones or buds by Bluetooth is not possible.
Messaging is not as flexible though and so while the nine contacts can send a customised text message to the watch, the wearer can only choose from a selection of limited pre-programmed stock answers to reply.
Of course, the SIM connectivity comes at a price.
It costs nothing for the first 12 months, but €9.99 a month after that. Not massively expensive, but not cheap all the same when you factor in the purchase price of €200.
It is possible to use the watch abroad though with roaming capabilities in 100 countries – useful when travelling.
When it comes to tracking, the watch uses GPS to provide its location to the app. In practice I found this to be a little hit and miss.
If GPS signal is not available, the watch will use cellular or Wifi data to provide a location instead.
The watch can't connect to the internet though, so your child won't be able to use it to browse the web.
If your kid is an active type, they will probably like the concept of using a smartwatch to track their activity.
The Neo can do this, but in a very limited way.
Only steps and distance are recorded by the device, but it will tell the wearer what percentage of their daily activity target they have achieved.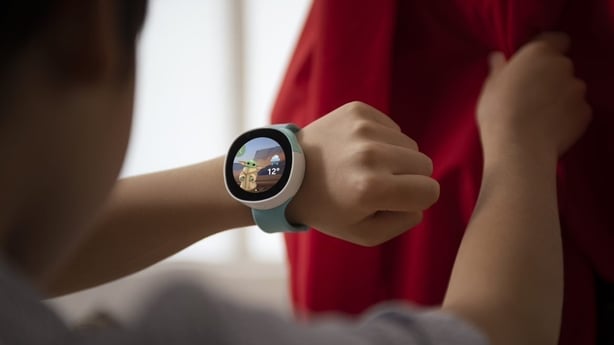 OTHER FEATURES
There are a number of other features on the watch of varying use to children.
These include a calculator, a stopwatch and a timer.
There is also a calendar for the conscientious child who likes to know where they are going and what time they have to be there!
A weather app is also included so your child knows whether to put on a coat when they leave the house or not! As if.
From the settings menu you can alter things like volume and haptic feedback, the brightness, ringtones and notifications.
CONCLUSION
Designed for 6-9 year olds, the Neo certainly serves a purpose, without the need to provide them with a full mobile phone.
Your child can call and message you, as well as other designated contacts. You can see where they are and contact them.
The question though is whether you would really want to give a 6-9 year old that level of freedom – I'm not sure I would.
For older children, the device will probably not be seen as cool enough, with its Disney themes and chunky looks.
They will have fun with features like the camera and activity tracker though.
The real decider for many will be the cost and at €200 it doesn't come cheap, particularly when you consider it will cost a further €9.99 a month to run after the first year.
But for the independent child who wants to be able to pop down the road to Granny or a friend's house or play on the green, it is certainly worth considering.