AIB has today said that it is on track to meet earnings expectations for the full year and said it would consider the resumption of dividends for 2021.
In a trading statement for the nine months to the end of September, AIB said that implementation of its strategic plan continues and it is making good progress in advancing its digitalisation and ways of working programmes.
AIB reported new lending of €7.2 billion for the nine month period, up 7% compared to the same time last year with the bank noting a pick-up in momentum in the third quarter.
It added it expects this trend to continue in the last three months of the year.
The lender said its Irish new mortgage lending increased by 17% with green mortgages representing 18% of this. It had a 31% mortgage market share in the month of September.
Customer deposits stood at €90.7 billion, up 11% from December as customers' savings continued to accumulate.
AIB reiterated its guidance that it was expecting a moderate decline in Net Interest Income - the difference between the interest income a bank earns from its lending activities and the interest it pays to depositors - for 2021.
In the first nine months of 2021, its NII decreased by 8% reflecting the impact of the lower interest rate environment, lower loan volumes and excess liquidity partially offset by momentum in its negative interest rate strategy.
AIB said that in September it had about €12 billion deposits at negative rates, up from €4.7 billion in December 2020.
The bank also said that a further net credit impairment writeback was recorded in third quarter of the year, which it said reflected continued repayments, recoveries and a stronger macro environment.
This trend is expected to continue in the fourth quarter, the lender added.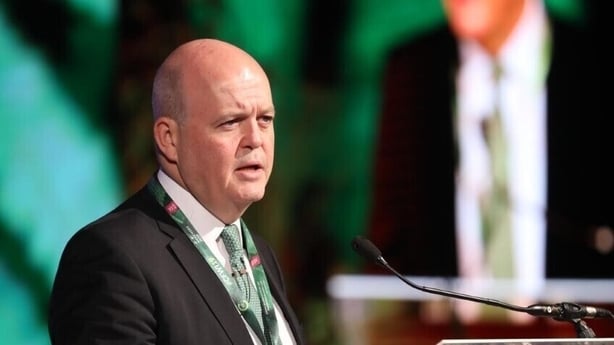 Colin Hunt, AIB's chief executive, said that looking to the fourth quarter and beyond, the bank expects the steady economic recovery to continue as its customers return to pre-pandemic levels of activity.
"We are making meaningful progress towards achieving our medium-term targets as we deliver at pace on our strategy. Our robust balance sheet, leading digital capability and the strength and breadth of our franchise enable us to support our 2.8 million customers and the communities we serve," Mr Hunt said.
The AIB CEO said the doubling of its Climate Action Fund to €10 billion will play a leading role in Ireland's transition to a low-carbon economy.
"The group is also focused on continuing to fund the construction of much needed new homes and to provide mortgages to our customers and their families," Mr Hunt said.
"We are increasingly confident about the economic outlook and our ability to generate sustainable shareholder returns, and in this regard the Board will consider the resumption of dividends for 2021, subject to regulatory approval," he added.
The 75% state owned bank paused dividend payments in early 2020 in line with recommendations of the European Central Bank at the onset of the Covid-19 pandemic
On September 1, AIB announced the completion of the acquisition of Goodbody Stockbrokers while it said that Competition and Consumer Protection Commission (CCPC) approval has been received for its joint venture proposition with Great-West LifeCo with the regulatory approval process progressing well.
Shares in AIB ended 1.1% higher in Dublin trade today.