Tablets are making something of a resurgence these days.
The pandemic has shone a spotlight on the usefulness and versatility of the device category as both a work and personal tool.
Apple is clearly tapping into the trend this year, announcing a new iPad and iPad Mini in its latest product launch in September.
We've been trying out the new Mini to see what new features it has to offer.
DESIGN
The new iPad Mini is smaller in size than the last version – quite a bit smaller in fact – and weighs in nicely also.
While it is still just that bit too big to hold in one hand, it is far more portable than a full-size iPad or large tablet made by another manufacturer.
When it comes to its style is has a flat edge design, similar to that of the latest iPhones.
An aluminium band with curved corners wraps around the entire outside of the device, giving it strength and structure, and also making it easier to grip.
To the right side is a charging and connection point for an Apple Pencil (which is an extra) and the tray for a SIM card.
On the bottom is the USB Type-C charging socket as well as a couple of speaker grills, while to the top are more speaker openings, the volume control buttons and power button.
Like on the iPad Air, the latter now houses the fingerprint sensor, which is pretty quick and accurate, although I did find the folio case did make it tricky at times to access the button properly so that it could read my fingerprint.
One neat feature though is that during setup the iPad prompts you to put in a second fingerprint from your other hand, because when you are using the device in landscape mode, it will be your left hand that naturally falls on the sensor.
Do note though, there is no way of unlocking the tablet with your face.
On the rear the single camera unit protrudes quite prominently, but in most cases users will probably have a case on it that compensates for this.
The iPad Mini comes in four colours – purple, pink, space gray and starlight (kind of cream colour).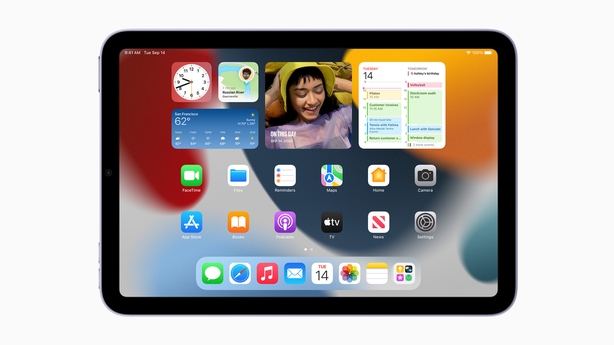 DISPLAY
The first thing you notice about the iPad Mini screen is that with the fingerprint sensor now in the power button, the home button has disappeared.
That has created extra real-estate for the display, but that said, there are still pretty thick and noticeable bezels around the outside.
That may detract a little from the immersiveness of the screen, but it doesn't take away from its quality.
The 8.3 inch Liquid Retina display offers a decent viewing experience, with a resolution of 2266 x 1488.
The refresh rate is quite low though at 60Hz, considerably less than you get on the 120Hz iPad Pro.
But in the main it is adequate, though you might find gaming and scrolling isn't as smooth as you might get on a high-end phone or top of the range tablet.
The display does have Apple's True Tone technology and an antireflective coating which makes it good for use in sunlight.
HARDWARE
The iPad Mini features the new A15 Bionic chip, the same one that powers the new iPhone 13 range.
So that is a plus, offering a 40% boost in CPU performance over the last iPad Mini and an 80% jump in GPU performance over its predecessor.
Coupled with the RAM it powers the device along at a good clip, meaning multi-tasking is smooth, app opening and closing is fast, and graphic-laden and fast-moving games are glitch free.
You will get even more power from an iPad Pro, as it uses the M1 chipset.
But for normal everyday use, the iPad Mini won't be found wanting.
The other benefit of the new efficient chip is battery life.
The official promise from Apple is that it will last up to 10 hours of continuous use.
Obviously, much depends on what you are using it for and how you use it.
But I certainly found that with normal dip in and out multi-task usage, it was lasting a couple of days in between charges.
Solid, although not spectacular.
You do get a 20W fast charger in the box – that hasn't yet been taken away like it has on the iPhone.
But you won't be able to charge it wirelessly.
Another new addition to the iPad Mini is 5G and for some users that will be a bonus.
On the storage front it comes with 64GB or 256GB built in.
The stereo speakers perform well for their size.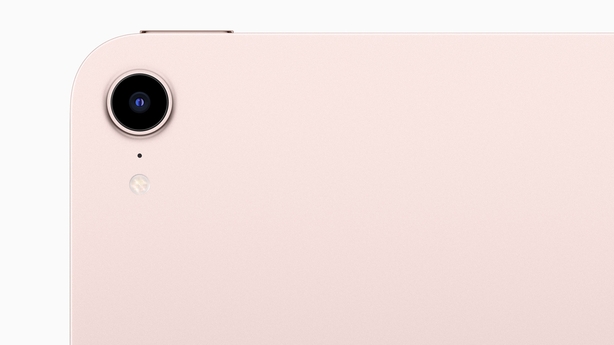 CAMERAS
Cameras aren't really a huge selling point on iPads.
After all, nobody really wants to suffer the ignominy of being seen taking photos or videos with a large tablet in their hand.
But on a small tablet they do start to become more important.
On the iPad Mini you get a single 12MP main camera with an improved lens and sensor.
The modes iPhone users have come to know are there including Panorama, Slo-mo video, Burst and time-lapse, but obviously with just one camera there is no Portrait mode.
It is also possible to capture 4K video for the first time on an iPad Mini.
You won't be making art with this camera, but for basic every day shots, it is as good as is necessary.
On the front is a 12MP Ultra Wide sensor.
It has the relatively new Centre Stage feature, which keeps the subject perfectly in the centre during Facetime calls by tracking left and right automatically.
OTHER FEATURES
The iPad Mini runs iPad OS 15.
It includes a raft of new features including an updated multitasking menu, the ability to place widgets on the home screen, quick notes that let you jot down a number or idea over any app or screen and Live Text which recognises text in real-time using the camera and allows you to copy, cut and paste it.
CONCLUSION
It may be small by design, but its dinky size and clean cut lines mean the new iPad Mini stands out from its bigger cousins in a positive way.
It is fairly well powered, has a pretty good screen and now has 5G connectivity.
But its battery prowess is less than you'll get on a larger model, the camera set up is pretty pedestrian and it isn't all that cheap despite its size.
Starting at €569 for the 64GB version, rising to €909 for the Wi-Fi and Cellular 256GB version, it costs quite a lot compared to other options on the market.
If you want a premium product or are upgrading from a much older iPad, then perhaps its worth a look.
But if you own a recent iPad or if even more power, storage, battery life are important to you, then perhaps its not.