Ryanair has announced the reopening of its Cork base from December with 12 routes for the winter months and 20 routes operating from Cork for summer 2022.
These routes include services to Birmingham and Edinburgh, which were originally operated by Stobart Air before its collapse earlier this year.
Two 737 800 planes will be based at the airport - the first from December and the second from March 2022.
Cork Airport's Managing Director Niall MacCarthy welcomed the Ryanair decision.
Mr MacCarthy said their long term business partners are demanding but added that "they have a right to be demanding, and we are delighted with today's announcement"
Ryanair chief executive Eddie Wilson said the company is delighted to announce the reopening of its Cork base saying it secures 60 Ryanair jobs at Cork "but more importantly restores passenger traffic at Cork to pre-pandemic levels for Summer 2022".
Earlier this year, Ryanair had slammed Cork Airport's "crazy plan to dig up its runway during the months of September, October and November".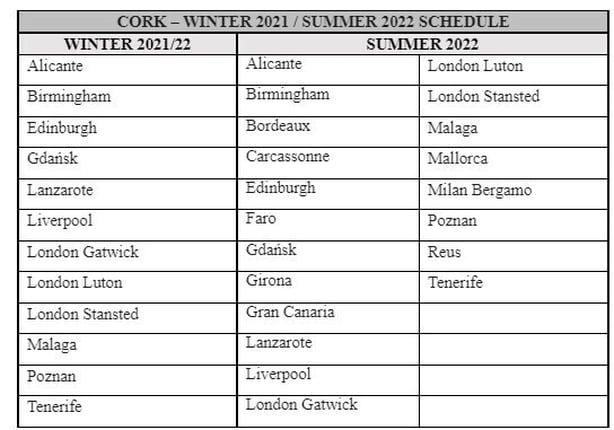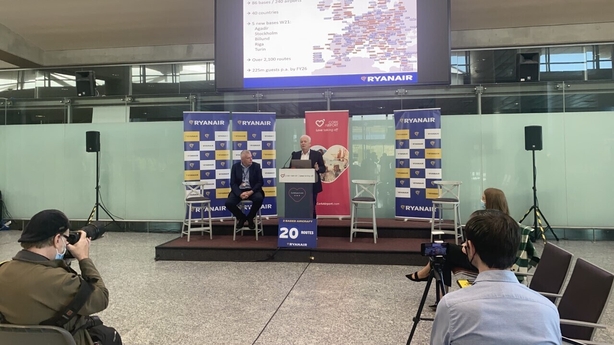 Ryanair is also calling on the Government to continue a funding scheme at Dublin Airport.
Speaking on RTÉ's News at One, Mr Wilson said, "If Eamon Ryan is listening today - extend the scheme from June next year to October and Ryanair will also restore all of its traffic into Dublin and that means people that depend on us for tourism, business connectivity can now plan into next summer.
He said Dublin Airport could potentially fall to 35% below the traffic that Ryanair had there pre-pandemic.
He also said that demand for flights is high and passengers can expect price hikes.
"Those who didn't get a holiday during the summer are certainly taking it at half term. November is always a difficult month, but I think the pent-up demands of Christmas will mean that fares will rise because there's just less seats available in Europe."
He said that fuel is almost 50% of its costs, so the company has a comprehensive "hedging policy" in place to minimise spikes in the energy market.