101 Irish tech companies raised a record €932m in the first half of the year, the latest Startup Funding Review from TechIreland shows.
The money was raised from a spread of sources, including venture capital, debt finance, grants and crowdfunding.
TechIreland said the top ten largest investments account for 70% and the top five account for half the funding raised.
LetsGetChecked raised €123m, followed by GH Research which raised €105m while Carne Group raised €100m.
TechIreland noted that Enterprise Ireland did much of the heavy lifting at the early stage with sterling pre-seed and seed funding support.
The HealthTech sector accounted for most of the total funding in the first half of the year with 27 companies raising €439m, up 80% on the same time last year.
Mainstay Medical raised €130m, which Galway based Neurent Medical raised €20m and 15 other HealthTech companies raised between €1m and 8m.
FinTech was another big winner with companies in the sector raising €205m, a 170% increase last year.
TechIreland said the sector has seen some significant developments during the six month period, with Fenergo achieving unicorn status and Taxamo's acquisition by Vertex.
But unsurprisingly, there was a dramatic decline in funding for TravelTech, while the CleanTech and artificial intelligence sector also saw declines.
Today's report reveals an increase in the number of early-stage rounds, with 35 companies each raising between €1m and €5m, up from 26 for the same time last year.
---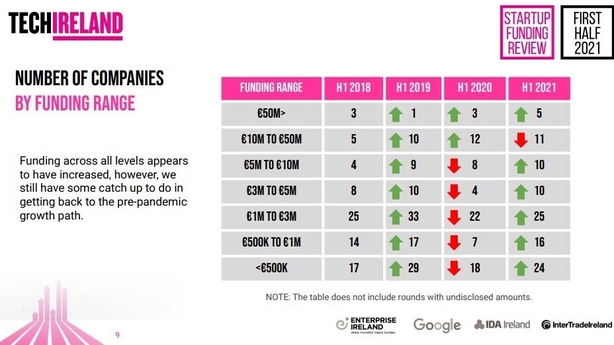 ---
Another 40 companies raised less than €1m, up from 25 last year.
But in line with the Irish Venture Capital Association's recent report, early-stage rounds in the second quarter fell sharply after a strong first quarter.
John O'Dea, TechIreland's chief executive said that while the overall numbers are good, we are not keeping up with the huge increase in European tech funding.
Ireland's share for the first half of the year has actually dropped from 3.5% to just 1.8%, he added.