Ireland needs an aviation recovery plan if it is to capture its fair share of the rebound in the sector, the group chief executive of Ryanair, Michael O'Leary has said.
Speaking to RTÉ News before the airline's AGM in Dublin today, Mr O'Leary said that while Shannon is getting back to pre-pandemic capacity and Ryanair is close to agreeing a recovery plan with Dublin and Cork, the airports need more help from the state.
"We need the Government to make a decision," he said.
"The one thing we have been critical of Eamon Ryan and transport is that there is not an aviation recovery plan yet, despite the fact that a plan has been sitting on his desk for 15 months," the Ryanair boss said.
"Meanwhile, Spain, Portugal, Italy are all out there with recovery plans, reducing taxes on aviation," he said.
"We need to compete if Ireland is going to capture a fair share of this growth and Ireland can capture a fair share of this growth, because Ryanair is Irish, we are based here in Ireland and the first country we want to grow in is Ireland," he stated.
"But not if we are going to be taxed out of existence, we'll go to other European countries instead," he added.
Michael O'Leary said Ryanair was currently doing extraordinary airport discount deals and receiving growth recovery incentives all over Europe.
"That is why again we are calling on the Irish Government - we need an aviation recovery plan for this island, we are an island on the periphery of Europe and we haven't yet set out a plan for recovery in aviation," he said.
"And it will be important because I think next summer you will see fewer Irish people staycationing," he stated.
"There will certainly be fewer US visitors. We have got to replace those with European visitors, with British visitors, restoring those links we've had for many years," he added.
We need your consent to load this rte-player contentWe use rte-player to manage extra content that can set cookies on your device and collect data about your activity. Please review their details and accept them to load the content.Manage Preferences
Mr O'Leary said the last 18 months has been the most traumatic that the company has ever gone through.
He said prior to the pandemic the airline had 30 years of unbridled growth apart from around 9/11 and the Gulf War.
"This is the first event where we were grounded effectively for 18 months," he said.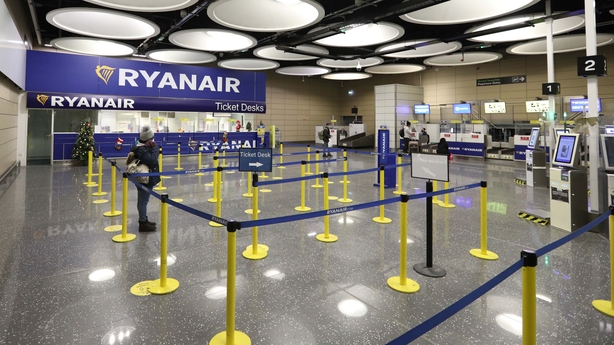 "We had a lot of people who were on part time pay. We employ 18,000 people. Now thankfully we've held onto most of those jobs, but most of us have had to accept pay cuts, last year, this year," he stated.
"We hope to restore those pay cuts over the next two or three years, but it has been hugely traumatic. And I think that is why today is an exciting day," he added.
His comments came as the airline's board approved a revised growth plan that will see it carry 225 million passengers by 2026, a near 50% growth on pre-pandemic levels.
Mr O'Leary said the company's optimism was based on its order for 210 of the more efficient new Boeing 737 Max aircraft, 12 of which have already arrived, with 65 more due over the winter.
There will also be less capacity due to other airlines going bust and strong demand as people across Europe are coming back to flying very rapidly as the pandemic weakens.
"I think people are going to fly within Europe for the next 12-18 months because long haul will be less of an option," he said.
"So there is a big shortage of capacity in Europe for the next number of years," he added.
The airline boss predicted that fares will stay lower through the winter, apart from at the peak periods of the October bank holiday and Christmas where bookings are already strong, but will then rise into next summer.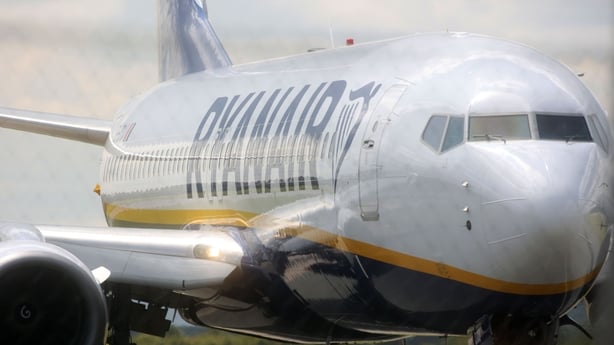 Mr O'Leary confirmed that Ryanair will not have any routes operating into and out Northern Ireland this winter, as short term traffic incentives for summer routes, put in place by the airports there, had expired and had not been renewed.
"The same will happen here in the Republic if we don't get competitive," he said.
"We want to grow here. Aer Lingus are struggling for growth as well. We need recovery incentives from this Government and we need action," Michael O'Leary urged.
He said Ryanair would be happy to resume talking to Boeing again about a further order of new aircraft, after discussions ended recently because the two sides could not agree on price.
"We will be happy to talk to Boeing again, but Boeing wanted to impose a price increase on the cost of the aircraft and we said look guys, there is a Covid crisis, you are not selling planes, lower prices and we will order more aircraft, raise your prices, we'll stop ordering aircraft," he said.
Mr O'Leary added that he thinks there will be opportunities to add Airbus aircraft, certainly second hand, in the next few years.
"But I don't see a large order for Airbus emerging," he stated, adding that the manufacturer's order book is stronger than Boeing's and prices have been rising for a number of years.
Ryanair shares jumped over 6.5% today after it raised its long-term traffic forecast and said it expects to fly 225 million passengers a year by 2026, up from 200 million previously as it eyes a strong recovery from the Covid-19 pandemic.
In a statement, it said the planned delivery of 210 Boeing 737 MAX jets over the next five years will enable it to accelerate post-pandemic growth "as opportunities open up at primary and secondary airports all over Europe, particularly where legacy carriers have failed or reduced fleet sizes".
The airline expects to create over 5,000 new jobs for pilots, cabin crew and engineers over the next five years, and earlier this week it opened a €50m Aviation Training Centre in Dublin, with two further training centres planned for Spain and Poland over the next five years.
Ryanair group chief executive Michael O'Leary said the performance of the B737 "Gamechanger" aircraft this summer has exceeded its expectations.
"With these new deliveries, Ryanair will open 10 new bases across Europe this year as we work with airport partners to help them recover traffic and jobs post Covid, and take up slot opportunities that are being vacated by competitor airlines who have collapsed or significantly reduced their fleet sizes," the CEO said.
Michael O'Leary said the Covid-19 pandemic has delivered an unprecedented blow to Europe's aviation and tourism industries.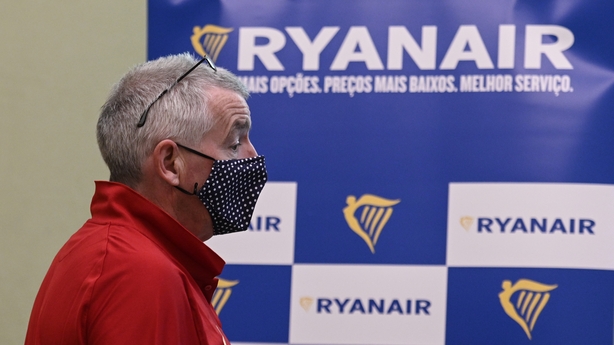 "Only Ryanair has used this crisis to place significantly increased aircraft orders, to expand our airport partnerships, and to secure lower operating costs so that we can pass on even lower fares to our guests, so that together with our airport partners, we can recover strongly from the Covid pandemic and deliver higher than expected growth in both traffic and jobs over the next five years," he added.
Ryanair flew 149 million passengers a year before the pandemic and expects to fly between 90 million and 100 million in its financial year to the end of March 2022 as the industry recovers from the disruption of the last 18 months.
The airline had planned to reach the 200 million passenger mark by March 2024 but said just before the pandemic struck Europe last year that delays in the delivery of the then-grounded MAX jet would mean it would take until 2025 or 2026.
Ryanair shares ended higher in Dublin trade today, up 7.92% to €16.62.