When Google released the first sort-of credible pair of smart glasses back in 2013, many tech watchers got very excited.
But when the hysteria around Google Glass eventually wore off, it quickly became clear that actually they weren't all they were cracked up to be.
Pretty impractical, weird looking, not terribly functional, they soon died a death as a mainstream consumer product.
Others, like Snap Inc and Huawei, have since tried again with varying degrees of success. And yet smart glasses have still not really taken off. Why?
Facebook seems to believe that the main reason for this is style – that until now smart specs just haven't looked very cool, and that's been a turn off for many prospective buyers.
So in an attempt to address this, it has teamed up with Ray-Ban owner, EssilorLuxottica, to produce their own effort called Ray-Ban Stories, which they claim address the dual challenges of form and function.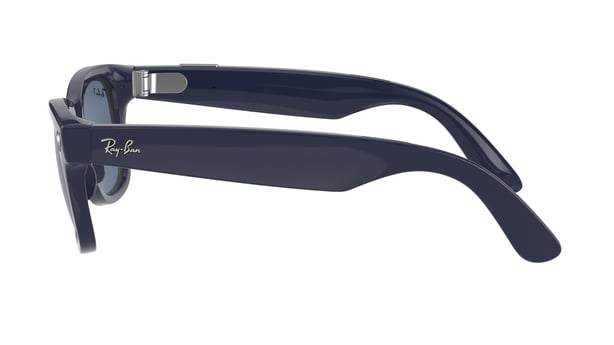 Design and hardware
The glasses take on the form of three typical Ray-Ban glasses styles – Wayfarer, Meteor and Round.
Frames come in five different colours (ShinyBlack, Black Matte, Shiny Blue, Shiny Olive, ShinyBrown) and there are six lens types across clear/prescription (we had a clear pair to try), polarized and transition.
Unlike Google Glass, there is no projection display system though, so the lenses are just that – for looking through.
Either side of the lenses where the frame meets the arms, there are 5MP cameras as well as an LED hardwired to the cameras to show when you are recording or capturing.
On each arm there is an open ear speaker close to the bend where it sits on your ear, while on the right arm is a 3-microphone array.
Next to it, on the outside of the arm, is a touch pad for controlling the smart functions, and above the pad is a button for initiating and stopping image and video capture.
Inside the left arm, close to the hinge, is a power and pairing switch, while inside the right frame close to the hinge is another power and pairing status LED.
The designers have managed to pack in a lot without adding overly to weight and including all the hardware the smart glasses weigh in just 5g heavier than a dumb equivalent.
Inside the frames is an optimised Qualcomm Snapdragon processor to drive the glasses.
The battery is also there and when fully charged it lasts a pretty modest 6 hours with "moderate" use, defined as an hour of audio, 30 minutes of calls, 10 photo captures and 10 videos captured and imported.
The glasses come though in a case that doubles as a charger – 70 minutes will deliver a 100% charge, and 30 minutes provides 50% capacity.
A fully charged case will administer three full charges of the glasses.
The glasses aren't water resistant, although that didn't stop Mark Zuckerberg from wearing them wake boarding in a teaser video recently.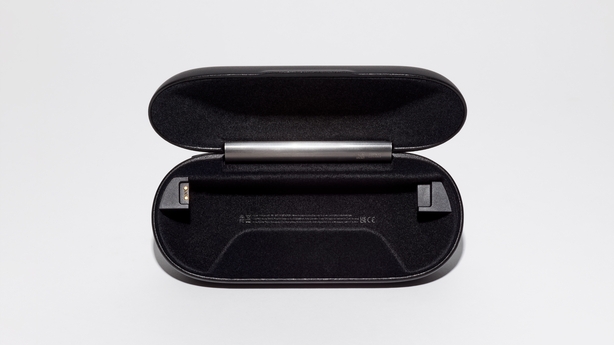 Features
The glasses are pretty much useless without the companion app, Facebook View, which is available on iOS and Android.
A Facebook account is also required to use them - so if you haven't got one and don't want one, then forget it.
The app takes you through a step-by-step process of pairing and set-up that doesn't take too long.
You will have to give the app certain permissions and you have a choice about whether you want to set up Facebook Assistant.
This is a fairly rudimentary virtual assistant that can be used to capture an image or video through voice commands that begin with the wakeword "Hey Facebook,….".
Without it, images and video can only be captured using the button on the glasses.
If having Facebook Stories constantly listening for the wakeword isn't to your liking, the assistant can however be activated through a press and hold of the touchpad.
If you also don't like the idea of sharing your voice commands with Facebook in order to improve the accuracy of the assistant, it can be turned off too.
There are also no ads in the app and photos and videos aren't scanned to inform what ads are served up to you elsewhere, Facebook claims.
In order to ensure people are aware you are recording them, it isn't possible to turn off the front facing LED that lights up when you are capturing an image or video, although you can dim it.
The maximum length of a video that can be recorded is 30 seconds and up to 35 full length videos or over 500 photos can be stored in the 4GB of flash memory on board the specs.
Images are captured at a resolution of 2592x1944 and videos at 1184x1184 at 30fps.
The quality is a little grainy for both and they need reasonable light to perform, but overall considering the size of the cameras and what you are likely to want to use them for, it is ok.
Once captured, videos and images can be quite quickly and easily transferred to the app from where you can choose to share them to Facebook or any other platform installed on your phone, or not.
Nothing is shared automatically.
It isn't possible to stream video live from the glasses to social platforms and that was a deliberate decision Facebook said.
The app has a range of in-built editing tools and effects, and it is also possible to stitch up to five videos together to create a short montage movie.
With built in speakers the glasses can also be used for listening to music, radio or podcasts.
However, because the speakers are not embedded in your ear opening, sound seepage is an issue, particularly when the volume is up high, something which may irritate those around you.
Coupled with the microphones they can also be used for taking calls, but again, don't be surprised if those around you can hear both sides of the conversation.
Call quality is ok though and when your hands are full, the feature can be useful.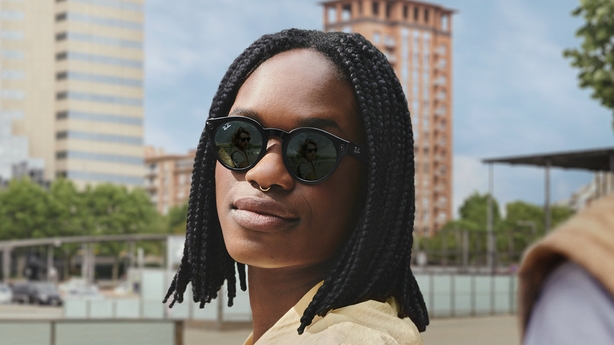 Cool or cod?
Some will see these glasses as the coolest thing they have ever encountered – the perfect combination of style and technology with something as practical as glasses.
Others will, of course, recoil in horror at the privacy implications of people wandering around capturing images and video at will with a quick voice command or button push, without others around them even really noticing.
Facebook addresses this by saying that in designing the glasses it consulted with safety and civil liberties groups.
It also recommends that users tell those around them that they are wearing them, that they power them off in private spaces, that they don't tamper with the capture warning LED and that they act as a good community member!
Hardly advice that will be heeded by people who don't care much for others' privacy.
Certainly, there is something of a use case for the ability to listen to music and take a call through your glasses that many potential users will warm to.
But as for taking average quality snaps or movies, while on the go, through shaky cameras embedded in a pair of glasses on your head, and then sharing them to social media, the appeal is more short-term gimmicky than long term clear-cut.
At a base price of €329 for the frames on their own, climbing to €359 for polarized and €409 for transition lenses, they cost significantly more than other mid-tier Ray-Ban glasses.
So are they cool or a cod? It really depends on your vision for glasses.