The global chief executive of Intel has said Ireland is on the shortlist for a possible further multi-billion dollar investment in additional chip manufacturing capacity that is to be announced later this year.
Speaking to RTÉ News during a tour of Intel's latest construction site in Leixlip, Pat Gelsinger also said that regardless of whether it wins that, Intel is going to keep investing in Ireland and building its capacity here.
Mr Gelsinger took over as Intel CEO earlier this year.
As part of his plan to turn the company's ailing fortunes around, he has revealed plans to build a foundry business where Intel would make chips designed by other firms, rather than itself.
In Munich earlier this week, he said the company aims to invest around €80 billion in Europe over the next decade to boost its manufacturing capacity, including through the construction of two foundry plants.
The locations of these plants will be announced by the end of 2021.
"Ireland is clearly on that list," Mr Gelsinger said, during an interview overlooking the construction site for its latest fabrication plant in Leixlip, in which it has already invested over $7 billion.
"We have gotten nominations for sites from across European countries, some 70 different sites. We are down to about 10 finalists now that have sort of met the bar and Ireland is clearly one of those," the Intel boss said.
The issue was discussed during a meeting earlier today between Mr Gelsinger and the Taoiseach and executives from IDA Ireland.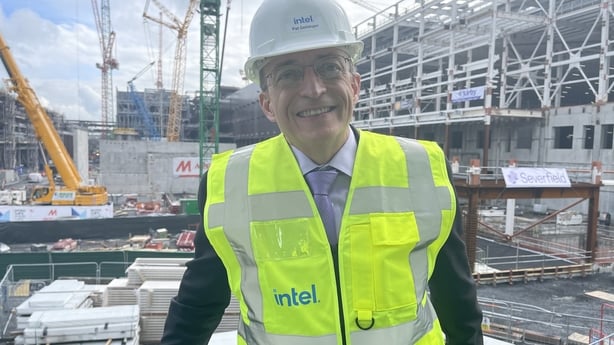 "Part of that is that we have felt so embraced by the Irish community, the Irish Government," he said.
"This has just been a great spot for Intel and I am certainly hopeful that we continue to expand that as we go forward and everything is going well," he added.
But even if Ireland does not secure some of the foundry investment, the Intel boss said he still expects further injections of capital here over the coming years.
"We are going to keep investing here, we are going to keep building our capacity here," he pledged.
"This has been just a great location for us. Whether or not this next particular site comes to Ireland we are happy members. We are farmers, we don't come to hunt the best of talent, we come to farm, to build, to establish a community," he stated.
"And that is exactly what we have done over our 32-year history at the Irish site. So I am confident that 32 years from now, when we are standing at this spot, we are going to be seeing a larger presence for Intel in Ireland," he added.
His visit comes amid a global shortage of semiconductors driven by soaring demand caused by the pandemic induced shift to remote working and increased use of technology, coupled with supply chain disruption also brought on by Covid-19.
It has seen growth in demand rise from 5-6% to 20%.
The problems have hit many sectors, but particularly the auto-manufacturing industry where production has had to be curtailed by many manufacturers.
The problems have hit many sectors, but particularly the auto-manufacturing industry where production has had to be curtailed by many manufacturers.
Speaking at a motor show in Munich earlier this week, Mr Gelsinger signalled that some of that auto-chip production shortfall would be made up by one of Intel's FABs in Leixlip, something he confirmed today.
The US executive said the company is building out its projects in Ireland very rapidly and doing everything it can to accelerate them.
"We've also said we are going to open this up as a foundry for Europe as well. And I have clearly said we want to build in Europe for Europe," he stated. "And yeah we do think this will cause us to invest more here," he added.
He said the pandemic had highlighted supply chain imbalances in the semiconductor industry and an over dependence globally on a small number of production sites in Asia.
"With shortages all over the industry, with $30,000 car manufacturing sites being idle for $2 semiconductor components, we have to do better than this. We have to get our execution back and we've laid out an aggressive, what we call 'torrid' pace, to bring Intel back to unquestioned leadership in every aspect of our products, our processing technology and Ireland is a key piece of that," Mr Gelsinger explained.
Bigger picture, Mr Gelsinger seems happy to go along with the EU's plans to become much more self-sufficient and in control of its own chip production requirements and a global leader in the space, having been overtaken by Asia.
"30 years ago Europe was 44% of worldwide semiconductors," Mr Gelsinger said. "Today 9%. Think, 44 to 9%," he said.
"And as I say, God decided where the oil reserves are, we get to decide where the FABS are. And as every aspect of human existence becomes digital, semiconductors are more important than where the oil reserves are. And Covid has shown us that our supply chains were disrupted - we need a globally balanced supply chain," he stated.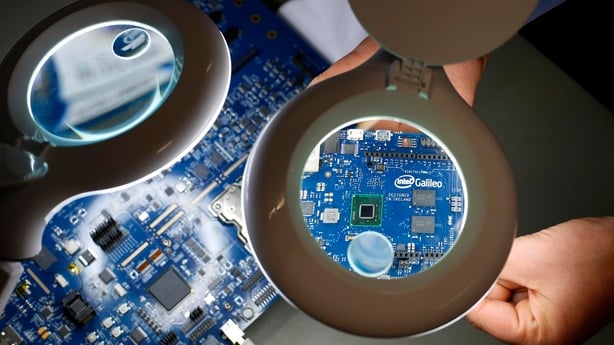 But as far as Ireland's place in that is concerned, a big question mark currently hangs over the future of our low 12.5% corporation tax rate, amid a global deal on a minimum rate of at least 15%.
"If Ireland does, as some believe it will, sign up to the higher rate, will that impact Intel's view of the country as a place to invest? Clearly Ireland has been a very favourable location, it has worked hard to be very favourable for businesses and I fully expect that will be the case forever as we look to the future," Mr Gelsinger said
"It is simply just the nature of Ireland to make it a great place to do business and I am very comfortable that we will be doing exactly that," he added.
Amid fears about electricity shortages, other potential future infrastructure deficits and upward cost pressures, is Intel still happy with Ireland's offering?
"Overall yes, but always Intel is raising the bar and that is also what makes it good for other companies," Mr Gelsinger explained.
"Because we are establishing those next levels of clean energy requirements, of water reclamation, of environmental consciousness as well and that helps the overall community," he said.
"So we say we need to keep raising the bar and so does Ireland and it has been a very symbiotic relationship that we are proud of and so is the Irish Government and the Irish community that we are part of," he added.
Also speaking to RTÉ News at Intel as part of today's CEO visit, the Taoiseach said the story of modern Ireland is inextricably bound up with Intel in terms of the last three decades.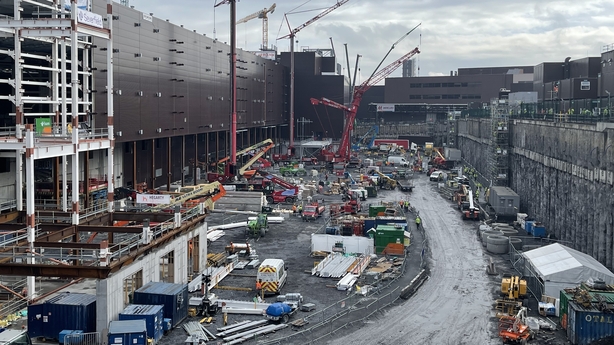 Micheál Martin said the company has put Ireland at the centre of global manufacturing excellence and the local supply chain for the current construction project is enormous, with up to 6,000 people involved in the build.
"I think we do need to appreciate the enormous impact that Intel has had on our development as an economy but will continue to have as well," Mr Martin said.
He said the Government continues to engage with the company in relation to any future investments it might have on its radar.
Asked if he was able to give Mr Gelsinger any reassurance around the future of our corporation tax rate, Mr Martin said he thinks a company the size of Intel is very much aware of the global movements in relation to corporation tax more generally.
"The focus of our conversation and engagement today was more on the capacity here in terms of the manufacturing know-how, in terms of the degree to which Ireland partners with a company like Intel in terms of giving it certainty, giving the company continuity in terms of what it does here," he said.
He added that Paschal Donohoe was with him for today's meeting and was able to give reassurance on that front.