Dalata Hotel Group, which owns the Maldron and Clayton hotel chains, has reported a narrowing of losses for the six months to the end of June as the hotel sector reopens after Covid-19 restrictions.
The country's biggest hotel group said its half year loss before tax came to €37.8m, down over 46% compared to the loss of €70.9m reported the same time last year.
Revenues for the six month period fell by 51% to €39.6m from €80.8m.
Dalata said it was seeing increasing demand for staycations since hotels fully re-opened for leisure in May in the UK and in June in Ireland.
It reported a group occupancy rate of of 44% in June but said this increased to 58% in July and 68% in August.
Dalata opened a new Maldron Hotel Glasgow City in August and said plans to open a further six hotels in Bristol, Manchester, Glasgow and Dublin by May 2022 are on track.
Looking ahead, Dalata said that while the emergence of new variants remains a threat, the progress being made on the rollout of vaccines across Europe and globally is very encouraging.
But the hotel group said the outlook for the near term remains uncertain at present.
"A strong recovery in domestic leisure is underway and we expect domestic corporate business to further recover this month given the progressive easing of restrictions," it said.
"The timing of the recovery of international leisure and corporate travel is somewhat uncertain but the ongoing global rollout of vaccines is a very positive influencing factor. The recovery of international travel is important for our Dublin and London hotels," it added.
The Dalata Board has appointed Dermot Crowley to succeed Pat McCann as CEO on October 31 after what it called "a rigorous selection process".
It said that Mr Crowley has played a key role in the development of the business since 2012 and is committed to continuing to grow the business and protecting and enhancing the Dalata culture.
Pat McCann, Dalata Hotel Group CEO, said today that as a sense of normality returns to society, the demand for domestic leisure has increased across Ireland and the UK.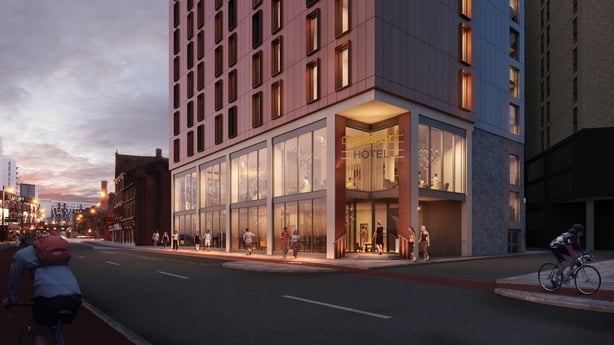 "Our people have skilfully managed the re-opening and are once again providing our guests with an exceptional experience," the CEO said.
Dermot Crowley, Dalata Hotel Group CEO Designate, said the Irish and UK governments have provided tremendous supports to the hospitality industry over the last 18 months which have greatly helped the company in weathering the Covid-19 crisis and protecting employment.
"As the hospitality industry begins to recover and these supports unwind, it is important to bear in mind that it will take some time for the industry to fully recover," he said.
"One key support has been the reduced VAT rate of 9% in Ireland which should be extended further to support the industry and the large number of jobs that depend on it," he added.
We need your consent to load this rte-player contentWe use rte-player to manage extra content that can set cookies on your device and collect data about your activity. Please review their details and accept them to load the content.Manage Preferences
Dalata said its Dublin hotels continued to be impacted by the Covid-19 pandemic restrictions with demand limited to essential services for the majority of the six month period.
This resulted in a reduction in both occupancy and average room rate with revenue per available room (RevPAR) down 62.2% on the same time last year and 86.4% on the first half of 2019. Occupancy fell to 19.1% from 38% the same time last year.
Dalata's Regional Ireland hotel portfolio comprises seven Maldron hotels and six Clayton hotels located in Cork, Galway, Limerick, Wexford, Portlaoise and Sligo.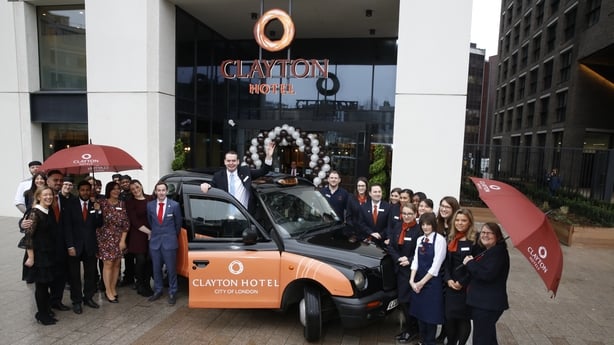 It said the division experienced challenging trading conditions as the hotels only remained open for essential business for most of the period in line with government restrictions, which resulted in reduced occupancies. RevPAR declined by 16.5% to €21.65 from H1 2020 and 67% from H1 2019.
Occupancy levels fell to 23.9% from 30.1% last year.
Meanwhile, trading at its UK hotel portfolio was also curtailed by government restrictions leading to a reduction in both occupancy and average room rate with RevPAR down 39.7% to £15.54 from H1 2020 and 76.7% from H1 2019.
The UK hotel portfolio comprises nine Clayton hotels and three Maldron hotels with three hotels situated in London, six hotels in regional UK and three hotels in Northern Ireland.
Shares in the company moved higher in Dublin trade today.