The Central Bank has fined Gary McCollum, the former boss of Irish Nationwide Building Society's UK operations, €200,000 and disqualified him for 15 years for his admitted participation in breaches of financial services law relating to commercial lending and credit risk.
Mr McCollum held a senior role in Irish Nationwide Building Society between the period under review by a Central Bank inquiry - August 2004 to September 2008.
The Central Bank said that as UK Branch Manager, Mr McCollum had responsibility for the Belfast and London branches, including management of UK staff, directing all UK commercial lending and managing UK customer relationships.
Mr McCollum has admitted to taking part in a sustained practice of recklessly disregarding Irish Nationwide Building Society's internal policies and procedures with respect to commercial lending and credit risk.
The makeup of INBS's loan portfolio left it exposed during the global financial downturn.
Between 2008 and 2010, INBS suffered financial losses of more than €6 billion, mainly due to the impairment of its commercial loan book.
This in turn resulted in the collapse of the building society, costing the Irish taxpayer a total of €5.4 billion.
The Central Bank said that Mr McCollum admitted failing to ensure that commercial loan applications were processed in accordance with internal policies, as well as commercial loans and variations and commercial mortgage offers.
He also failed to ensure that security (including personal guarantees) for commercial loans was obtained, that valuation reports on the assets used as security for commercial loans were received before all or part of the loan was advanced and that loan-to-value limits were adhered to in accordance with INBS's internal policies or otherwise approved as exceptions.
The Central Bank also said he failed to make sure that commercial lending was effectively monitored in accordance with the building society's internal policies.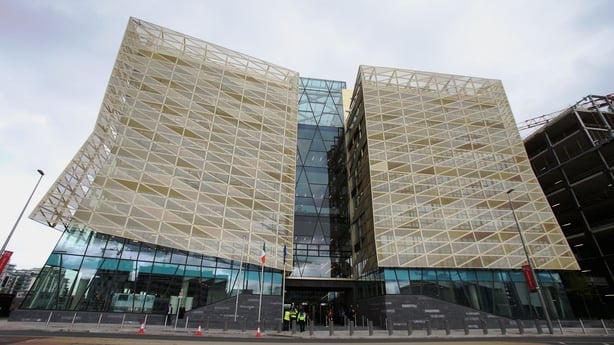 Mr McCollum accepts that by virtue of his role and his responsibilities, and his position on the Credit Committee, he knew or should have known of the controls contained in the lender's commercial lending and credit risk policies and procedures.
He also accepts that that he participated in lending practices that persistently ignored Irish Nationwide's internal policies and procedures and that he failed to implement recommendations to resolves these practices.
These failures by Mr McCollum are all the more serious given his position on Irish Nationwide's Credit Committee, the Central Bank said.
The Central Bank's Director of Enforcement and Anti-Money Laundering, Seána Cunningham, said the enforcement action against Mr McCollum concludes one of a number of complex financial crisis related cases that the Central Bank has taken against senior individuals concerned in the management of financial services firms.
Ms Cunningham said that the context of this case is important, adding that over a relatively short period, and with insufficient checks and balances, INBS's business model changed from being mainly a provider of residential mortgages to one which has been described as in some ways closer to that of a venture-capital financier than that of a building society.
"Mr McCollum, in his role as Head of Commercial Lending (UK), has admitted that through his action and inaction, he participated in significant breaches by INBS relating to commercial lending practices and credit risk in the period immediately preceding INBS's collapse.
"These breaches amounted to a consistent failure to ensure compliance with INBS's policies and procedures with a complete disregard for the consequences," Ms Cunningham said.
The Central Bank has highlighted on many previous occasions the potential risks that may arise for a firm, its customers and the wider financial market, when robust systems of internal control and procedures are not put in place and followed.
"This case serves to underscore a further fundamental point - robust systems of internal control are only as effective as the individuals implementing them. It falls to senior role holders to lead by example, so that a culture of compliance is the norm," the Central Banker said.
"The sanctions imposed on Mr McCollum reflect the serious nature of his conduct. The Central Bank will not shy away from using the full extent of its powers, including referring cases to Inquiry, in order to hold senior individuals in financial services accountable for their actions when serious failures like this occur," she added.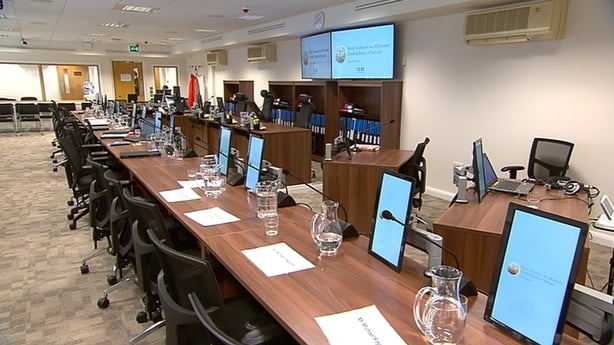 The Central Bank started its investigation into Irish Nationwide Building Society in 2010 and in 2015, the former lender agreed a settlement deal with the Central Bank.
---
Read more
Irish Nationwide Building Society admits to widespread breaches
Central Bank ends inquiry into Michael Fingleton
Former Nationwide chairman disqualified for three years and fined €20,000
Former INBS senior manager fined €23,000 over breaches and disqualified for 18 years
---
As part of the settlement, INBS admitted multiple breaches of financial services law and regulation and agreed to a reprimand and a monetary penalty of €5m in respect of its breaches.
The Central Bank said today's settlement concludes its inquiry into Mr McCollum.
But former finance director Stan Purcell remains the subject of its inquiry.
Settlements have previously been reached with former chairman of Irish Nationwide Michael Walsh and its former head of commercial lending Tom McMenamin.
The investigation into the conduct of the former chief executive of INBS, Michael Fingleton, has been discontinued due to ill health.