Revolut hopes to offer credit cards and loans to Irish customers by the end of the year, according to its chief executive.
However Nikolay Storonsky said it may be early next year before it can launch the products, with the exact timing dependent on the financial technology firm securing the adequate licences from the Central Bank.
"We applied for an e-money licence in Ireland and we also have plans to apply for an Irish bank licence," he said. "So as soon as we get our e-money licence we will be ready to apply for a banking licence as well.
"We applied quite a long time ago - more than a year ago - unfortunately in Ireland, licencing takes time."
Mr Storonsky was speaking to RTÉ News after his appearance at this year's Dublin Tech Summit, which was held virtually yesterday.
He said staff in Revolut's Dublin were already working on expanding the products it offers, but the regulation process had taken longer than expected.
"I think [the Central Bank] had a lot of applications because of Brexit and they have a large backlog," he said. "And we're obviously a very large institution for Ireland."
We need your consent to load this rte-player contentWe use rte-player to manage extra content that can set cookies on your device and collect data about your activity. Please review their details and accept them to load the content.Manage Preferences
Securing a banking licence in Ireland would allow Revolut to become a fully-fledged challenger to European banks.
Mr Storonsky said that could eventually see it offering mortgages and large loans to customers here - though that was unlikely to be something that it would do on its own.
"Car loans and mortgages require quite a lot of capital and we like to be in a capital efficient business and capital light businesses," he said.
"So maybe in the future we'll do these products but most likely we'll partner with banks or other financial providers.
Once Revolut has secured a licence from the Central Bank, Mr Storonsky said the Irish office would expand, confirming that it would act as the company's banking hub for western Europe.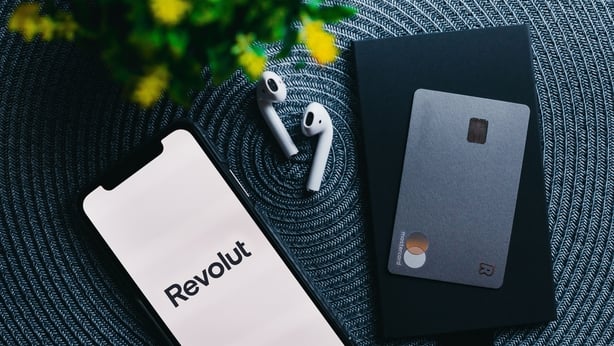 Lithuania would be its eastern European hub, while it would continue to be headquartered in London.
Revolut's userbase also continues to expand, with the company now claiming to have 1.5 million users here .
It is particularly popular with younger users, and yesterday announced it had signed up 100,000 under 17s to its 'Revolut Junior' product.
Initially offering users a way to save on foreign exchange and quickly transfer money to other users, Revolut has gradually added new features for users.
That includes its 'vault' savings service, and stock and cryptocurrency trading.
Cryptocurrencies like Bitcoin have proven to be volatile investments, however Mr Storonsky said they are careful to ensure would-be traders know the risks before committing money.
"It's actually our number one priority," he said. "Out of 15 million customers we have 700,000 customers that we define as vulnerable, so crypto advertisement is completely turned off for them.
"Before you do any transactions we effectively give you a lot of information about the volatility of cryptocurrencies and that you can potentially lose all of your capital," he added.
He also denied that there was a conflict of interest in them placing easily-accessible trading options - which they make money from - alongside users' savings.
"Our philosophy is, basically, that if you want to invest money in stocks or crypto we need to provide you with the best product possible in the market," Mr Storonsky said. "And then if the investment is risky and their investment is volatile we show you all the warning signs about not trading in stocks and crypto.
"But ultimately, if you as a customer decide to trade in crypto or stock, we'd rather you do it through us."
Revolut has also faced complaints from some users about being locked out of their accounts, with the company failing to explain or give a reason for their action.
However Mr Storonsky blamed regulations - and said they had worked hard to minimise disruption when this happened.
"Regulation clearly says that if our anti-money laundering system suspects there is something wrong, we must stop a user transacting. And we cannot explain the reason why we stopped the user transacting because it could tip them off," he said.
"We're working hard in terms of our timelines to get an account unlocked," he said. "It's pretty fast now, where as maybe a year or two years ago it was pretty long."