Heineken Ireland has today launched a €10m support programme for publicans and hotels ahead of some 3,500 pubs and bars re-opening next month.
The "Fresh Beginnings" initiative will see financial supports such as help with building outdoor structures and a "welcome back" fund for pub and bar staff.
It also said it would give its own employees €250 each to act as a stimulus for pubs and restaurants around the country.
Production at its Lady's Well brewery in Cork has ramped up in recent weeks.
Head brewer PJ Tierney said over 8.5 million pints will be brewed in May and June, filling some 95,000 kegs.
With production running at 72,000 pints an hour, 60 trucks are leaving the brewery each week to stock up pubs and bars around the country.
PJ Tierney said it is great to see the brewery busy again.
"Even a few weeks ago it was fantastic to walk in, the kegging hall is running, you had smells of fresh brews coming through in the air, tanks moving - it is absolutely fantastic for us to be up and running again," he said.
He said there were times over the past 12 months when the brewery was silent.
"That's something the brewery hasn't seen since it was founded and that was back in 1856. It was a sad time but it is fantastic now to be ramping up and hear the place operational again," he added.
The lockdowns saw some 220,000 full kegs returned to the brewery.
Mr Tierney said some of the product was used for animal feed and fertilizer, while the remainder went for anaerobic digestion, which converts it into gas.
"We re-purposed it all. None of it went to drain, which is absolutely fantastic as well, he added.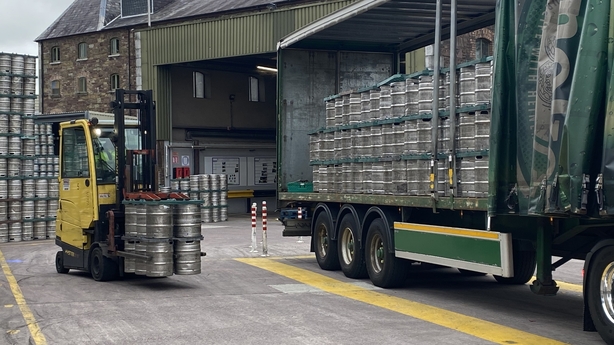 Vintners are hoping the Taoiseach will have good news for them tomorrow and that they will be back trading indoors by early July.
Taoiseach Micheál Martin is expected to announce a plan for the resumption of indoor operations tomorrow.
Almost half of the Vintners Federation of Ireland's members will be able to open their doors for outdoor service from June 7.
But others like Michael O'Donovan, of the Castle Inn in Cork, will not be able to trade again until they get the green light for indoor hospitality.
"Unfortunately, I can't open on the 7th of June, I'm landlocked and the footpath outside me is very narrow so unfortunately I will be looking forward to tomorrow's announcement by An Taoiseach and hopefully, he will be giving us the date," Mr O'Donovan said.
"We are looking so forward to getting back in early July, to re-open," he said.
"At that stage we will have been closed a long time and we just want to get back to business, our lives have been put on pause really for the last 15 months so we are very hopeful that we get that date tomorrow", said Mr O'Donovan, who is also chairman of the Cork branch of the VFI.